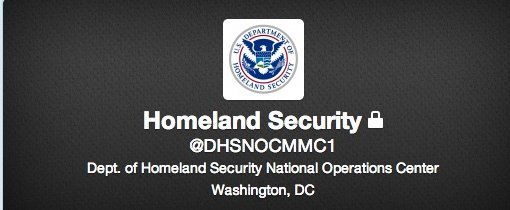 Homeland Security releases details on private Twitter account
DHS Operations Center monitors DC mayor Vincent Gray, news organizations
District of Columbia Mayor Vincent Gray is one of two individuals the Department of Homeland Security National Operations Center follows from the private Twitter account it uses to monitor the Web for threats. The other is FEMA Administrator Craig Fugate.
The other 335 are a mix of police and fire departments, emergency management agencies, news organizations and utility companies, according to documents released following a FOIA request sent in November via MuckRock. DHS also confirmed that it uses TweetDeck and TweetGrid apps to manage its social media.
Until now most of the details of the National Operation Center's twitter account,@DHSNOCMMC1, were not public knowledge. The account appears to be used strictly for monitoring. No tweets have been sent out from the account and it doesn't accept follow requests.
California Watch reported on the Department of Homeland Security's efforts to leverage social media to monitor threats last year. The story says in a 6-month period, the National Operations Center "generated more than 9,300 'item-of-interest' reports from its social media monitoring program."
In the past DHS also released a list of keywords the center uses to monitor social media in response to a FOIA request from the Electronic Privacy Information Center, and the Department of Health and Human Services released to me the list it uses to monitor social media for diseases outbreaks.
Want to find out more about our government's use of social media? Register for a MuckRock account today and file a public records request of your own, starting at just $20 for five requests.