By the time she asked for an audience with J. Edgar Hoover, Natalie Wales had already founded a prominent war charity, started an anti-communist group, married into Scottish royalty and allied herself with elite American socialites. She had already become Lady Malcolm Douglas-Hamilton.
Social and political clout did not move the FBI, however, and Hoover's handlers and field agents decided the former debutante was not worthy of a meeting with the director.
Lady Malcolm Douglas-Hamilton's substantial FBI file, recently released to MuckRock user Robert Delaware after her death at 103 years old last January, reveal extensive details about her long life in the public eye. Hamilton contacted the FBI with some frequency about her philanthropic and activist work during the mid-20th century. She repeatedly tried to use her own reputation and network of powerful friends to influence international relations at the onset of the Cold War.
Lady Malcolm wrote to Hoover in 1960, asking for a meeting to discuss her new anti-communist organization, Citizens for Freedom. FBI agents intervened before she could even get close to the director. One wrote, "Lady Hamilton is a prolific instigator and organizer of apparent charitable or philanthropic organizations, and the files indicate she has utilized the names of prominent individuals in connection with previous organizations and undoubtedly has some prominent friends."
Hoover's assistant's rightly deduced that she was looking to gain his endorsement for Citizens for Freedom. "It is felt that the Director would not want to do this," another concluded.
And so, Lady Malcolm Douglas-Hamilton had to settle for a lower-ranking official.
The Bureau was, of course, correct about her impressive success at winning over prominent individuals for her charitable work.
Three months after the start of World War II, Hamilton founded Bundles for Britain, which initially sent knit clothing overseas to English soldiers and later expanded to include donated medical supplies through the efforts of more than a million volunteers.
After the war, she founded Common Cause, a group that denounced the spread of communism. With similar motivations, Hamilton later started the Friends of Haiti organization to provide assistance to the war-torn island. It was around this time that the FBI began to take real interest in her activities.
Political turmoil left Haiti malleable to outside forces while François "Papa Doc" Duvalier rose to power.
"Needless to say, my original interest in Haiti was and is a strategic and ideological one, to hold this desperately poor nation – the original 'Black Republic' lying so close to our own shores – out of the Soviet orbit," Hamilton wrote to J. Edgar Hoover after an FBI tipster criticized Friends of Haiti.

The FBI launched an investigation into Friends of Haiti after a group of Haitian exiles, the Democratic League of Haiti, accused Lady Malcolm of serving as a mouthpiece for the Duvalier regime.
The former minister of health and education in Haiti wrote to a doctor working with her, "I cannot but conclude that this project as well as the 'Friends of Haiti' have been conceived as a public relations project for the present government, which has identified itself with numerous brutalities and violations of human rights, which are an outrage to human conscience."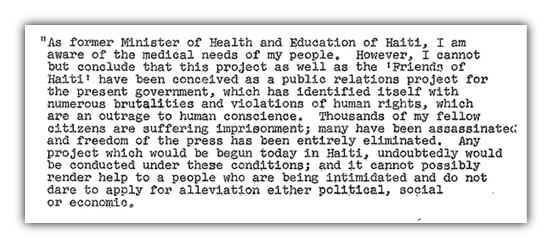 Hamilton was, in fact, an ardent supporter of Duvalier. In her letter to Hoover, she described the Duvalier government as "excellent, honest, and very pro-American." History has proven that Duvalier was a dictator of utmost brutality. But other supporting documents from the investigation highlight that Lady Malcolm was not Papa Doc's only stateside supporter.
A Marine Corps general advised Hamilton in January of 1959 to work on "promoting favorable public opinion in the United States in the support of the present Government of Haiti."

Lady Malcolm went beyond cheerleading and public relations outreach, though, her file reveals. With one letter to Hoover, Hamilton attached a copy of a Haitian intelligence report that alleged Paul Magliore, the former president of Haiti exiled in America, was trying to buy machine guns. In a subsequent interview with FBI agents, she admitted that Duvalier had given her this document and asked her to deliver it to the FBI.

The Bureau eventually dropped its investigation into Friends of Haiti, determining that Hamilton was primarily working to provide charitable support to the Haitian people. An agent wrote in May 1959, "In view of the nature of the activities of Lady Hamilton and subject organization and her obvious connections with various important individuals and organizations both in business and government, the Bureau is requested to consider asking the Department for an opinion as to whether or not additional investigation is required into this matter."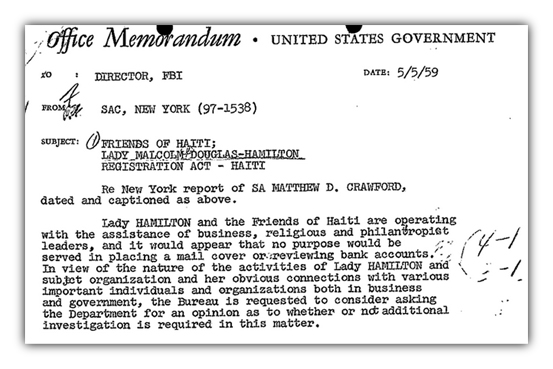 The remainder of Hamilton's file consists of letters she sent to Hoover in the 1960s, in an attempt to swell public support for Citizens for Freedom. She periodically updated Hoover as she struggled over several years to get the organization off the ground. Hoover or a surrogate often responded to her letters to acknowledge receipt.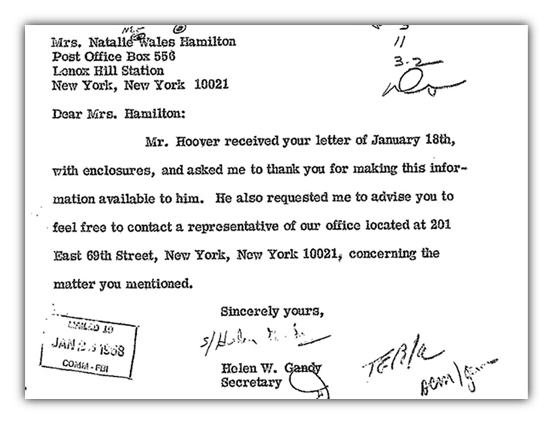 Hamilton's file ends in 1970, more than forty years before her death. She never did secure a meeting with Hoover, it seems.
Read the full file embedded below, or on the request page.
---
Image via The New York Times