Boston University president John Silber, who died in September 2012, was a polarizing figure, to put it lightly. From his career as a university professor and administrator to his unsuccessful gubernatorial campaign in 1990, Silber was as much revered for his eloquence and intellect as reviled for his iron-fisted tactics.
Silber's FBI files, which were obtained via FOIA request from former MuckRock editor Tom Nash and chronicle background checks for presidential appointments in 1983 and 1987, skew decidedly toward his more flattering attributes. The file makes only brief mention of Silber's scuffles with the BU student body and none whatsoever of clashes with faculty members like Howard Zinn. While a handful of interview transcripts note "people are never 'indifferent' about [Silber]" and that he generated considerable controversy, FBI agents apparently did not actually interview any of his left-leaning critics.
In 1983, twelve years after he ascended to Boston University, President Reagan nominated Dr. Silber to the National Bipartisan Commission on Central America, along with Henry Kissinger and Potter Stewart.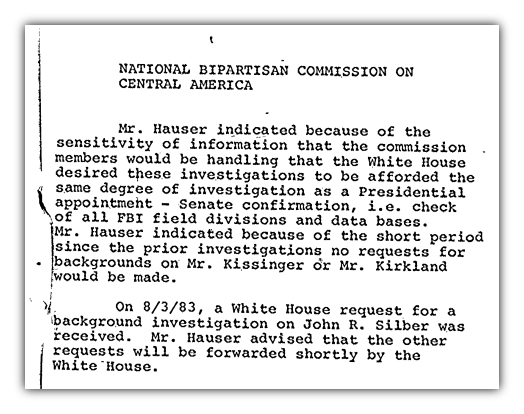 Reagan also nominated Silber to his Defense Policy Board and the Advisory Board for Radio Broadcasting to Cuba, for which the FBI performed an updated background in 1987.
FBI field agents across the country scoured credit reports, arrest records and court files for derogatory information about Dr. Silber. They dug up his academic transcripts and noted his grades at Yale Divinity School and a summer course at Northwestern University's chorale program.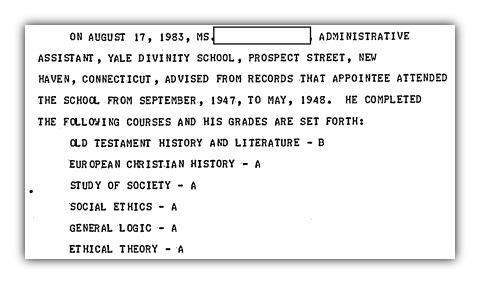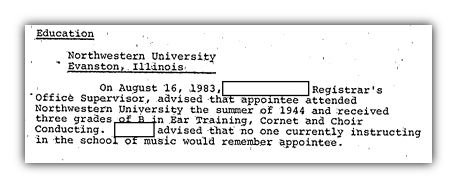 Agents interviewed dozens of his acquaintances, neighbors, friends and employees. While a number attested to Dr. Silber's stubborn streak and tendency to foment controversy, there's not a single decidedly negative report.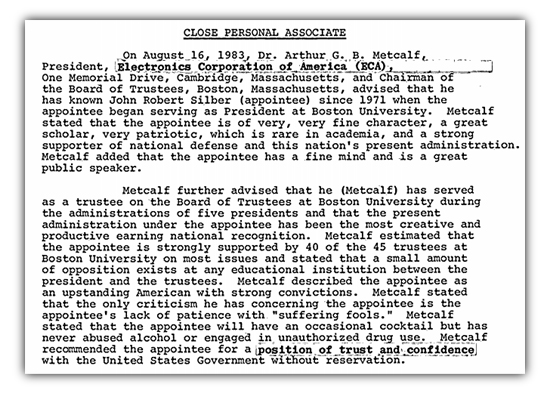 Agents did not interview any of the vocal faculty of BU, who twice attempted to have Silber fired during his presidency. Oddly, agents also provide only scant concrete examples of Silber's unpopular decisions. While many interviewees attest to his commitment to free speech, there are only two references to Silber's animosity toward the student newspaper and radio station.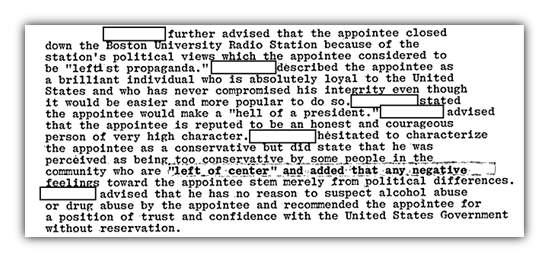 Silber sailed through the 1983 background check, but his 1987 vetting caught a brief snag due to his close relationship with Boston Mayor Kevin White, who was investigated for corruption.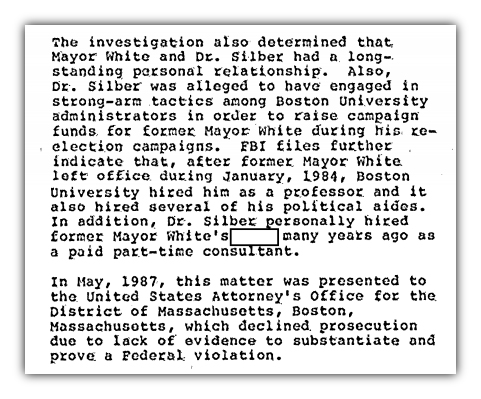 The U.S. Attorney for Massachusetts ultimately declined to prosecute the case, and Silber came through his second background check as clean as the first.
The largest file has been embedded below, and the rest can be found on the request page.
---
*Image via BU.edu