Last weekend, MuckRock and the Cicero Independiente hosted "The Air We Breathe" event in Cicero, outside Chicago, to share our initial findings on the town's air pollution with residents.
This work builds off of the "Dangers in Our Air: Mapping Chicago's Air Pollution Hotspots" project from MuckRock and several Chicago newsrooms, including the Independiente. The investigative series analyzed air quality data from air quality sensors across Chicago and found that Cicero has comparably high concentrations of particulate matter 2.5.
The project's two active PurpleAir sensors are installed on volunteers' homes near 14th Street and 51st Court and near 54th Court and 31st Street. (Click on the links to see the real-time readings from each of these sensors.)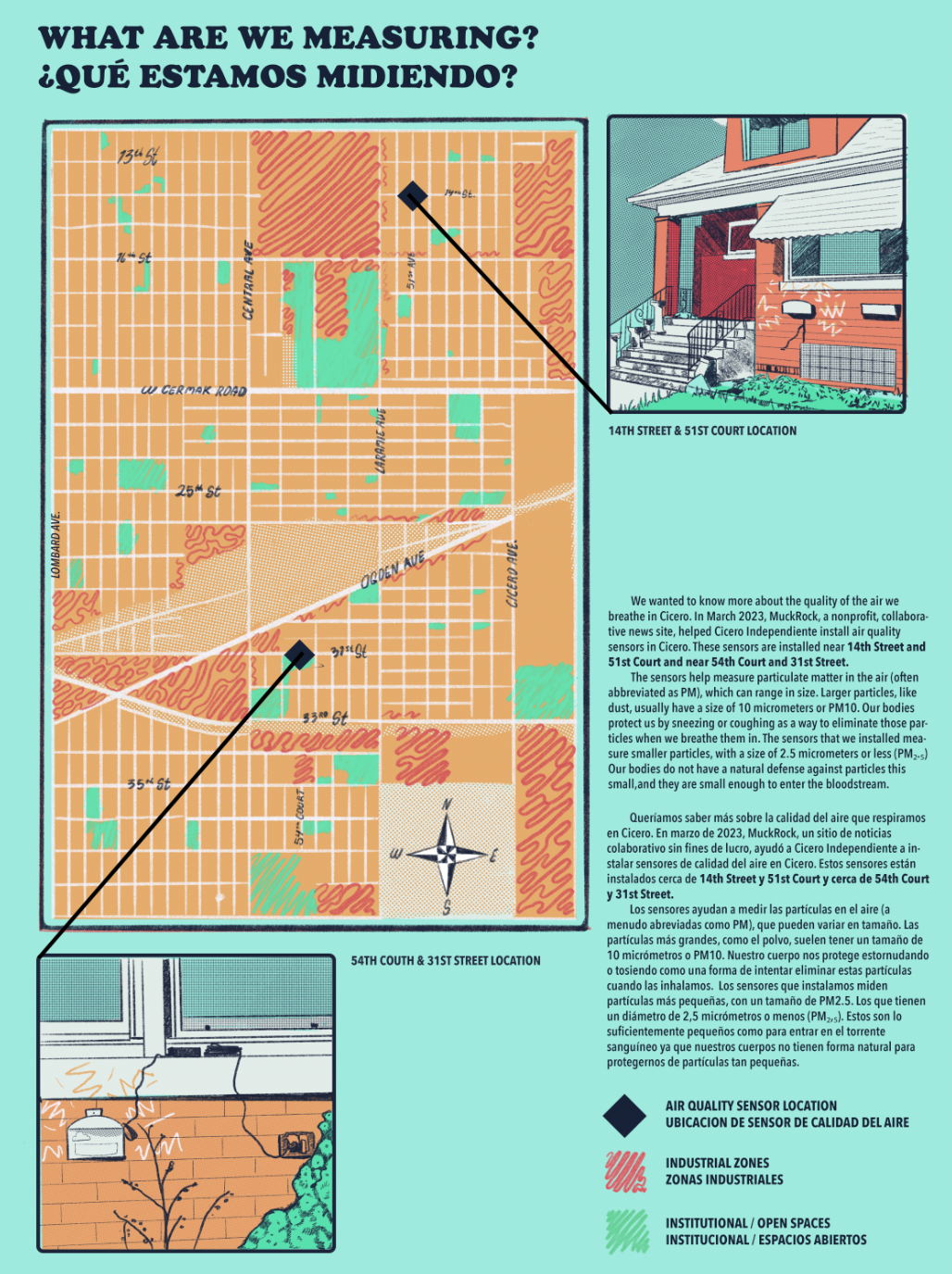 The sensors help measure particulate matter in the air (often abbreviated as PM), which can range in size. Larger particles, like dust, usually have a size of 10 micrometers or PM10. Our bodies protect us by sneezing or coughing as a way to eliminate those particles when we breathe them in. The sensors that we installed measure smaller particles, with a size of 2.5 micrometers or less (PM₂.₅) Our bodies do not have a natural defense against particles this small, and they are small enough to enter the bloodstream.
Similar Chicago-area air quality sensor projects run by the University of Chicago and the tech company Microsoft have ended, with Microsoft's Eclipse project, which included a Cicero sensor, concluded in March 2023.
In the City of Chicago and its outlying areas, Cicero has some of the highest levels of particulate matter pollution, which can seriously affect human health. Cicero, a predominantly Hispanic immigrant community of close to 85,000 residents, is home to one of Chicago's busiest rail yards, which includes freight and commuter trains and trucks — all near residential homes.
High levels of PM₂.₅ can lead to health issues like asthma, heart attack or chronic obstructive pulmonary disease. An estimated 5% of all premature deaths in Chicago can be attributed to PM₂.₅.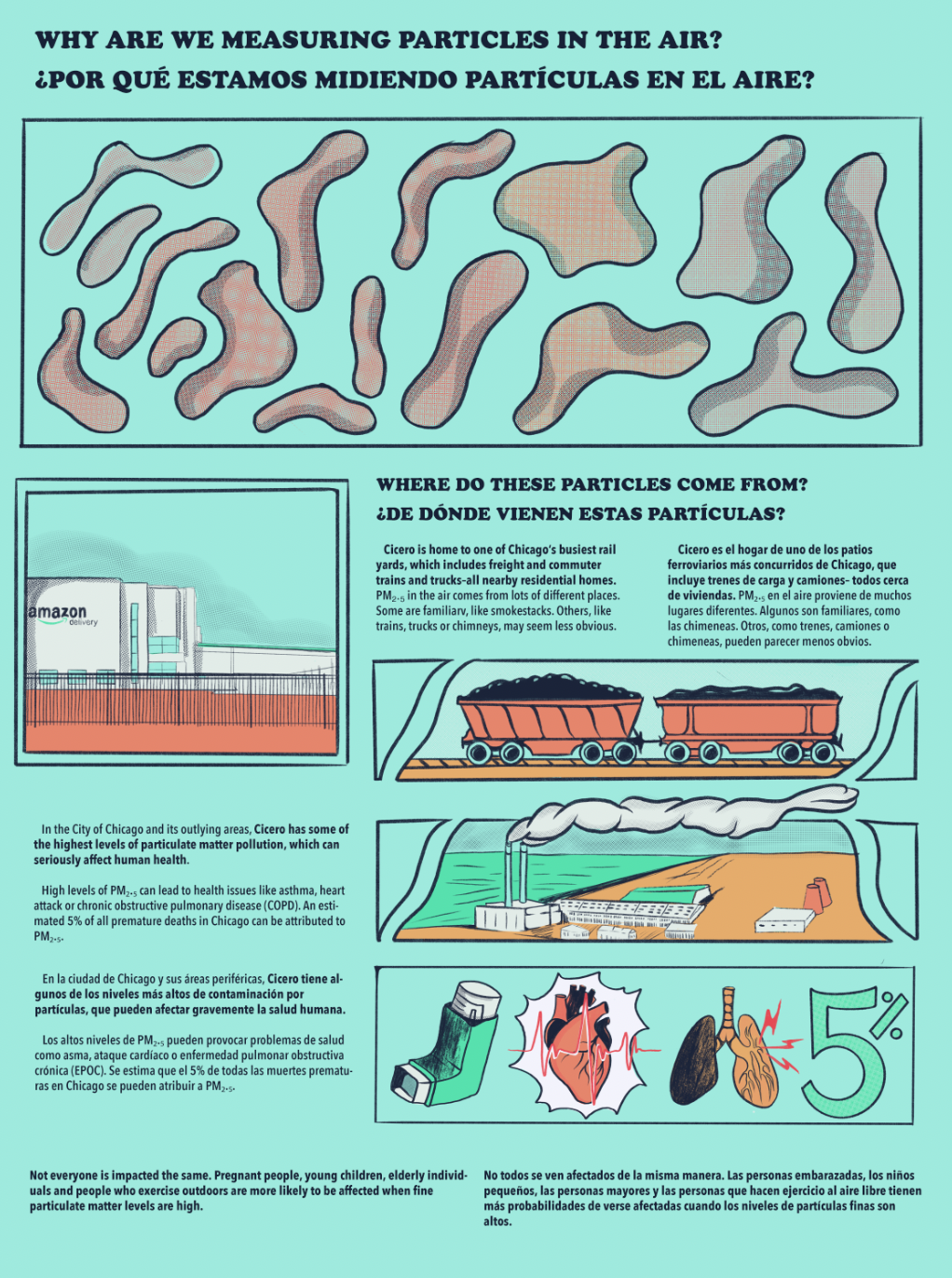 The event, hosted on the lawn outside of Gethsemane Lutheran Church, included a "gallery walk" with illustrated explanations of what particulate matter is, how Cicero is affected by poor air quality and how MuckRock and the Independiente are working together to report on the town's air pollution. The event also included agua frescas and free native plants that attendees could take home with them.
Alongside a "Back to School" event at the church, former Cicero Independiente reporter Richard Requena gave attendees a short tour of the initial findings in both Spanish and English.
MuckRock and Independiente reporters spoke with members of the community about how poor air quality can negatively affect their health.
Our sensor readings from April through July 2023 confirms that Cicero's air quality is worse than less industry-heavy places of Chicago, such as the Lower West Side and Navy Pier.
On average, the two Cicero sensors we installed showed readings of a little more than 18 PM₂.₅ each day, compared to just 4.8 PM₂.₅ for a comparable sensor on the Lower West Side and 14 PM₂.₅ at the Navy Pier. The Cicero readings were almost identical to those in Little Village.
On days of particularly bad air quality, such as during hot summer days or days filled with smoke from burning Canadian wildfires, Cicero's air pollution gets even worse than other communities, the data shows. Spikes in air pollution can be seen around the Fourth of July, which is common because of fireworks and outdoor cookouts; in late June and early July, around the time of worsening smoke from the Canadian wildfires; and on July 16 and July 25, with the after-effects of the wildfires and particularly hot days in the 90s.
Before leaving the event for the day, several attendees made sure to pick up free N95 masks provided by the Independiente.
Illustrations by Brian Herrera.