Guys and ghouls, what could be scarier this FOIAween season than every record requester's worst nightmare: lawsuits and processing times. 😱
Spook up your Halloween with some frightening FOIA processing tidbits courtesy of the federal government's own 2018 FOIA report numbers.
Monstrous Spenders
Let's start off with a good ol' fashioned ranking. The top ten FOIA litigation spenders of 2018 include many agencies one would expect–and some that might be a surprise. However, among independent federal agencies and departments, these rankings are heavily lopsided. To make things fair, we've broken up the top three spenders—the Department of Justice ($14,589,830), the Department of Homeland Security ($7,479,639), and the Department of Defense ($5,283,602)—into their respective components.
Here's how it breaks down:
Executive Office for U.S. Attorneys ($4,147,092) (DOJ)

Civil Division ($3,635,243) (DOJ)

Customs and Border Protection ($3,043,789) (DHS)

Office of the Secretary of Defense/Joint Staff ($2,368,581) (DOD)

Immigration Customs Enforcement ($2,149,450) (DHS)

Environmental Protection Agency ($1,848,579)

Department of State ($1,440,357)

Department of Health and Human Services ($1,400,000)

DIA ($1,287,180) (DOD)

FBI ($1,214,722) (DOJ)
Ghastly Lawsuit Spikes
CBP spent about $3,040,000 on FOIA litigation in the 2018 fiscal year, nearly $3 million more than the previous year and the most it has ever devoted in its 16-year history.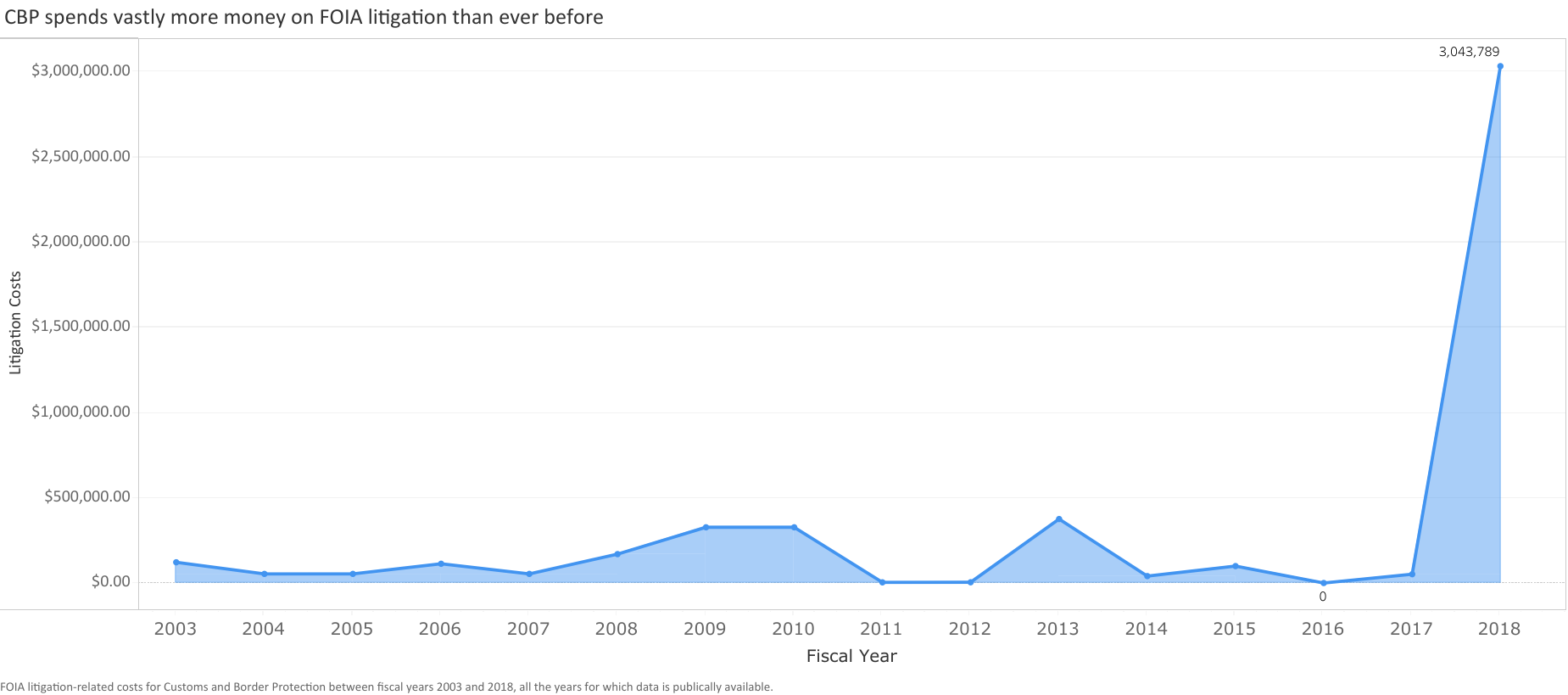 CBP has consistently kept this facet of its spending fairly low, rarely exceeding $100,000. A spokesperson for CBP did not respond to a request to explain the massive jump in spending, but the DHS 2018 FOIA report said the department as a whole doubled the amount of pages it released in litigation to about 300,000.
The department faces increasing scrutiny after several immigrants died in their custody, including a 7-year-old Guatemalan girl. It also faced a lawsuit from the Reporter's Committee for Freedom of the Press after failing to respond to a request for documents related to its attempt to gain personal information about an anonymous Twitter account.
Strange happenings at the DOJ
Of the federal agencies covered in the DOJ's FOIA Annual Reports, perhaps none is more interesting from a FOIA litigation standpoint than the Executive Office for US Attorneys. While being merely a component of the Department of Justice, the EOUSA spent $4,147,092 on FOIA litigation in 2018, more than many other independent departments. On its own, it ranks fourth in overall FOIA litigation spending, under the entire Department of Homeland Security, the entire DOJ, and the entire Department of Defense. Ranking immediately under it is the Environmental Protection Agency, which spent less than $2 million.
This wasn't always the case. Back in 2014, the EOUSA reported spending less than $500,000 on FOIA litigation. Since then, its FOIA litigation spending has grown an average of $875,000 per year.
EOUSA's high 2018 spending isn't even a record for the DOJ. That honor goes to the Civil Division, which reported spending $6,746,198 on FOIA litigation in 2004 (and $4,566,370 in 2017). The Civil Division's FOIA litigation spending, however, shrank to $3,635,243 in 2018—still ranking just under the EOUSA overall.
But wait—there's more! Not only is the FOIA litigation spending of the EOUSA and Civil Division unusually high, it is also high relative to these agencies' total FOIA spending.
Litigation-related costs comprised 88% of the Civil Division's 2018 FOIA spending and 53% of the EOUSA's. This means that these two agencies spent more on litigating FOIA requests than they did processing them. This data points might be shocking, they are also outliers. The DOJ as a whole spent just 17% of its total FOIA costs on litigation.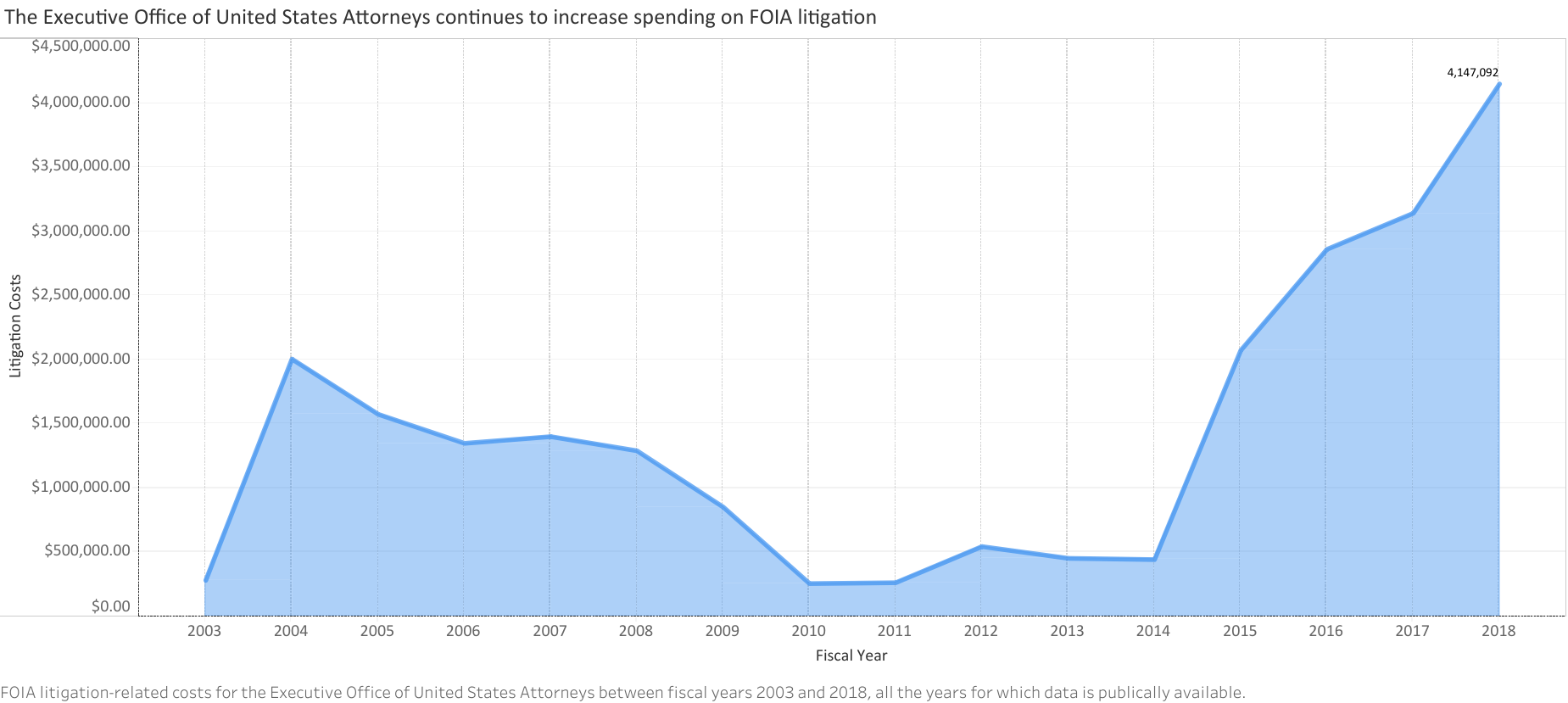 FOIA Limbo Extends its Grasp
Litigation isn't the only spooky thing that can happen to your FOIA request.
Imagine:
You lie on your deathbed surrounded by your loving family. Your spouse asks you if you have any regrets. You say…"I never heard back about my FOIA request." And then you die.
Frequently, the scariest FOIA response is the one you never get at all. Some agencies take unusually long to complete requests, slowly eating away at your patience and your soul. Many people are in FOIA limbo as we speak, often victims of an agency with a massive backlog to get through.
One of the worst offenders is the State Department, which on average takes 400 days to process "simple" requests (a similar number is reported for the median).
For simple requests, processing time reported in 2018 ranged from one day to over 2,000 days. The longest processing time for "complex" requests was over 3,000 days, more than eight years. MuckRock has its own history with the State Department's long delays; in one case, the State Department took almost five years to process a MuckRock request.
Other especially slow-processing agencies include the National Transportation Safety Board (266 days on average for simple requests) and the Peace Corps (178 days for simple requests). The Peace Corps! Who knew?
From all of us at MuckRock, have a happy and safe FOIAween! 🎃🎃🎃
Halloween at the White House 2019! by The White House licensed under Public Domain Mark 1.0