Beacon Hill lawmakers continue to talk transparency and new ways of regulating access to public records.
This time around, Representative Antonio Cabral (D-New Beford) has proposed a new bill, H. 2676, that would take a multifaceted approach at strengthening records law.

Under the bill, Cabral calls for the creation of a new commission housed within the Office of the Secretary of the Commonwealth to govern the exisiting public records division.
"This legislation is an effort to build upon the successful 2016 public records reform and ensure compliance," said Cabral.
The new commission would report to the Governor and General Court on an annual basis as well as hire the Supervisor of Public Records. In his bill, Cabral says the commission would consist of five members, three appointed by the state Governor, one of those being the President of the Massachusetts Municipal Association and the President of the Massachusetts Newspaper Publishers Association. The two remaining members would be appointed by the Secretary of State, who would also serve as chairman of the commission, and one appointee by the Attorney General. Currently, the Secretary of State is responsible for the hiring of the SPR.
"The proposed commission of public records is meant to create more oversight, bring more voices to the table and best implement the public records reform of 2016. The hired Supervisor of public records, a position that already exists, would report directly to the commission and not the division," added Cabral.
The 2016 Massachusetts public records reform made key changes to fees and response time for appeal decisions by the SPR. However, the reform failed to give the SPR full enforcement over those rulings. Currently, the SPR must raise matters to the Attorney General's office in the event that an agency does not comply with their rulings.
However, Cabral's bill would create a new commission to oversee the public records division, the bill stipulates that records custodians must comply with records request as appropriate. Otherwise, requesters have the discretion to petition to the SPR who would weigh in on whether the record requested is public or not.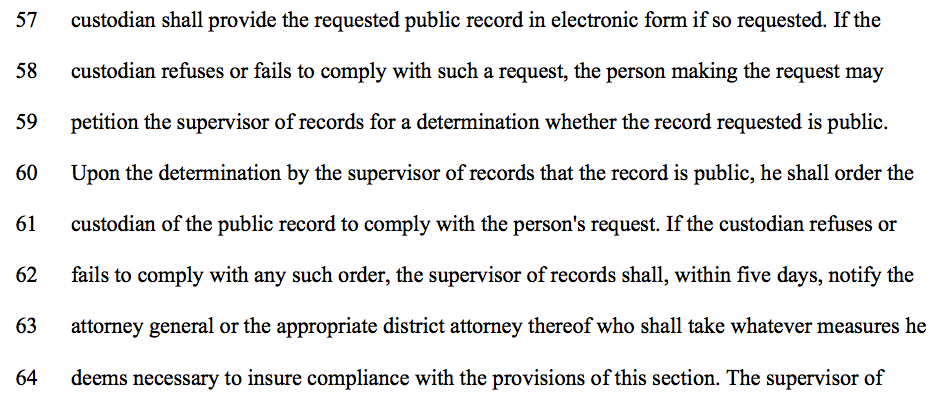 In addition, a secondary division called, The Division of Public Record Appeals, would be created and follow direction from the SPR. The goal is to expedite appeals in the SPR office and strengthen the existing public records' appeal process.
Lastly, the bill lists fines for records custodians who remove, destroy, or violate any records law provisions. Fines should not be less than $500 nor more than $5,000 or imprisonment for not more than 1 year.

Cabral's bill is in its early stages and awaiting a committee hearing date. However, his office says they expect to have a hearing for this bill by the end of the month.
The bill is embedded below.
---
Image by Matt Kieffer via Flickr and is liscened under CC BY-SA 2.0