A New York state appellate court made a landmark ruling this week, which allows the release of body-worn camera footage for one of the country's largest police departments.
In the appellate case, the Police Benevolent Association of the City of New York argued that body cam footage should be classified as employee records and should be protected under Civil Rights Law § 50-a as such. Under CRL 50-a, personnel records of police officers, firefighters, and correction officers are held from public disclosure.
However, the court ruled against this interpretation, reaffirming body-worn camera footage's role as an important "in the service of objectives, such as transparency, accountability, and public trust-building."
"Although the body-worn-camera program was designed, in part, for performance evaluation purposes, and supervisors are required, at times, to review such footage for the purpose of evaluating performance, the footage being released here is not primarily generated for, nor used in connection with any pending disciplinary charges or promotional processes," the court further noted.
The New York Police Department and other state advocates are content with the new law. NYPD Police Commissioner James P. O'Neil gave his public support, noting the public and the press would have "more information and transparency than before."
The NYC PBA strongly disagreed with the decision, arguing it will have a negative impact on public safety. The group is looking at potential appeal options to overturn the ruling.

According to the NYPD's website, all officers in precinct, transit districts, and police service areas are equipped with body-worn cameras. There are five precincts in NYC in which body cameras are not worn. Phase 1 of the body-camera program rolled out in April 2017 and equipped all officers with body-worn cameras at the end of 2018. Currently, the NYPD retains all video recordings for one year and video of arrests and other significant incidents for a longer period.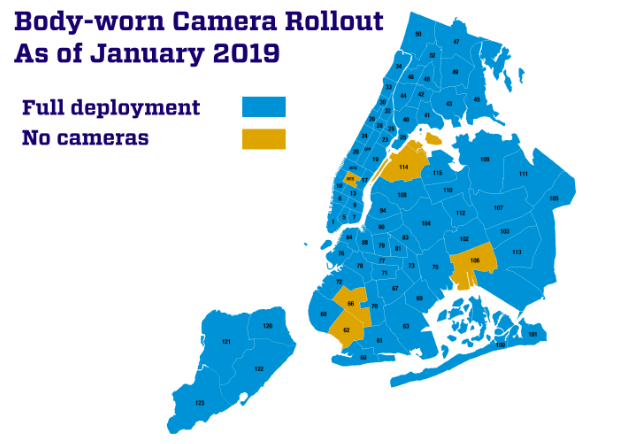 You can view the ruling below:
Is your police department blocking access to body-worn camera footage or other related materials? Let us know via the form below!
Image by SoFuego via Pixabay