For this week's FOIA round-up, records show the Justice Department motioned to seal text messages implicating Border Patrol's deliberate targeting of a humanitarian group, and New Mexico settled almost $5 million in legal claims. Also, parents of two victims in the Parkland shooting are being prevented from getting public records about the massacre.
See a great use of public records we missed? Send over your favorite FOIA stories via email, on Twitter, or on Facebook, and maybe we'll include them in the next round-up. And if you'd like even more inspiration, read past round-ups.
Border Patrol texts take aim at volunteers
According to a report by the Intercept, DOJ attorneys motioned to seal evidence that volunteers with humanitarian group No More Deaths were targeted by Border Patrol. Lawyers representing the four volunteers had filed motions to have their clients' charges dropped on the grounds of "selective enforcement and violations of international law, due process, and religious freedom."
Four volunteers responded to a distress call sent by migrants in southern Arizona last summer. They are now facing federal charges for driving through the Cabeza Prieta wildlife refuge without a permit while on their way to the source of the initial call.
DOJ is attempting to seal text messages between a Border Patrol Agent and an employee at Cabeza Prieta. The texts describe the volunteers as "bean droppers" and imply deliberate "action against them."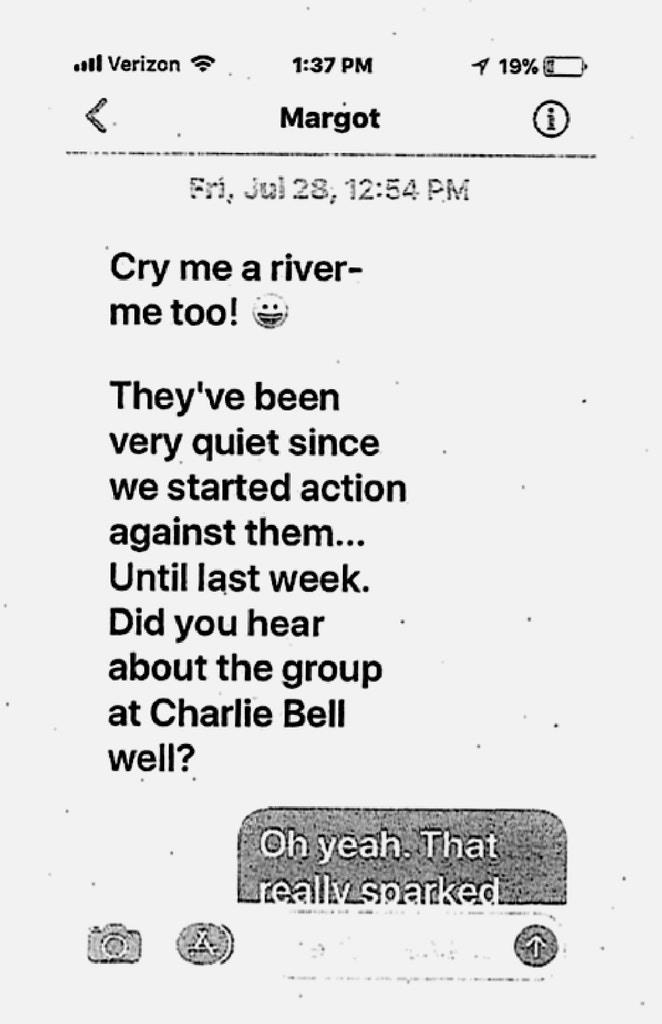 Image via The Intercept
Read the full report here.
New Mexico's six-figure settlements
Documents obtained by the Albuquerque Journal show that the state of New Mexico settled 26 legal claims in 2017 totalling nearly $5 million. The settlements involved various allegations against the state, as laid out by the Journal.
About 34 percent of the money paid out in the 26 settlements centered on medical claims; another 34 percent involved employment disputes, including claims under the Whistleblower Protection Act; and 17 percent was for motor vehicle collisions, including pedestrian deaths, according to a Journal analysis.
The Journal says that the state typically denies allegations but settles cases as "a compromise to avoid the cost of ongoing litigation." Information about settlements with the state's Risk Management Division cannot be released until six months after the case is closed, according to New Mexico law.
Read the full report here.
Parkland parents stonewalled
The Sun-Sentinel reports that the families of two students, who died in a mass shooting at Marjory Stoneman Douglas High School this past February, have been repeatedly blocked from attaining public records regarding the incident.
A petition filed to the Broward Circuit Court claims that public agencies are practicing "an intentional pattern of noncompliance" that goes against Florida's public records laws.
The families requested information from the school board, State Attorney's Office, Sheriff's Office, and Florida Highway Patrol. One request was given an estimated cost of $4,300.
Read the full report here, and the uncensored report on the Parkland school shooter embedded below:
Nominate a first amendment hero
Do you know someone who goes above and beyond to fight for the First Amendment and open government? Nominations are now open for the First Amendment FAC Free Speech and Government Award!
Deadline for nominations is October 31st, 2018. For more information and submissions, click here!
Read a great FOIA-based news story we should highlight? Let us know and maybe we can include it in our next roundup! Send it over via email, on Twitter, or on Facebook.
Image via Wikimedia Commons