For 40 years, broad exemptions in the California Public Records Law blocked access to law enforcement records. This week, Governor Jerry Brown signed into law two new pieces of legislation that unlock internal records of police misconduct and bring body camera footage to the public.
Under the law, records involving "personnel, medical, or similar files of disclosure which would constitute an unwarranted invasion of personal privacy" were exempt from the public. Police records often fell into this category, with officer personnel records - such as use of force violations - subject to additional protection under the law.
Now with two new laws, SB-1421 and AB-748, the public has the opportunity to review records that were once exempt from oversight. Under SB-1421, law enforcement agencies are required to provide public access to records related to use of force, sexual assault complaints, and dishonesty in investigations and reporting of a crime. AB 748, authored by Assemblymember Phil Ting (D - San Francisco), supports Skinner's bill by requiring the release of body camera footage within 45-days of a critical incident with a 30-day delay if a case is still pending.
"When incidents such as a police shooting occurs, the public has a right to know that there was a thorough investigation. Without access to such records, communities can't hold our public safety agencies accountable," said author of SB 1421, Sen. Nancy Skinner (D-Berkley), in a press release issued Sunday.

Advocacy groups and local leaders across the state noted the "monumental shift" the new law will have for public records requesters and reporting done on law enforcement.
"These bills mark, we hope, the beginning of the end of fraternally demanded rules allowing and even requiring the employers of California peace officers - police, sheriff's deputies and prosecutors to keep their performance secret, in effect protecting the tiny minority of the most unfit, corrupt and downright dangerous from public scrutiny, and to likewise shield those responsible for their hiring and retention from public accountability," said Californians Aware General Counsel, Terry Francke.
The First Amendment Coalition in California called it "a major step forward for transparency."
"For years, police have been in their own special category with respect to its employees that has been unaccounted for," said Executive Director of the FAC, David Snyder. "This is remarkable given the cloak of secrecy that the police has been able to hang over records. There is no reason for police to have that."
In addition, local jurisdictions noted the increased transparency the new laws bring to areas like Los Angeles County, which is one of the largest jurisdictions in the nation. The LA County's Civilian Oversight Commission says it has heard concerns on the lack of information provided to the public by law enforcement, causing major points of contention between the Sheriff's Department and its residents.
"Among other things, this new law will improve interactions between the Sheriff's Department and family members following the death of a loved one as a result of a fatal use of force. said Executive Director of the Civilian Oversight Commission for the Los Angeles County Sheriff's Department Brian K. Williams. "Now that more information can be released publicly, the Department will build more trust among families and communities who have been impacted by these situations."
Despite widespread approval among activists and community leaders, police unions such as the Peace Officers Research Association of California and the Association for Los Angeles Deputy Sheriffs are not onboard with the Governor's decision calling it a "bad bill on law enforcement". The State's decision marks a long-time point of contention for police officer unions who have opposed the bills since the beginning.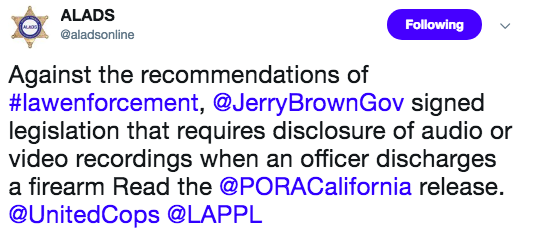 "We are a disappointed at what we perceive to be a reckless decision by the governor," said PORAC President, Brian Marvel in a press release issued Monday.
They also listed their concerns with SB-1421, specifically noting that the bill creates confusion and uncertainty as well as dismissing the need to publicize information about law enforcement discipline.
Nonetheless, both laws are set to take effect next year with SB-1421 taking effect on January 1st, 2019 and AB-748 on July 1st, 2019.
"I think the overwhelming majority deserving their badges and our trust are probably quietly welcoming this news, even if they dare not celebrate it," added Francke.
---
Image by torbakhopper via Wikimedia Commons and is licensed under CC BY 2.0