Last week, the Acting Inspector General for the Department of Defense Glenn A. Fine appeared before the House Armed Services Committee's Subcommittee on Military Personnel to explain a bit more about the IG's process for investigating allegations against senior officials in the United State military apparatus.
The internal accountability arm of the federal agency has seen their available resources and funding be outpaced by the growth of the Department of Defense at-large, which will soon receive another budget boost now that Congress is poised to approve a record-setting budget of nearly $1.4 trillion for the Pentagon over the next two years.

Fine introduced the conversation by presenting the policy under which DOD divisions must report senior DOD official misconduct, DOD Directive 5505.06 …

and the preparation that employees are given in case they ever find themselves facing such allegations.

While the IG took pains to emphasize that, percentage-wise, very few officials are guilty of inappropriate action …

he acknowledged that the number of substantiated cases continues to rise …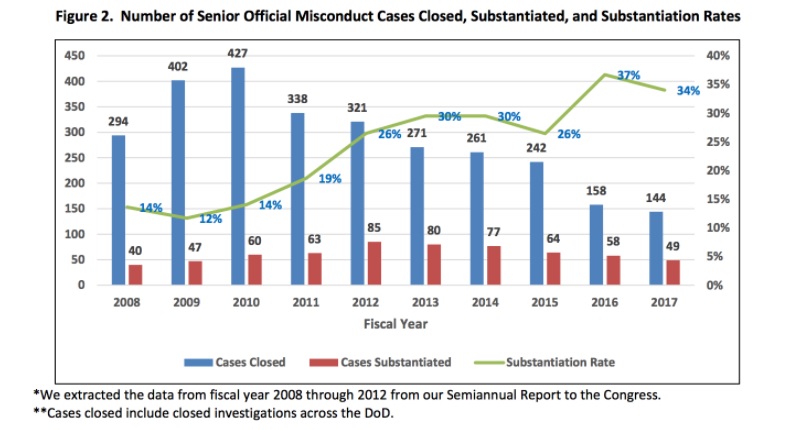 and that even substantiated claims don't necessarily result in punishment.

No further details are currently available on just how much funding the DoD IG estimates would sufficiently address its needs, telling MuckRock
The DoD OIG continues to work closely with the DoD and Congress to identify the appropriate staffing and budget levels for the DoD OIG given the growth of the DoD budget and the significant increase in the DoD OIG's caseload and oversight responsibilities.
You can read the whole statement below or watch it in the video below.
For more on how to reach the Department of Defense Hotline to report misconduct, fraud, and abuse happening within the agency, please take a look at the DoD's website.
---
Image via Air Combat Command