After a two-year legal battle, a Suffolk County District Judge has ordered three District Attorneys in Massachusetts to release records to The Boston Globe following a lawsuit spearheaded by the state's Attorney General, Maura Healey.
The 2016 lawsuit is an unprecedented move - as the Globe reports, this is the first time the state AG has sued another agency for failing to release records.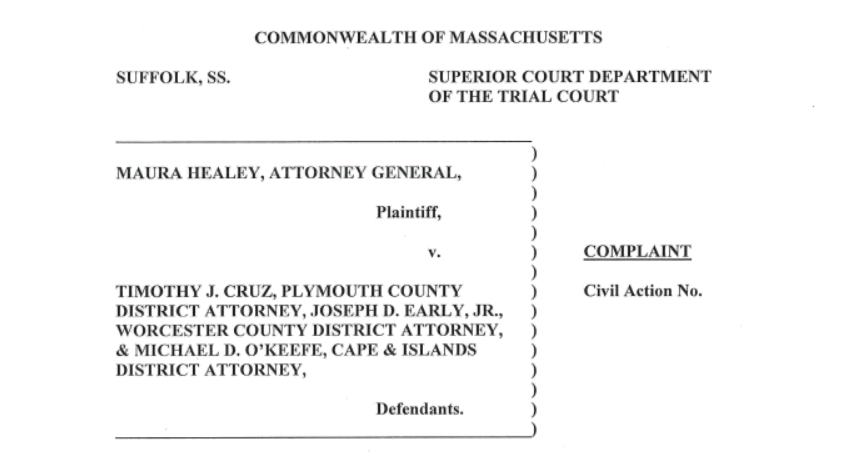 "The Attorney General's office took the position that these records are subject to disclosure under the public records law, and we are pleased that the court agreed," wrote spokesperson for the Attorney General's office, Margaret Quackenbush via email to MuckRock.
Prior to the lawsuit, Boston Globe reporter Todd Wallack filed an appeal with the state's Supervisor of Records after a series of 2015 public records request for court data to the Worcester District Attorney's Office, Plymouth District Attorney's Office, and Cape and Islands District Attorney's Office were denied by the agencies. Although the appeal ruled in favor of the Globe, the agencies were not complying with the order. At that point, the state's Supervisor of Records had to resort to the AG's Office, as she cannot enforce her own rulings without the AG's involvement.

Furthermore, all three District Attorneys Offices argued that the requested records are, in part, exempt from disclosure under the law and if released, would violate attorney-client communication privileges. Additionally, the Plymouth and Cape Islands District Attorney's argued that the request would require the creation of a new record, which is not required by law for agencies to fulfill.
Suffolk County District Judge Rosemary Connolly's 31-page opinion rejects these arguments. Additionally, the AG's office noted that Connolly ordered the district attorneys to produce the requested records within 90 days, or file an appeal within 60 days of her ruling.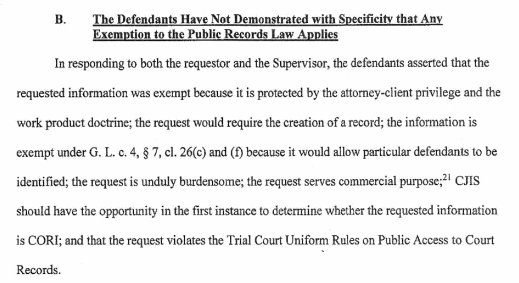 It's unclear if any of the three DA offices will appeal Connolly's ruling. Lindsay Corcoran, Deputy Director of Communications for Worcester District Attorney, says their attorney is "currently reviewing the decision." But after a two-year records battle, it seems like even the Massachusetts AG is not immune to the state's infamously tedious records process.
Connolly's ruling is embedded below.
Image via Mass.gov