Records originally released to Adam Schweigert reveal the intricacies of the Federal Emergency Management Agency's much-rumored "Waffle House Index" - and the agency's recent attempts to distance themselves from it.
So, exactly what is the WHI? Well, before we can answer that question, we should clear up a few things for our readers from north of the Mason-Dixon - such as "What is Waffle House?"

While that doesn't even begin to scratch the surface of what "scattered, smothered, covered, chunked," means, a ubiquitous Southern diner chain that would stay open in a nuclear holocaust is a good start.
Like so many things in government, the WHI started out as a joke.

A joke that former FEMA head Craig Fugate thought was so clever, he turned it into a color-coded system for determining the extent of storm damage to a community.

While admitting that the WFI is an "informal metric," FEMA notes that's based off of Waffle House's "reputation for bouncing back quickly" …

and that Waffle House is "an important part of the team."

So where does that "reputation for bouncing back quickly" come from? Well for starters, you're talking about a company that has its own hurricane playbook …

a mobile command center …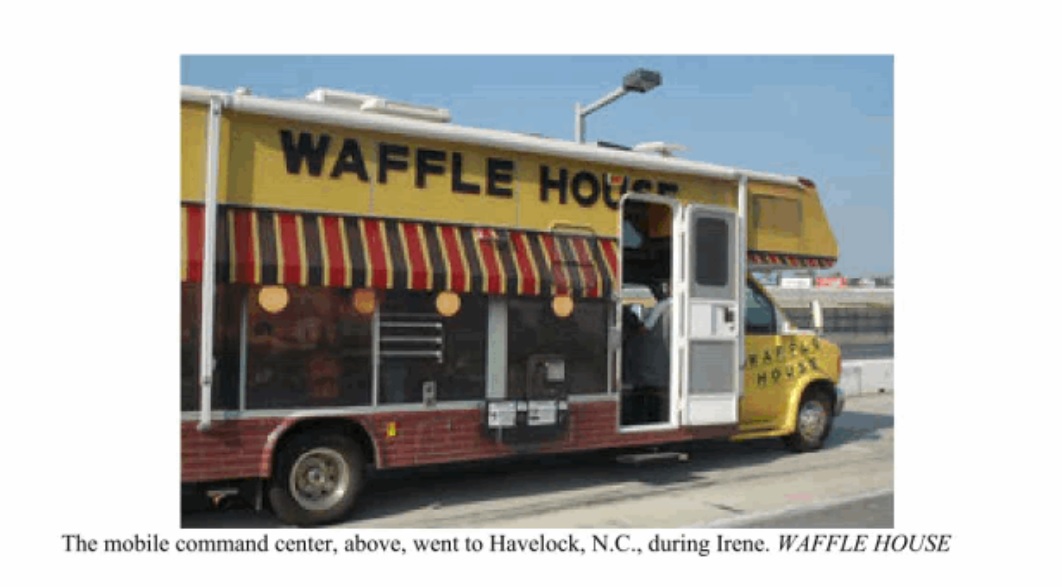 and will stay open even after they've been hit by a tornado.

All of which is inspiring in an "even in the apocalypse people will be selling sunscreen" kind of way, but it's worth noting that none of these records actually mention any of the employees who are actually keeping the restaurants open in these conditions, other than a brief note about how it's not about making money, it's about "serving both its customers and employees."

Right.
So, how does this actually work? Well, during a storm, Waffle House's FEMA liaison will send a "sitrep" to their coordinator …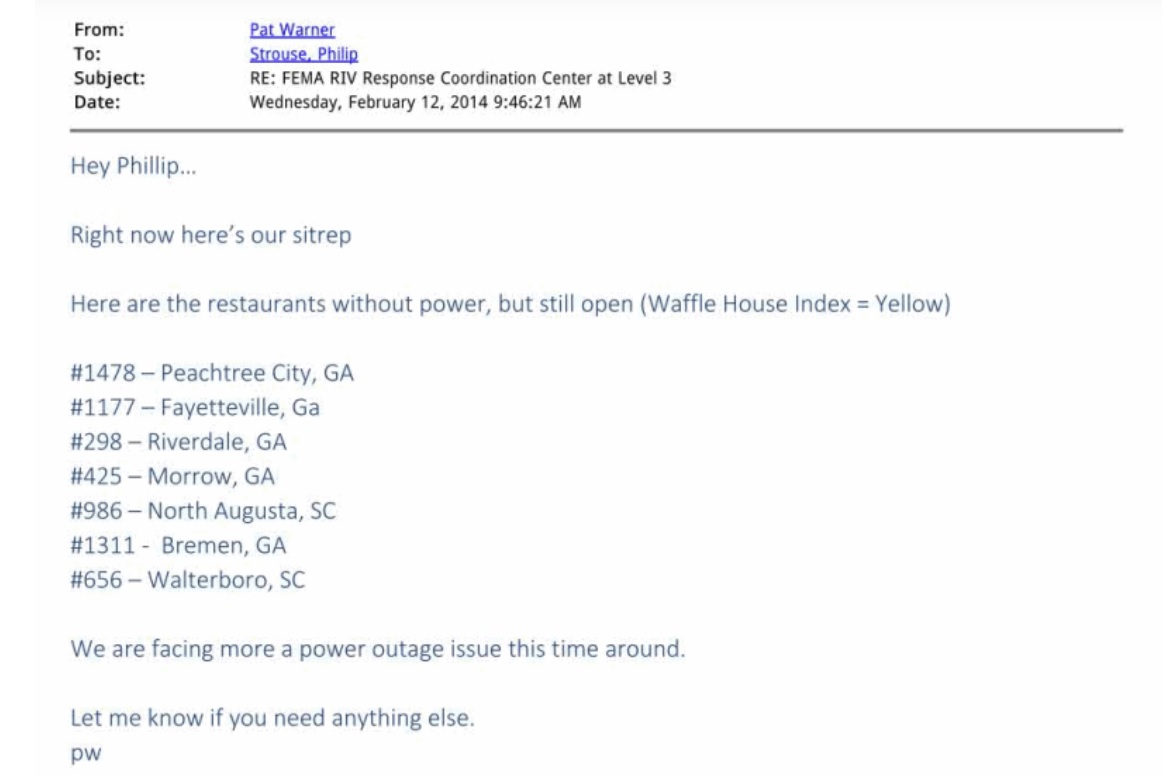 who will then update the big board.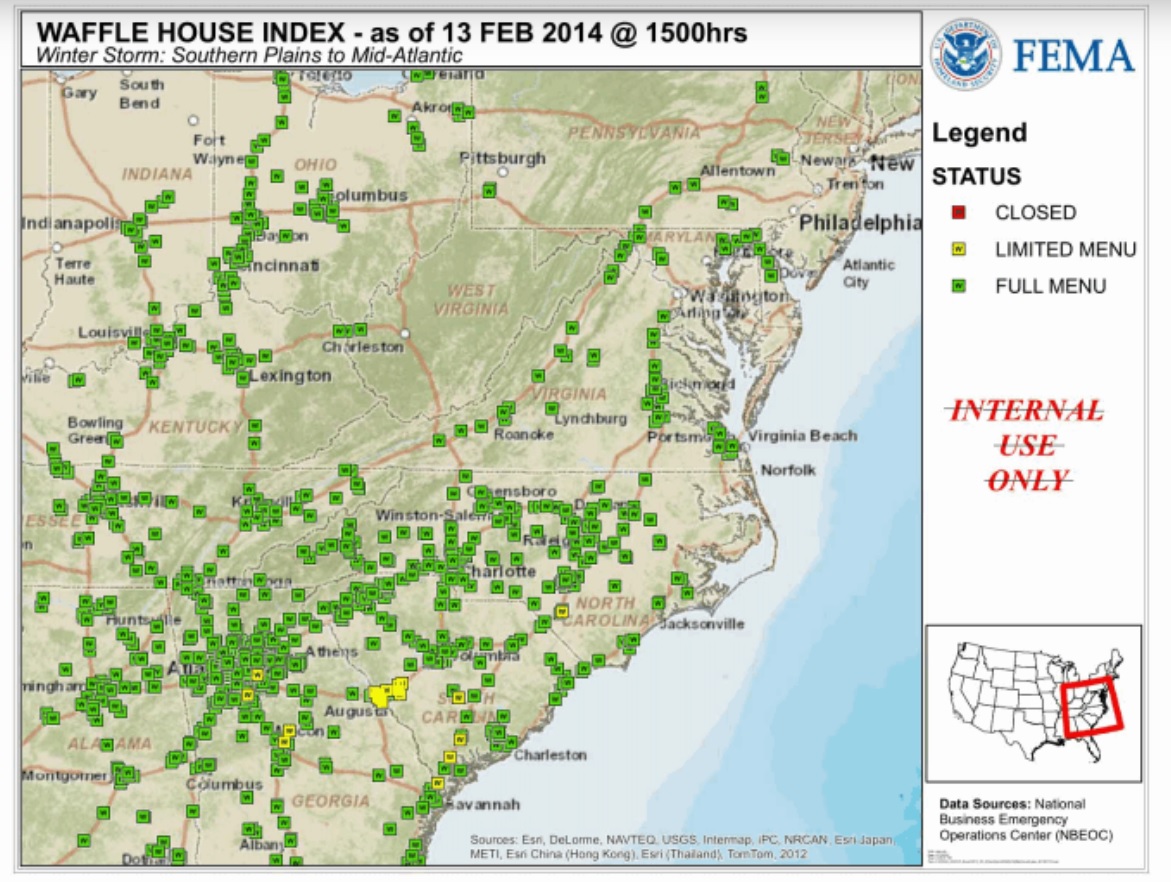 Yes, Virginia, FEMA has a big board of open Waffle Houses.
Actually, let's call that a "maybe" - while the latest string of Hurricane Harvey-inspired puff pieces would lead you to believe the WHI is still a cornerstone of U.S. disaster recovery, an internal FEMA email exchange shows that not everyone was down with hashbrowns.
In response to a researcher's request for comment on the WFI, a member of FEMA's public relations team asked if this was really a thing.

Another employee responded, saying as far as they knew, it was more of an anecdote to sell the idea of public-private partnerships.

The initial employee pushed back at that interpretation, deciding instead to just go with "the Waffle House is Craig [Fugate]'s thing."

So with Fugate out as of January, is the question of whether the Waffle House is new Director Brock Long's thing as well remains to be seen. Read the full records embedded below, or on the request page.
---
Image by John Phelan via Wikimedia Commons and licensed under Creative Commons BY-SA 4.0.