What do you get when you file a FOIA for the Federal Trade Commission's Tinder complaint database?
More or less what you might expect.
Tons of catfishing (usually for large sums of money) which the FTC calls "romance scams," a "porn cartel" that sends tens of unwanted messages a day, and this particularly good takedown of late capitalism:

But the real star of the show is the guy who wanted the federal government to reimburse his fellow men after they were swindled trying to get nudes.

Let me back up. Earlier this year BuzzFeed reported that a college student named Maggie Archer was using a Tinder bio that advertised, "send me $5, see what happens." Needless to say, there were plenty of men willing to take that chance. She told BuzzFeed upwards of 20 matches had given her money - afterward, she would unmatch with them, never to be heard from again.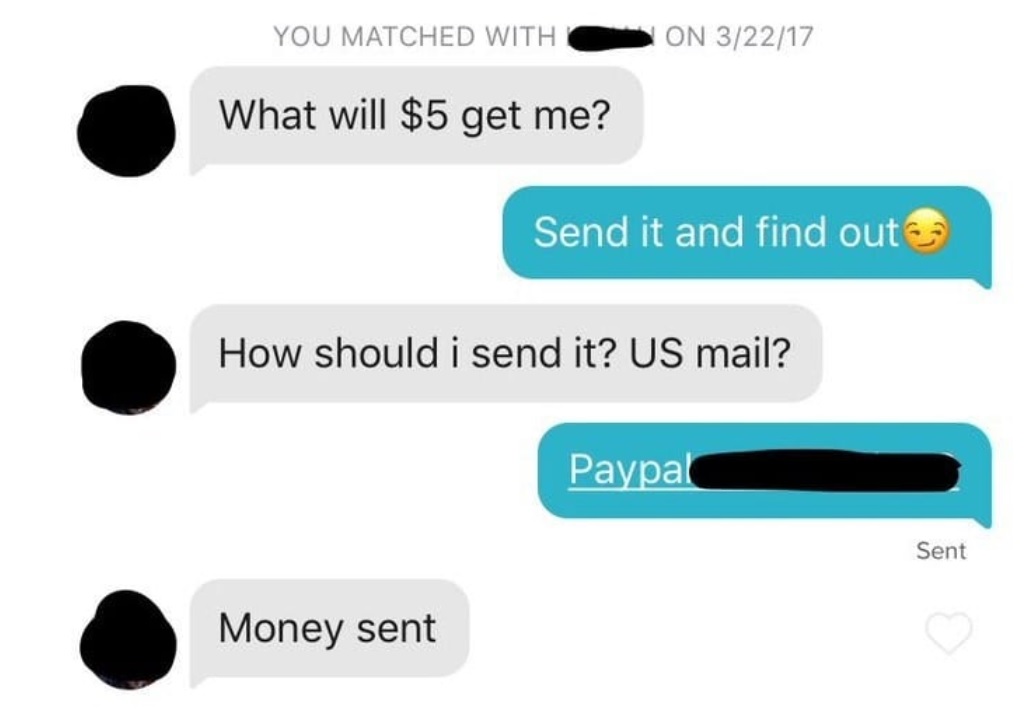 Image via BuzzFeed
This man, who wants the FTC to know that he is definitely NOT a victim, decided to write to a federal agency and be the whistleblower no one actually needed. You could speculate about the chances of his absolutely being a victim and wanting to get that $5 back … but again, that'd just be speculation.
Check out the rest of the files embedded below, where you can explore the more elaborate scams for yourself.
---
Image via Wikimedia Commons