As the host of "New Year's Rockin' Eve" on ABC for nearly 40 years, Dick Clark is as much a part of the holiday as party hats and cheap champagne. However, FBI files released after his death in 2012 reveal that somebody wanted to cut his career short a good five decades earlier.

The file kicks off in the middle of a 1962 investigation into a threatening letter addressed to Clark during his tenure as host of "American Bandstand."

Despite receiving "several thousand" letters a day from fans, death threats were apparently quite rare …

a refreshing concept for anybody who has read a comments section on the internet.
For his part, Clark was remarkably blasé about the whole thing, chalking it up to "some juvenile" …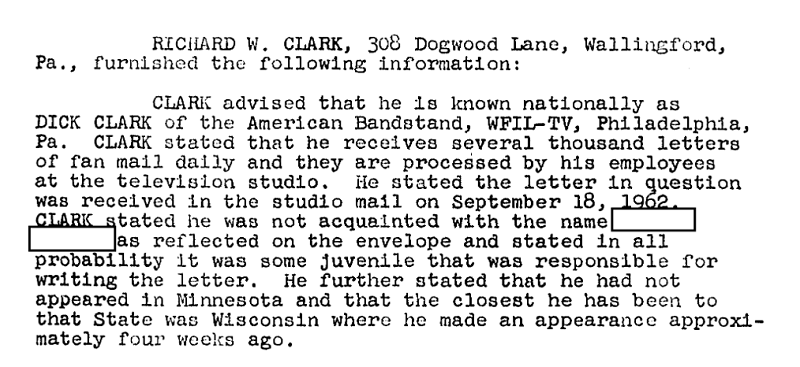 and offhandedly mentioning that he had received an earlier threat directed at his wife, but on a postcard.

A copy of the letter is included in the file, and after reading it, it's not hard to see how Clark could feel that he wasn't in any real danger.

Regardless, the letter prompted an investigation by the FBI's Philadelphia branch, which despite some Twin Peaks-esque sleuthing in White Bear Lake, Minnesota …


apparently came up empty.
The file then jumps to 1986, where Clark was again the subject of the threat of violence … except this time, he found himself in some rather rarefied company.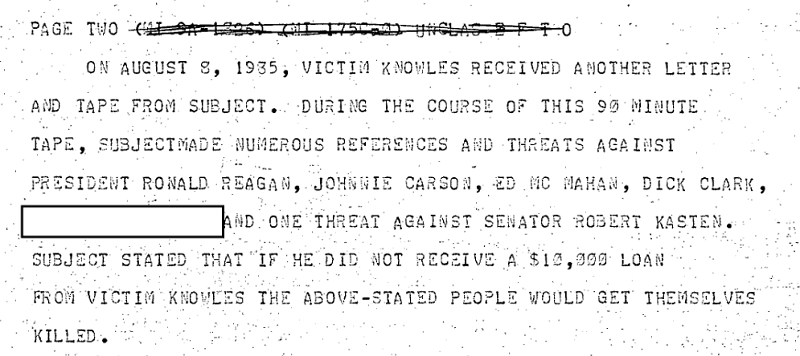 This time, the FBI was able to track down the suspect, and after a stern talking to, let him off without charges.
Read the full file embedded below, or on the request page.
---
Image by Alan Light via Flickr and is licensed under CC BY 2.0