Despite billions spent on failed reconstruction projects, military personnel and national police officers in Afghanistan face a dire shortage of coats and other winter gear, according to a letter of initial findings published last week by the Special Inspector General for Afghanistan Reconstruction (SIGAR).

"A lack of cold-weather clothing could adversely impact the overall effectiveness of the Afghan National Army (ANA) and Afghan National Police (ANP), and degrade their operational capabilities," Special Inspector General John Sopko points out rather tamely in his three-page letter to senior U.S. military officials.
SIGAR is demanding answers about the extent of shortages that the Afghan police and military will face in 2015 and 2016, as well as how the Defense Department intends to rectify an issue that stretches back years. Preliminary calculations suggest that the shortfall may amount to nearly 100,000 heavy winter coats, and more than 300,000 orders of wool sweaters.
Orders have been placed but not fulfilled since 2013, the letter indicates, and critical shipments are delayed until next summer.
"If correct, this means that the [Afghan National Army] has gone at least 2 years without obtaining cold-weather items," the report warns.
Perhaps the most dire question posed by SIGAR is how this issue has gone unaddressed for so long. Temperatures in Afghanistan can get frigid in winter, whether you're at Bagram Air Base or in Kabul, not to mention at police and military stations in mountainous regions. But the SIGAR audit team found that shortages of winter gear go back to at least 2011.
This preliminary letter from SIGAR is all the more concerning in light of the office's parade of horrible findings about the pullout and reconstruction process in Afghanistan. At the same time that the Defense Department has apparently failed to purchase basic winter gear for Afghan forces, the US has spent billions on failed projects.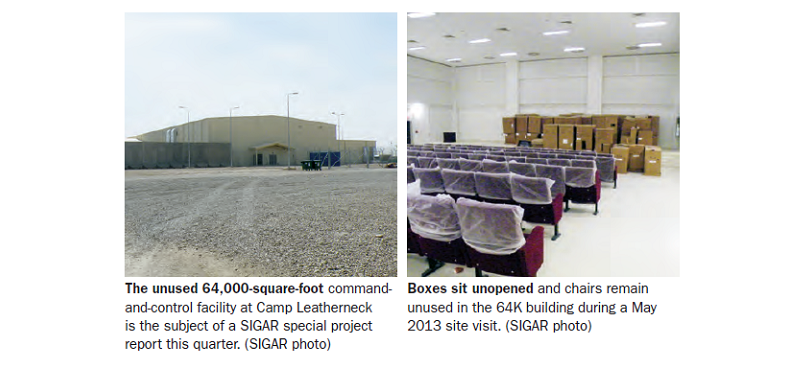 In a speech last week in London, the Special Inspector General himself gave some examples.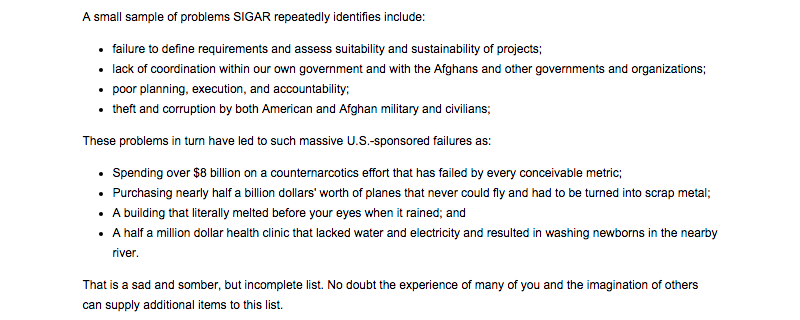 The list of wasteful projects uncovered by SIGAR staff includes "a building that literally melted before your eyes when it rained" and $8 billion spent on "a counternarcotics effort that has failed by every conceivable metric."
The inspector general aptly summarized that such disasters "often occur when the U.S. officials who implement and oversee programs fail to distinguish fact from fantasy, or output from outcome and impact, and operate in a world where personal accountability is nonexistent."
It's unclear how the fact of winter has failed to work its way into the fantasy of Afghanistan reconstruction, but the SIGAR is intent on finding out. Their tenacity is all the more impressive considering that SIGAR finds itself constantly under threat of budget and staffing cuts - a classic case of shooting the messenger.
The inspector general's office has ordered military officials to answer inquiries by October 2 about the winter gear shortage. MuckRock has requested documents identified in SIGAR's letter as initial red flags that the Defense Department failed to heed.
Read the full SIGAR letter below:
---
Image by Nick-D via Wikimedia Commons and is licensed under CC BY-SA 2.0