Ninety years ago today, Malcolm Little entered the world by way of Omaha, Nebraska, beginning a life in which he would gather many pseudonyms, many followers, many detractors, and a FBI file thousands of pages long — hundreds more still undisclosed — that traced the movement and doings of the infamous black leader Malcolm X.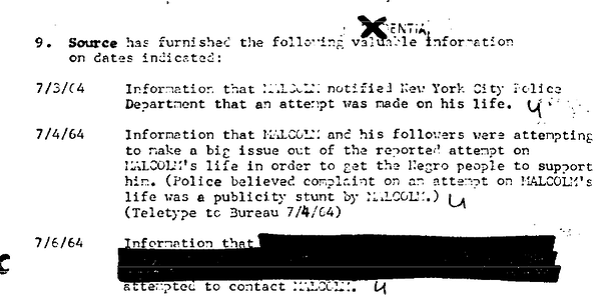 Murdered just three months shy of his fortieth birthday, Malcolm X was ever-aware of the calls for his death, which were finally answered on February 21, 1965 in the crowded Audubon Ballroom. His assassination, though attributed to members of the Nation of Islam, remains shrouded in the uncertainty of participants' claims of innocence and government secrecy.
Even 50 years after Malcolm X's killing, his FBI file remains pocked with the black Sharpie of exemptions.

The primary operators are b1 (which prevents disclosure of information specifically exempted by Executive order), b2 (which veils "internal personnel rules and practices of an agency), and two flavors of the b7 law enforcement exemption — (c), excluding materials that would betray privacy in an investigation, and (d), which protects the identities of confidential sources.
MuckRock will be challenging these withholdings — surely it must be safe to disclose some of those secrets so many decades after the fact. The bits that are available, however, contain a bevy of national surveillance and media mentions.
Beginning in the early 1950s, the Detroit office of the FBI began keeping tabs on Malcolm, a self-proclaimed Communist and member the Muslim Cult of Islam.

The files snapshot Malcolm X's influence under the Nation of Islam leader Elijah Muhammad, his national crisscrossing, his reaction to the assassination of John F. Kennedy, and the subsequent fallout with the Nation of Islam.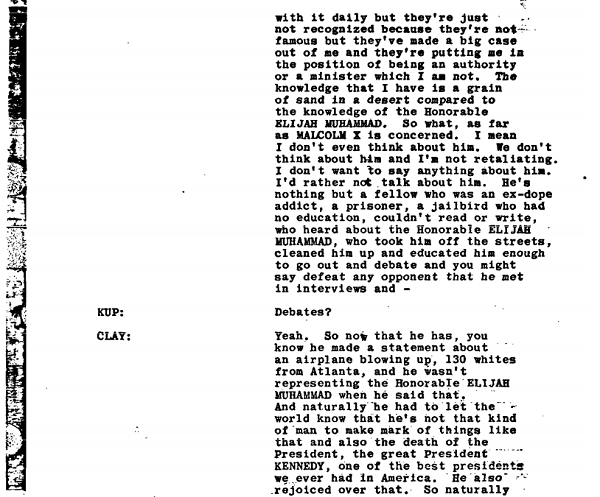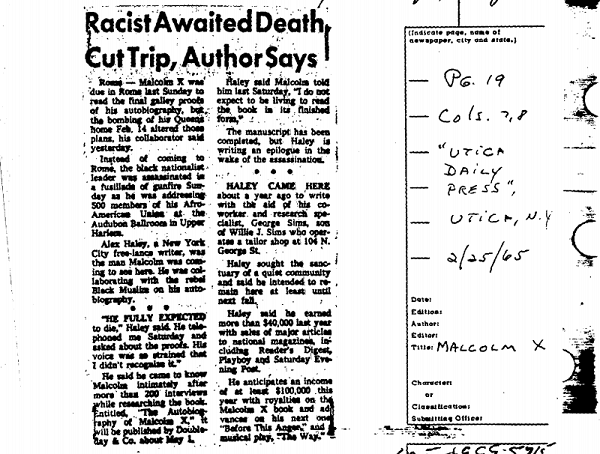 The materials extend well beyond his death. Informant summaries and newspaper clippings capture more of the FBI's abstract concept of Malcolm X, the threat to the "white devils," than the man whose truth spoke to the power of a people.
Please take a look for yourself. It's a staggering view at the way the FBI heard a voice still ringing today in a discussion that needs to be had.
The first of 72 responsive files in embedded below, and the rest are available on the request page:
---
Image via Wikimedia Commons