A Use of Force audit of the Florida correctional system has finally been entered into the State Purchasing arm's paperwork pipeline, bringing the much-needed evaluation of physical control methods in Florida's prison system just that much closer to reality.
The audit was first announced in October 2014 by then-Secretary of the Florida Department of Corrections Michael Crews. In his October 10 letter to the Association of State Correctional Administrators (ASCA) — the "independent" group of correctional professionals asked and now tasked to conduct the audit — Crews cited the Department's annual report, which noted a spike in use of force incidents during the Fiscal Year 2013-2014. He called on ASCA for guidance in identifying problems with the current implementation of use of force policies and procedures.
However, Crews didn't last long enough to see even ASCA's proposal for the audit; by the end of November, he had stepped down as DOC head, citing personal stress and budget battles; the reins were turned over to Julie Jones, who quickly found herself needing to manage the pressures of the position. "It's hard to be the progressive agency you want to be when you're constantly battling budget issues," Crews had said. He denied any tension with Florida Governor Rick Scott, a claim later contradicted by a Miami Herald article accusing the governor's office of being "more concerned with the crafting and writing of news releases and that had little to do with the reality of what needed to be done to keep the institutions safe and secure." The audit that was to happen "in the coming weeks," as of October, didn't.
A February 7, 2015 Sunshine Law request determined that the audit "has not yet occurred," though according to Florida DOC Communications Director McKinley Lewis, "it will take place in the coming months." Instead of the final results of the audit, MuckRock received the only preparatory materials available: ASCA's proposal and the invoice for the investigation, which is slated to cost the Department a cool $88,046.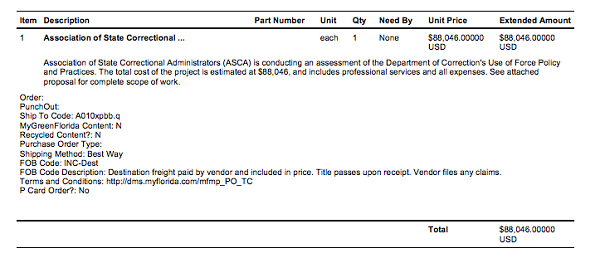 It may seem like a considerable chunk of change for an agency whose budget woes have inspired a series of "creative" solutions for obtaining everything from soap, sheets, and toilet paper to transportation and overtime, but it is the latter staffing constraint that may be contributing to inappropriate and excessive use of force within Florida's prisons while wasting money that could be use to hire more staff.
According to the proposal, ASCA will be reviewing the DOC's Use of Force policies, procedures, culture, staffing levels, and technical security measures.

The hope is that by the end of the 11-week project period — during which time ASCA states it will review documents and use of force video, conduct interviews and site visits, and evaluate "adherence to the facilities operational procedures — the group will have some useful, actionable recommendations to address regular use of force within Florida's prisons.
In response to another request, MuckRock received thousands and thousands of rows of Use of Force data from 2003 through September 2013. As Mr. McKinley noted, each row represents an individual involved in a particular event — either an officer or an offender — with multiple individuals comprising each event. Nonetheless, the spreadsheets are a staggering snapshot of disciplinary measures across facilities, while highlighting the need for more technologically-savvy methods of holding officers accountable.
A quick look at use of force reports across the system in the first nine months of 2013 shows a remarkable difference in particular locations between the number of people involved in use of force events involving chemical substances, such as pepper spray, and those who aren't. Presumably, events in which chemical force is seemingly necessary pose a comparable amount of risk to all parties.
Still the methods for data collection are highly suspect. The number of people involved in events across 2012 follow a surprising consistent pattern of dropping off every weekend, drawing obvious concerns about the usefulness of information that is more-than-likely suffering from reporting deficiencies. Does everyone really calm down across the board every weekend?
It's not yet clear how the upcoming audit will be coordinated with Governor Rick Scott's May 8 Executive Order Number 15-102 calling for a reevaluation of security measures and staffing and the implementation of a required "independent report under oath" to be signed by involved employees.
MuckRock eagerly awaits the finding of the audit, and will keep you updated on this issue as the situation develops.
---