The City of McKinney, Texas — which captured national attention earlier this month when a police officer pulled his gun and threw a teenage girl to the ground at a community pool — has released its guidelines on use of force by police officers. The policy does not leave decisions to the "unfettered discretion" of officers but mandates that they use only "objectively reasonable" force.

Per the policy, officers must use force "which a reasonable, prudent officer would use under the same or similar circumstances."
Less than a week after video of the incident was posted online, the chief of McKinney Police Department announced that the officer in question had resigned, and called his actions "indefensible" under department guidelines.
"Our policies, our training and our practice do not support his actions," Chief Greg Conley said of Cpl. Eric Casebolt, who was put on administrative leave immediately following the incident.
"He came into the call out of control and as the video shows was out of control during the incident," the chief summarized.
The policy released by McKinney police outlines a "use of force spectrum" for officers to consider when attempting to gain control over an incident.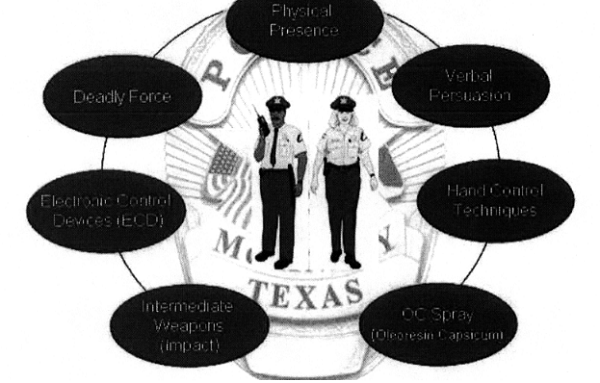 This spectrum ranges from verbal commands, to non-deadly force options such as pepper spray, electrical control devices and batons, to deadly force via firearm.
Among other factors, the McKinney Police Department requires officers to consider the age and physical condition of the subject when determining the appropriate level of force.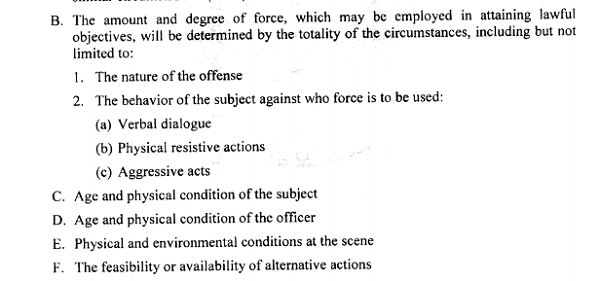 McKinney police officers must also weigh whether alternative actions are feasible to gain control of a situation, as well as the behavior of the subject.
Media outlets have reported that the teenage girl whom Casebolt threw to the ground and aggressively restrained was either 14 or 15 years old.
Lawyers for the city of McKinney petitioned the state attorney general for permission to withhold portions of the policy. Since state records officials had already determined in 2013 that police could withhold only select portions of its entire manual, the department was forced to release the policy without further delay.
Portions of the policy, which is dated effective as of October 2011, are redacted. Following the incident in early June, dozens of media outlets requested the policy and other reports. While there was no charge for the policy, the city of McKinney is asking Gawker to pay $79,000 for police emails pertaining to Caseholt's resignation and conduct.
The guidelines permit officers to use non-deadly force such as physical restraint to conduct a search or overcome resistance to arrest. But the policy emphasizes that the level of non-deadly force applied in a given case must be "objectively reasonable to bring the incident under control."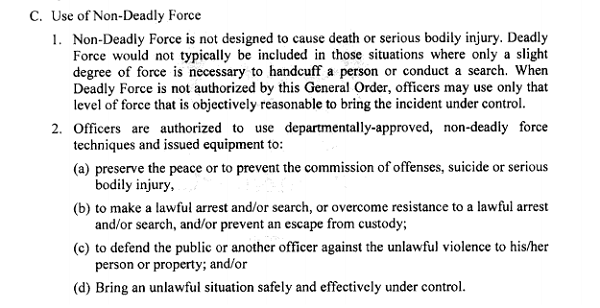 Similarly, the policy establishes parameters under which officers may draw a firearm.
Officers may unholster their guns only when they believe that suspect might have a deadly weapon or when they fear for their own safety or the safety of others.
The policy explicitly forbids officers from pointing a firearm at a suspect who is "known to be unarmed, and who is not an immediate danger to the officer or others."
Read the entire policy on the request page, or embedded below: