The University of Virginia doesn't want to share how its president, Teresa Sullivan, reacted to Rolling Stone's "A Rape on Campus," which shed an unflattering light on how the university handles sexual assault cases.
While UVA cast Sullivan into protected "executive" status following a MuckRock request, the Charlottesville Police don't have that option. And emails obtained through a request to the department show Sullivan emailed shortly after the article was published, asking for an investigation into the assault described in the story.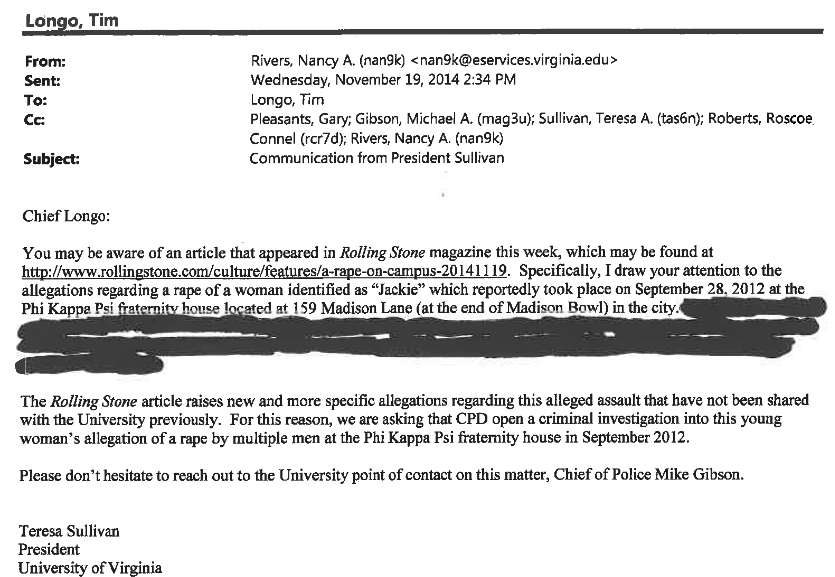 While Sullivan has promised policy changes in response to the article, follow-up emails show UVA leaned on the department during a Board of Visitors meeting less than a week later for a presentation that did little to address the core issues brought up by the story.
The department chose to offer talking points from an earlier conference on campus safety, which highlight a need for improved lighting, more cameras and "safety apps."
A few days later, Sullivan emailed asking if she could speak with Charlottesville Police Chief Tim Longo. That's the last email in the chain, showing that Sullivan either had little to share with the department or she was well aware of its inability to hide her words from FOIA.
You can read the emails on the request page, or embedded below:
---
Image via Virgina.edu