One morning last September, Officer Evan Ratcliff of the Round Rock Police Department in the Austin suburbs found something online that he wasn't quite sure what to do with.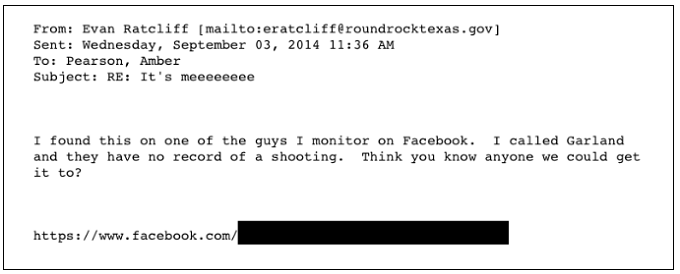 "I found this on one of the guys I monitor on Facebook," Officer Ratcliff wrote to a colleague in Austin. "I called Garland and they have no record of a shooting. Think you know anyone we could get it to?"
Ratcliff then pasted a link to the man's Facebook profile at the bottom of his email.
The Austin Police Department provided the email — including the full Facebook URL — in response to a records request submitted by MuckRock user Evan Anderson. We have redacted the URL above and in documents posted online.
This casual email exchange between two police officials gives a rare look into the role that social media can play in modern policing. Barring restrictive privacy settings, there are few legal or practical limitations on monitoring an individual's social media posts or retaining such information for future investigations.
But it's unclear how this particular man's online postings came to be monitored in the first place. For those less familiar with Texas geography, approximately two hundred miles separate Round Rock from Garland, where the man lived at the time of Ratcliff's email.
Officer Ratcliff didn't include the photo or post that caught his eye, nor did he respond to questions regarding how many individuals he monitors via Facebook.
A spokesperson for Round Rock Police Department defended monitoring the man's account, saying that he "was known in our area for criminal activity and actively posted pictures of firearms and other illegal items."
The spokesperson declined to provide further details of such illegal items, or how officers could tell whether firearms in the man's photos were illegally obtained. Texas has no registration requirement for firearms, although its gun laws do require a permit to carry concealed handguns. (Also, a few million people post about guns on Facebook, and a few of them must live within a two-hundred mile radius of Greater Austin.)
"Our top priority is ensuring officer safety and above all the safety of the public," explains Angelique Myers of RRPD. "By using social media, we are able to learn more about possibly dangerous individuals we could potentially encounter and how to best prepare when that occurs."
A patrol officer with RRPD since 2008, Ratcliff is also a SWAT member and the coordinator for his department's automated license plate recognition (ALPR) program. On his LinkedIn, Ratcliff describes his approach as "intelligence-based policing."
But neither Ratcliff or his Austin correspondent knew where to call next with this particular Facebook finding.
"I don't have a personal contact up there, but this is a list of all of the fusion centers," Amber Pearson wrote back. As promised, she attached the contact information for all fusion centers nationwide. Pearson's list includes the Austin Regional Intelligence Center (ARIC) and the Dallas Fusion Center, the one nearest to Garland.
MuckRock received no response from the man himself. A review of his public Facebook profile — which has limited privacy restrictions — did not uncover any posts related to a shooting.
Combing over public posts does, however, reveal a wealth of information about this man's whereabouts, his relationships and off-handed thoughts. Together, these give a detailed glimpse into his day-to-day and personality alike.
In the past six months since Officer Ratcliff emailed his profile link, the man posted photos of adorable children alongside a location-tagged video of himself making "purple drank."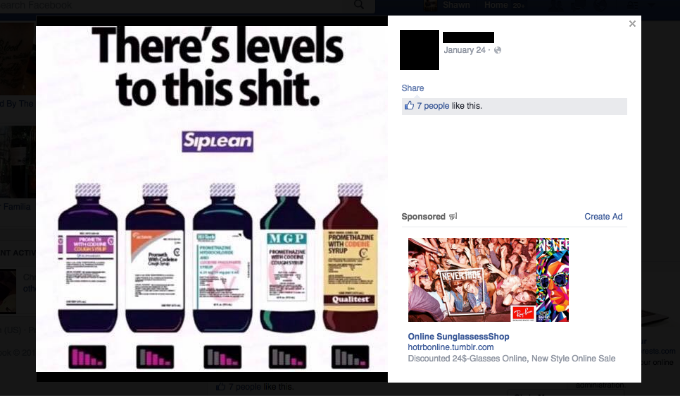 He also posted location-tagged updates from a courthouse, the gym, a smoke shop and a friend's home.
Anyone — civilian or law enforcement alike — could piece together these incredibly personal details. As this information is available to anyone who knows this man's profile is public, some law enforcement agencies see no need to restrict how agents collect it.
"We do not have a current policy that details the use of social media in investigations," replied RRPD's spokesperson, "due to the fact that it is public information that is freely accessible."
The department's lack of a policy raises questions about privacy protections and the need for clear guidelines around how law enforcement are able to access, retain and aggregate information posted on the open web. In coming weeks, MuckRock will ask agencies nationwide regarding their own policies and procedures for using social media as an investigative tool.
---
Image via @RoundRockPolice