The village of Quogue on Long Island's south shore boasts fewer than 1,000 residents, but last month its police department received two surplus military trucks worth a combined $150,000.
Since enrolling in the same program in 2012, police in Albion, a village of 6,000 near the Canada border, have added a bomb robot and two Humvees to inventory.
Both departments paid only the cost of shipping for their new equipment.
Over the past several years, more than 120 law enforcement agencies across the state, from the NYPD to Tuckahoe, have obtained military-grade equipment through the Pentagon's 1033 program, which transfers excess military equipment to state and local police across the country. Late last week, for the first time, state officials released a detailed inventory of the equipment obtained by individual agencies. A review of the data revealed:
Since enrolling in 1995, the NYPD has obtained four armored trucks valued at $65,000 each and two former artillery vehicles known as mortar carriers valued at more than $200,000 each. The NYPD received one such heavily armored vehicle in June 2012.

The New York State Police received two cargo planes, one in 1996 and another in 2010, together valued at $2.8 million, as well as a $900,000 helicopter in 2013.

The New York State Park Police also obtained a dozen M-14 rifles and two military trucks.

University police at three State University of New York campuses have received equipment through the 1033 program: police at Morrisville, Oneonta and Old Westbury each obtained one Humvee and three assault rifles since 2011.

The law enforcement division within the New York State Department of Environmental Conservation received 68 M-16 rifles, all in May 2012.
The complete file is available on the request page, or can be downloaded directly here.
Combined, New York law enforcement agencies have received nearly 300 assault rifles via the program, plus three fully tracked armored vehicles, two cargo planes, six helicopters, eight bomb robots and more than 150 military trucks and Humvees.
Use the map above to view some of the equipment obtained by individual agencies.
Most of the departments contacted for comment did not respond, but Chief Daniel Chambers of the SUNY Oneonta Police Department offered the following explanation for the equipment his department obtained:
"The vehicle is a canvas-topped Humvee, used for emergency response for any natural disasters or incidents of severe weather," he wrote by email. "The M-14s are actually used for ceremonial functions."
Roland Nenni, the Albion police chief, said that the "vehicle we obtained has limited armor, yet it is the only vehicle we have in the county that gives our officers any protection at all." He added, "We have deployed the robot on a few occasions but [it] has not been used to date on a critical incident."
The New York State Division of Criminal Justice Services, which administers the program, released the data in response to a Freedom of Information Law (FOIL) request submitted in August.
"All requests for equipment are approved on a case-by-case basis," says Janine Kava, DCJS spokesperson. "Agency size is one of several factors for consideration, along with geographic location (susceptibility to flooding, remote/rough terrain/coastal) and previous severe weather incidents, for example."
The Pentagon's administration of the 1033 program has been the focus of intense security since the racial strife in Ferguson, Mo., that followed the fatal shooting of an unarmed 18-year-old black man, Michael Brown, by a white police officer in August. Ferguson area departments obtained helicopters, rifles and military vehicles at no cost by participating in the program.
In the wake of weeks-long standoffs between Ferguson protesters and heavily armed police, President Barack Obama ordered a thorough review of the 1033 program, which critics say militarizes local and state police agencies. A Senate inquiry panel likewise questioned Defense Department officials about the program in early September.
The program has doled out $5 billion in equipment nationwide since 1990, including more than $750 million between January and July 2014 alone. While the Pentagon rejected a Freedom of Information Act request for comprehensive spreadsheets, New York joined 37 states in releasing these data.
Large agencies on the New York list include police departments in Rochester and Syracuse, as well as in Suffolk and Nassau counties. Rochester, Syracuse and Nassau County police each received a mine-resistant vehicle in the past year, while Suffolk County obtained a bomb disposal robot and more than a dozen trucks.
But much smaller departments have also reaped the benefits of enrolling in the 1033 program.
In 2001, for instance, the City of Poughkeepsie Police Department received the same mortar carrier vehicle as was allocated to the NYPD.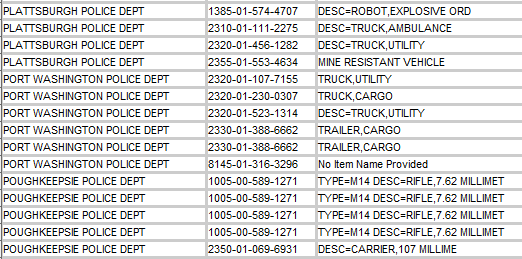 "The vehicle has been retrofitted to be an armored rescue vehicle," says Captain Thomas Pape of the City of Poughkeepsie Police Department. "We don't carry weapons in it, and we make it available to all agencies in the county."
Captain Pape says the vehicle has been deployed in response to armed and barricaded suspects on a handful of occasions since 2001, most recently last summer.
The police department in Plattsburgh, whose 50 sworn officers serve just under 20,000 residents near the Vermont border, last year received its own mine-resistant vehicle, as well as a bomb robot.
The Broome County Sheriff's Office, meanwhile, took receipt of an armored vehicle valued at more than $450,000 in February 2013, plus two Humvees and 15 M-14 rifles since 2010. Broome County employs a total of 53 sworn officers.
---
This story was written in partnership with The New York World.
Image via PoliceCarWebsite.net