When government officials funnel email through staffers rather than hitting "send" themselves, transparency takes on a whole new set of hurdles.
Take, for example, former Secretary of Homeland Security Janet Napolitano, who scorned email since her days as attorney general for Arizona because it "just sucks up time".
But that doesn't mean that Ms. Napolitano didn't avail herself of electronic communication methods. Rather, assistants and key staffers sent emails on her behalf, and presumedly triaged messages sent to the Secretary.
Even though they were sent via other email accounts, communications sent on behalf of the Secretary ought to be treated as if they came straight from Napolitano's hand. This applies to Freedom of Information Act requests for Napolitano's correspondence, as well, particularly since this practice was well known across the department.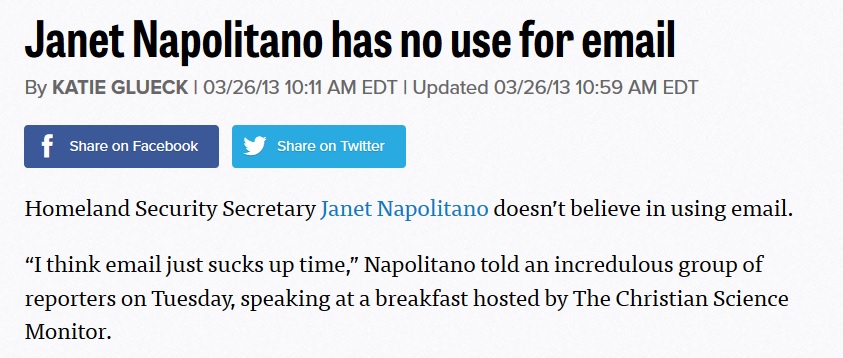 In April, a congressional panel determined that former Acting Inspector General Charles Edwards had an inappropriate relationship with senior Department of Homeland Security officials. Investigators found that Edwards inappropriately socialized with the DHS Chief of Staff, exchanged frequent emails with counsel in Secretary Napolitano's office and even altered IG reports at the request of senior officials.
The oversight committee's report included key examples of inappropriate communications — the footnotes even cited specific email subject lines like "Monday evening-Restaurants" and "Not urgent: Thank you so much for tonitee" [sic] — but not the emails themselves or recipient names.
So I submitted FOIA requests to DHS seeking emails between Edwards and senior DHS officials, including Secretary Napolitano, as well as John Sandweg, who served as counselor to Napolitano during the time Edwards was in the DHS Inspector General's office, and former DHS Chief of Staff Noah Kroloff.
Yesterday, DHS responded that there were no emails between Napolitano and Edwards over a three-year span: "Former Secretary Napolitano did not have a DHS email account and did not use email."

By all indications, the first half of that statement is correct. But the claim that Ms. Napolitano didn't use email at all is false.
When Napolitano's appointment as president of the University of California system was announced in July, I submitted a FOIA request for emails regarding her resignation, and obtained the following in response.
Fond regards from Janet herself, sent via a redacted staffer's email address. In March 2013, the Weekly Standard obtained another email sent "by" Napolitano, in which the Secretary announced the departure of a close staffer.
There are two critical issues at play here. First is the guesswork this kind of email-by-proxy requires. Since emails like these didn't originate from an account assigned to Ms. Napolitano, watchdogs would have to skim through an indeterminate number of inboxes to ferret out misconduct by the Secretary.
But the spirit of the Freedom of Information Act and transparency also requires government officials to conduct a good faith search for documents responsive to a particular request. Since Napolitano's email aversion is common knowledge, particularly within DHS staff, a good faith search for emails "from" the Secretary requires more effort than reiterating that Napolitano declined to set up an email account during her tenure.
---
Image via Wikimedia Commons