Federal law requires the FBI to assess surveillance technologies for potential privacy and/or civil liberties issues. These technology assessments are typically prepared for public posting and review. When it comes to drones, however, the FBI has redacted these privacy reviews in full.
The E-Government Act of 2002 obliges federal agencies to conduct a privacy impact assessment (PIA) prior to deploying any information technology that collects personal information. Per Department of Justice PIA guidelines and PIA template, agencies must conduct these assessments prior to adopting technologies with potential privacy risks, or even conducting pilot studies.
Therefore, the FBI ought to have completed a PIA prior to establishing its drone program in 2005, or at least prior to first operational deployment in October 2006. Documents released following a hard-fought FOIA lawsuit from Citizens for Responsibility and Ethics in Washington (CREW) indicate that the Bureau has completed at least one review (and possibly two) of its drone surveillance program.
By default, privacy assessments are posted in full online. But, as we mentioned earlier, all of the FBI's PIA documents have been redacted in full.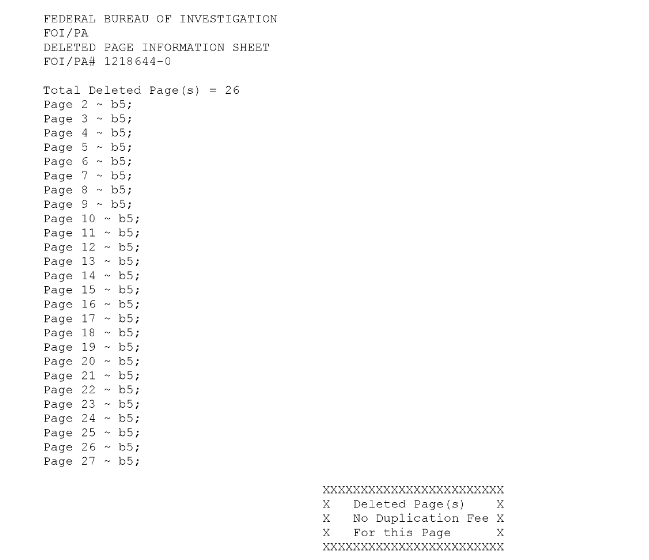 Even the cover sheets have been withheld. The reviews are recognizable only from their titles as provided on the disc of responsive documents sent in May: "1218644-0 - Drone PIA - Drone PIA.PDF" and "1218644-0 - Drone PIA - Drone PIA-Drone PIA Section 2.PDF."
Justice Department guidelines allow agencies to withhold PIAs if publication would "reveal classified, sensitive, or otherwise protected information (e.g., potentially damaging to a national interest, law enforcement effort, or competitive business interest)." Department guidelines require separate justification for keeping PIA findings from the public, but the FBI did not release any such justification documents, either.
MuckRock has submitted fresh requests to the FBI as well as to the Justice Department Office of Privacy and Civil Liberties, which oversees the PIA process, for all FBI documents surrounding the privacy impact assessment process, including the Bureau's justification for keeping the assessment offline.
See the full story at Motherboard.
---
Image via Wikimedia Commons