Some drones fly, while others float. As part of the Drone Census partnership with Motherboard, MuckRock has obtained documents indicating that the Newport News Police Department applied to FEMA last year for $240,000 to purchase a "tethered aerial surveillance balloon system." The unmanned blimp would have carried both high-resolution and thermal camera systems to monitor the Port of Hampton Roads and nearby infrastructure.
While FEMA denied the proposal, the Newport News police application offers an intriguing window into potential law enforcement aspirations for lighter-than-air technologies.
Read the full article at Motherboard, and check out the grant application here.
The department asked for a total of $240,000: $210,000 for the balloon, which carries both high-res and thermal camera systems, plus $22,000 for two cranes to secure the rig to police boats and $8,000 worth of helium. The application did not indicate how high the blimp would have flown, the system manufacturer or the specifications of the onboard camera system.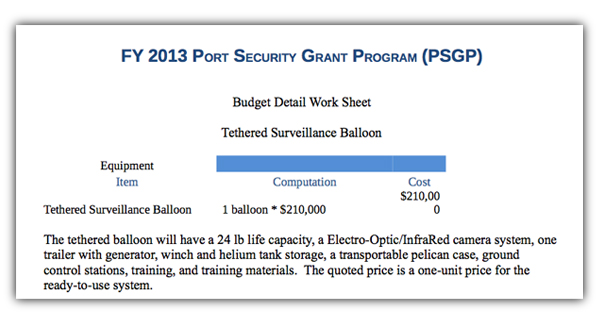 The Army has plans to deploy a $2.7 billion unmanned surveillance blimp—an "aerostat"—above a base in Maryland to monitor the East Coast: per its specs, the JLENS (" Joint Land Attack Cruise Missile Defense Elevated Netted Sensor System") system will be able to track vehicles up to 140 miles in any direction.
Among other justifications, Newport News police asserted in their grant application that a tethered balloon surveillance system would strengthen the Port of Hampton Roads against natural disasters and terrorist attacks by "providing surveillance and intelligence gathering capability in a rapidly deployable platform."
---
Image via Wikimedia Commons