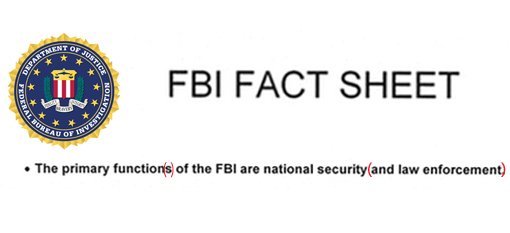 The FBI's Primary Function(s)
National security? Law enforcement? Both.
The FBI includes a brief fact sheet with many of its responses. Beyond reminding requesters that the FBI did not exist before 1908 and that it "does not keep a file on every citizen of the United States," this fact sheet first and foremost clarifies the Bureau's primary function. Last week, FOIA expert Kel McClanahan highlighted that in the last several months the FBI had changed its self-proclaimed primary function from "law enforcement" to "national security." But then the Bureau decided that it didn't really have to choose one or the other.
Per the fact sheet's revision mark, the FBI made the watershed mission swap official as of July 1, 2013. McClanahan interpreted the rewording for Foreign Policy: "So many good things happen to your agency when you tie it to national security."
However, recent request correspondence indicates that the FBI has had a change of heart yet again. Effective January 6, the FBI fact sheet lists two primary functions.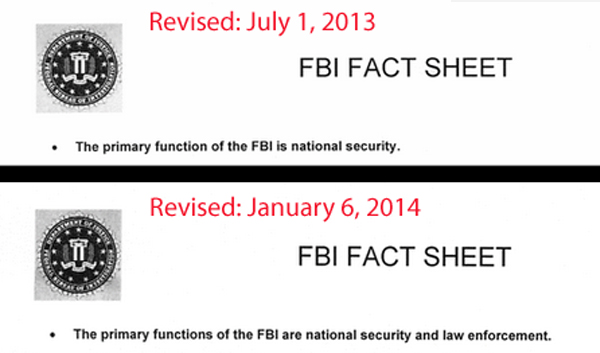 You can see the previous fact sheet attached to a response dated January 7 and the new twin functions included with another letter dated January 8.
It's unclear what prompted these recent changes to the FBI's self-image. MuckRock has requested guidance memos on the revisions.
Submit a request of your own for FBI records by joining MuckRock today. Stay up-to-date on FOIA news by signing up for our mailing list, or by following us on Twitter and liking us on Facebook.