Transparency concerns just won't stop bubbling up for Massachusetts officials charged with establishing the state's medical marijuana dispensary network.
The program, overwhelmingly approved by voters in 2012, authorizes the creation of up to 35 dispensaries across Massachusetts and empowers the state Department of Public Health to regulate their operations.
On January 31, DPH officials announced its shortlist of the 20 dispensaries awarded "provisional status." But the department has declined to release key documents surrounding the winnowing process. What's more, those documents that have been released appear to include basic bookkeeping errors.
So far, DPH has released redacted copies of all 100 dispensary applications along with one-page "score summaries" for each application.
While the department has so far declined to release more detailed evaluation documents for their 20 selections, a review of the released score summaries reveals puzzling inconsistencies.
MuckRock scraped all 100 of the summaries, the data from which is available for review here and download here (.csv).
Notably, six of the summaries seem to miscalculate the applicant's projected profits. Two reports were off by only a dollar, but others were off by $600, $70,744 and even $580,050.
In the most flagrant instance, the score summary for A New Leaf Dispensary seems to mistakenly add revenue and expenses to determine net profit. (For the non-accountants: net profit is revenue minus expenses.) The result is a figure that is off by more than $2 million.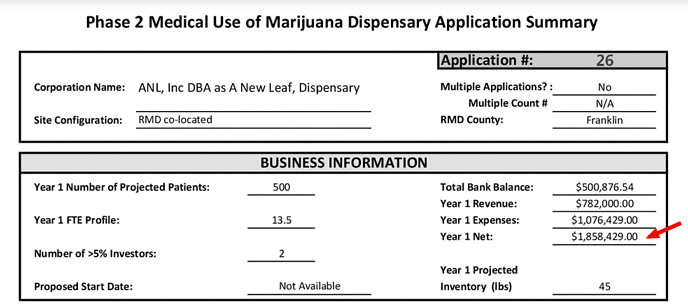 It's not clear where the errors snuck in, or whether the fuzzy math came from DPH or the contracted consultants who reviewed dispensary applications. The figures appear to be tabulated correctly in spreadsheets submitted by applicants, none of which were selected as finalists.
A number of press reports have called the department's management of the dispensary application process into question, citing potential conflicts of interest, the discovery of falsified data in some applications and the involvement of a former marijuana trafficker among applications selected to move forward in the process.
The developments prompted House Speaker Robert A. DeLeo to call for an investigation into the department's methods, though Gov. Deval Patrick and other officials emphasized that the selection process remains on-going.
"No licenses have been given… Don't get ahead of where we are," Patrick told reporters last week. "There was a balance struck here about trying to let the public in through transparency to the process, even though the process was unfinished."
MuckRock is continuing to press state officials for more documentation of the selection process, having filed additional public records requests for the full evaluation metrics and all consultant contracts for the evaluation process.
---
Image via Wikimedia Commons and is licensed under CC BY-SA 2.0