In October, a federal judge instructed the FBI to hand over thousands of documents regarding its use of unmanned aerial vehicles. Last week, the judge further ordered the FBI to ramp up its review pace to 1,500 pages per month after the agency revealed it had more than 7,000 pages on the subject.
Judge Kessler justified the uptick in light of the "intense interest in the public's concern about the FBI's use of drones." But even with more than 1,000 pages released so far, we still know precious little about the Bureau's fleet of UAVs. Rampant redactions and deletions have obscured answers to the most basic questions, including how many drones the FBI has, how much they cost and how often they're used.
The latest release of documents, which Motherboard and MuckRock obtained as part of the Drone Census project, is no different. As with previous releases, the FBI has scrubbed away any meaningful information that might help the public to assess this controversial program. It even insists on redacting facts that have already been made public by the agency itself.
When outgoing director Robert Mueller told the Senate Judiciary Committee last July that the FBI was in the "initial stages" of developing guidelines for its drone program, a handful of privacy hawks in Congress perked up and requested more details. The FBI released correspondence with three members of Congress—Sen. Rand Paul (R-KY), Rep. Zoe Lofgren (D-CA) and Rep. Ted Poe (R-TX)—in its latest bundle.
Compare the FBI's July 19 letter to the Kentucky senator, which Paul published on his website, to the version released to MuckRock and CREW: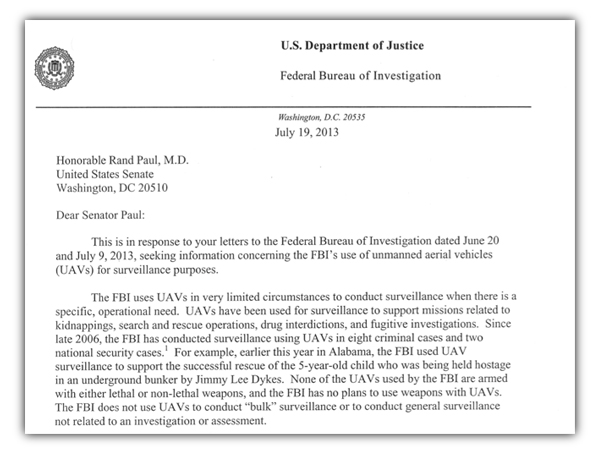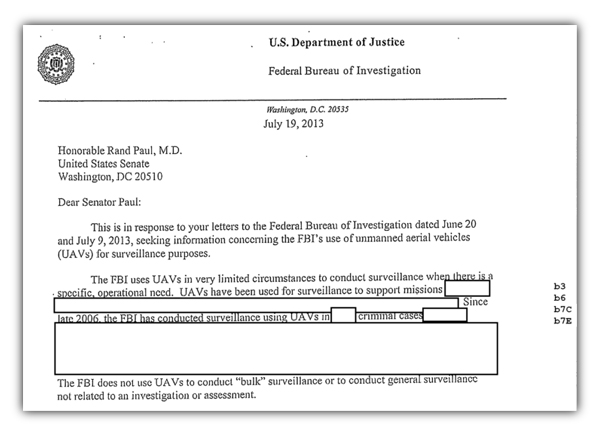 Even though Paul had already posted his correspondence in full, the FBI's FOIA office still saw fit to sanitize them.
See more of the FBI's overly broad redactions, including more scrubbing out of published facts and all details of its drone inventory, over at Motherboard.
Read the purchase log has been embedded below, or on the request page.
---
*Image via Wikimedia Commons