Many agencies keep track of "significant" Freedom of Information Act requests for public records. These are the requests that are likely to generate media coverage, prompt legal action or otherwise draw a strong response from the public. The 2012 list from the Department of Homeland Security includes requests related to hot-button topics like undocumented immigrants and surveillance technology, plus requests from high-profile reporters, activists and think tanks.
A number of requests from MuckRock users and staff made the list. Did yours?
It was unveiled in July that the Pentagon designates particular FOIA requests as "significant," notably those where "the subject matter of the released documents may generate media interest and/or may be of interest or potential interest to DoD senior leadership."
A similar policy in the Department of Homeland Security (DHS) requires all DHS sub-components to report weekly any significant FOIA activity. DHS sub-components include Customs and Border Protection (CBP), the Federal Emergency Management Agency (FEMA) and Immigration and Customs Enforcement (ICE), among other agencies.
According to the policy, which was enacted in 2009, the DHS Privacy Office briefs the White House each Thursday on FOIA request submissions, releases and denials processed by DHS components. Requests are deemed "significant" if the "FOIA requester or requested documents will garner media attention or is receiving media attention" or if the subject matter is controversial or sensitive; if the request originated from a member of Congress, the media or an activist/watchdog/special interest group; or if the request pertained to a senior official, among other qualifications. These are just a fraction of the 205,895 requests DHS indicates it processed in 2012.
The DHS Privacy Office's weekly reports from 2012 highlight requests from media organizations large and small, including the Associated Press, The New York Post and UFO Magazine.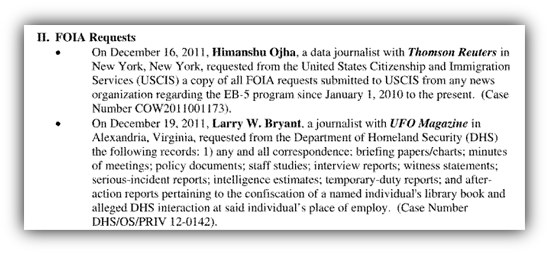 Requests from groups such as the American Civil Liberties Union, Judicial Watch and Electronic Frontier Foundation also feature prominently in the reports.

A number of requests from MuckRock users and staff also made the shortlist:


Michael Morisy's request to ICE above was completed in January 2012.
Even a MuckRock request related to DHS involvement in film production was deemed significant:

Perusing the list of other requests allows a fascinating look into the requests that Homeland Security FOIA officers considered important enough to highlight. We've requested the same weekly reports for 2013 to date, and will continue to track which requests government agencies single out for special scrutiny.
Read the full release embedded below or on the request page.
---
Image via Wikimedia Commons