Georgia Tech has a long pedigree in development of unmanned aerial vehicle (UAVs), including a recently successful $100,000 crowdfunding campaign for a spin-off company's lightweight drone. But so far the FAA has put the brakes on the university police department's goal to "lead the world in the use of unmanned aircraft for law enforcement," which entailed football game surveillance and monitoring freshman move-in with their micro-UAV.

In June 2009, the Office of Emergency Preparedness at Georgia Tech Police Department applied for FAA authorization to operate a Hornet Micro UAV, manufactured by Adaptive Flight, Inc., a Georgia Tech spin-off venture. In its application, which was released to the Electronic Frontier Foundation, Georgia Tech police proposed that the 1-kg vehicle would prove useful at special events, as well as serving "regular air patrol function" and as a "crime prevention tool."
Documents released to MuckRock through the Drone Census further illuminate the specific special events that Georgia Tech police proposed to monitor using its Hornet drone. A March 2009 presentation prepared by the Georgia Tech Director of Emergency Preparedness outlines aspirations to enhance the reputation of the department, the university and a homegrown company by piloting "the first operational use of UAVs for local law enforcement."
Titled "Unmanned Aircraft Over Georgia Tech," the presentation proposed a number of general law enforcement applications for small UAVs such as the Hornet. These include inspecting suspicious vehicles and objects, documenting incident scenes and serving as a crime deterrent.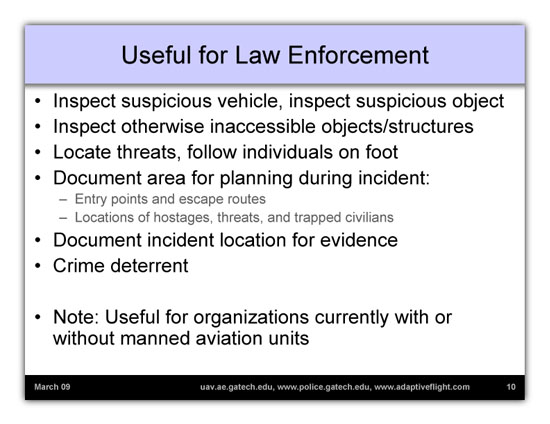 For Georgia Tech in particular, the presentation suggested using the Hornet as a "special event force multipler […] especially [for] home football games." The UAV might also be used to monitor other special events such as "road races,outdoor activities, new student move in, etc." According to the documents, Georgia Tech police might also use the UAV for day-to-day operations, homeland security incidents and "response & recovery operations."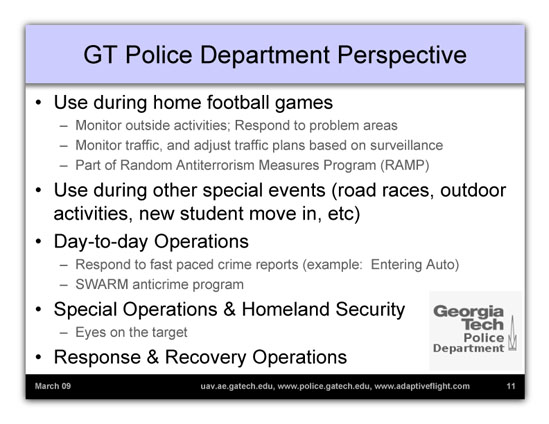 The Office of Emergency Preparedness proposed a two-phase timeline for bringing first one then three or more Hornets online through the FAA authorization process. Anticipated benefits from these efforts around drones would extend beyond the department to Georgia Tech as an institution that churns out innovative and useful products, Georgia as an attractive economic market for such innovation, and "the Nation" as the foremost producer in this "huge potential worldwide market."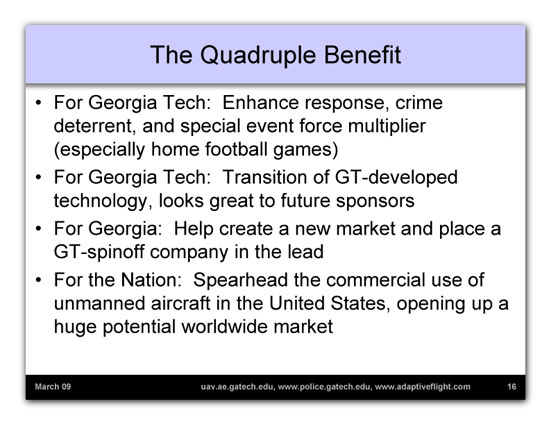 Although the presentation suggests that the FAA "unofficially encouraged" the Georgia Tech police to apply for drone authorization, its application was not approved. A March 2010 denial letter cited the Hornet's lack of sense-and-avoid capabilities as the FAA's primary rationale. (Lack of sense-and-avoid did not, however, prevent the FAA from approving the sheriff's office in Montgomery County, TX to operate its 30-pound UAV.)

The FAA also noted the "highly populated setting" and heavy air traffic over Georgia Tech, including two dozen heliports and four airports within a 10-mile radius of its campus. It does not appear that the university police department submitted any subsequent applications to operate drones following this denial. The Georgia Tech Research Institute has also applied for FAA authorization to operate UAVs, but has demanded $115,000 to release documents to MuckRock related to their drones.
Read the full release embedded below, or on the request page.
---
Image via Wikimedia Commons and is licensed under CC BY-SA 2.0