On the morning of the April 2, 2012 shooting at Oikos University that killed seven people, Oakland police also faced managing protesters during a federal raid on six cannabis dispensary sites.
While the dispensaries are legal under California law, they violate federal laws. MuckRock user Rich Jones filed a request for Oakland Police Department emails to find out whether the DEA raid hampered the response to the shooting.
The emails don't reveal any specific link between the two incidents, but show the DEA-led raid required dozens of OPD officers to address subsequent protests, putting other priority calls on hold.

Oakland police were notified just hours prior to the raids on downtown Oaksterdam University sites, and OPD command indicated a lack of staff to address anticipated demonstrations. Following the raids, Oakland Lt. Kevin Wiley filed a number of complaints (outlined in the emails) regarding the lack of coordination from the DEA, IRS and U.S. Marshals in the hundred-agent action. Lt. Wiley cited inadequate notification, a lack of a communications plan between agencies and a confused exit strategy as particular drains on the understaffed department.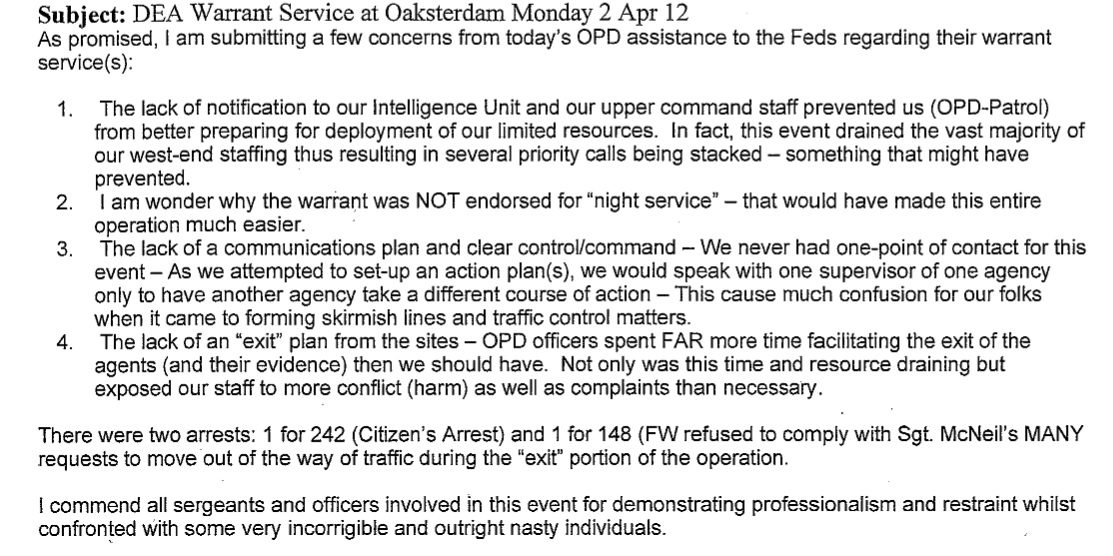 Read the emails on the request page, or embedded below.
---