A recently released background check Steve Jobs submitted to in 1991 covers a range of potential security clearance red flags: past drug use (marijauna, LSD), his character ("dishonest") and close relatives living in communist-controlled countries (none).
An FBI file on the founder of Apple Computers and Pixar Films, consisting primarily of a background check for a White House appointment to the President's Export Council, was released to MuckRock last week.

At least 29 people were interviewed by FBI agents for the background check. They were asked about both Jobs' drug use (he told the FBI himself he 'experimented' while in high school and college with marijuana and LSD) and the out of wedlock child he had at one point abandoned.

While many had only positive things to say about Jobs …

those who seemed to be settling scores were featured more heavily in the report.

Two former colleagues called Jobs "strong-willed, stubborn, hardworking, and driven" and that Jobs has integrity "as long as he gets his way." The pair wouldn't elaborate.
Another person interviewed in California took a harsher view. "He described the Appointee an individual who was not totally forthright and honest and has a tendency to distort reality in order to achieve his goals," the report states, adding, "[T]he Appointee will twist the truth in order to achieve whatever goal he has set for himself. He therefore considered the Appointee to be a deceptive person."

The FBI also quotes someone who didn't think such character flaws should stand in the way, stating, "the appointee has what it takes to assume a high level political position within the government, which in his opinion, honesty and integrity are not prerequisites to assume such a position."

Others gave more nuanced opinion of Jobs' character. One Apple employee interviewed at his/her home in Palo Alto stated Jobs "is basically an honest and trustworthy person, he is a very complex individual, and his moral character is suspect."
That same person, however, added he is no longer friends with Jobs and is "bitter and somewhat alienated, based upon having to work for him at Apple."

According to another interviewee, Jobs "had undergone a change in philosophy by participating in Eastern and/or Indian mysticism and religion. This change apparently influenced the appointee's personal life for the better."

The FBI also released documents concerning a bomb threat made against Jobs.
An unknown man called Apple from a payphone on Feb. 7, 1985, saying he put "devices" in Jobs' home and the homes of two other executives. The caller wanted $1 million, and said another device was set to explode if Apple called for help.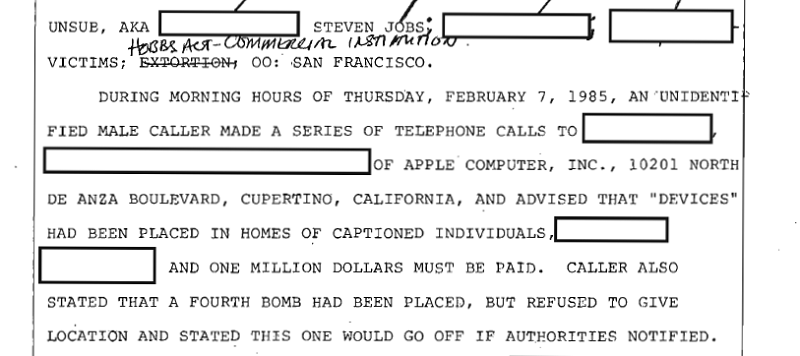 The man told Apple employees to look under a table at the San Francisco Hilton for further instructions. If this wasn't done by by 2:30 that afternoon, he said, "bombs would go off."
The FBI traced the call to a garage near the airport. They found no bombs, and no instructions at the hotel.

"Telephone tap placed by telephone company on victim's office telephone in the event further calls received, however, no further calls made to date," stated an FBI memo from the next day.
You can read the full file on the request page, or embedded below:
---
Image via Wikimedia Commons and is licensed under CC BY-SA 3.0