In a reflective piece of fiction set after the War in Iraq concludes, then-Major General David A. Fastabend outlines a strategy for victory: He said the United States needed bold, decisive moves, a focus on local reconciliation and, perhaps most controversially, a willingness to cut deals with insurgent organizations.
Written in 2007 and set in 2009, it would become a piece of alternative history, a what-could-have-been. And after word of it was spread by Thomas E. Ricks' book, The Gamble: General Petraeus and the American Military Adventure in Iraq, 2006-2008, its existence was first denied and then its text classified.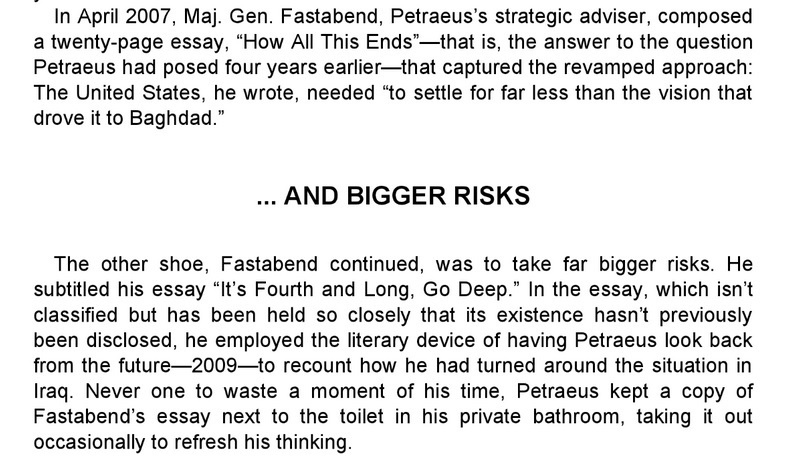 Fastabend's writing, dramatically titled How All This Ends: It's Fourth and Long, Go Deep, has become a work of fiction not only hidden from the public but officially made a state secret. It is an alternative history of what could have been that the government is fighting to keep from the public.
After being tipped off about the mention of the essay in Ricks' book by a regular source, MuckRock requested a copy of the original, which Ricks reported was so important to General David Petraeus that he kept a copy next to the toilet in his private bathroom. The fictive essay was circulated among other members of the military as well, but was closely held and never publicly reported until Ricks' book.
Ricks reported Fastabend's fiction made six major policy recommendations:
Work with extremists
Be willing to alienate allies
Be willing to work with Moqtada al-Sadr, an Iraqi Islamist leader
Heavily promote local reconciliation of Sunnis and Shiites
Put the brakes on handing control to the Iraqi government
Announce a public timetable for withdrawal
Many would ultimately be carried out, but on a much slower timeline than Fastabend envisioned.
Ricks reported that, at the time, the essay "isn't classified but has been held so closely that its existence hasn't previously been disclosed." But a FOIA request filed with the U.S. Army for the essay initially returned a "No Responsive Documents" response.
A similar request filed to United States Special Operations Command, however, did net a positive response: USSOCOM had the document, but would not release it stating it was "not under the cognizance of this command to release." The agency referred the request back to U.S. Army's Central Command, which then did acknowledge possession of the essay, but stated that the essay was now classified as SECRET.

What details could those 10 pages hold that, after limited public release, the U.S. Army has classified it? We may discover someday, but don't hold your breath - a number of appeals requesting the documents, including MuckRock's own, have all been shot down.
Until then, however, Fastabend's essay about the war that might have been might be one of the influential short stories ever written that requires a security clearance to read.
---
Image by Arlo K. Abrahamson via Wikimedia Commons