Job Openings
The development opening is a full-time position including full health benefits, three weeks of vacation per year, and opportunities for professional development. We are headquartered in Cambridge, Massachusetts but are a distributed, remote friendly team. The state contributor jobs are part-time contract positions and only open to individuals based in the states the contributor will be reporting on.
Hiring is on a rolling basis until these roles are filled.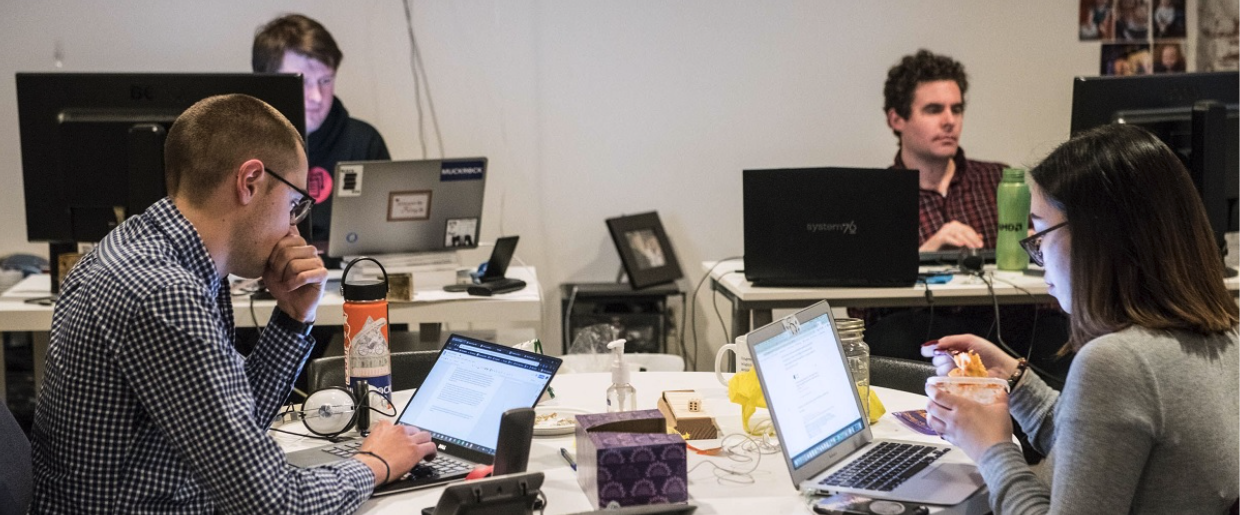 Development Associate, MuckRock Foundation
Interested in helping reinvent how journalism and government transparency work? Reporting to the chief executive officer, the Development Associate will take the lead on helping communicate the MuckRock Foundation's vision of a more open, engaged democracy, and then identifying and pursuing key grant and other funding opportunities to bring that vision into reality.
Founded in 2010 and now operating five distinct programs, the MuckRock Foundation serves over 2,700 newsrooms and reaches 40 million people each month. As Development Associate, you will help continue to build and expand on that work, including building relationships with funders inside the journalism, research, and cause-based communities.
Proposal and grants management & development - 60%
Maintain a system for tracking the reporting requirements and timelines for existing grants and for managing submission of new proposals. Produce internal and external donor-related communications such as funding proposals and grant reports;
Coordinate and oversee relationships with corporations, foundations, and individuals who fund various programs and scholarships.
Donor outreach – 20%
Other materials may include prospect research on new donors, media releases, letters to external constituents, and presentations to donors;
Conduct thematic philanthropic research and prospect research to identify new donors;
Coordinate with chief executive and operations manager to implement and manage donor stewardship practices with existing private and corporate donors.
Impact evaluations & data collection – 20%
Analyze data on impact and reach of our services as well as suggesting new areas of data collection; fundraising trends; and philanthropy- or journalism-related activities by other relevant players in the field;
Promote and incorporate quantitative and qualitative data and metrics into funding proposals and donor communications
To apply, please send a resume and cover letter explaining how you fit the above qualifications to Michael+development@MuckRock.com with the subject line, "MuckRock Development Lead." You may also direct any questions to the above address.
Public Records Contributor, MuckRock Foundation
MuckRock, a non-profit government transparency news site and tool suite, is looking for two reporters — one in Arkansas, one in Alabama — to help find interesting stories hidden in public records in your state and share them with the world. Pieces can range from investigations into government spending to dubious law enforcements to exploring interesting data sets you've stumbled upon. To get a sense of what we're about, check out our prior reporting  and social media , and see what our Virginia and Tennessee writers have been doing.
You'll be working with a small team and a large community of transparency enthusiasts, and will have the opportunity to have some of your reporting tie in to larger editorial projects, such as investigations into local surveillance  or exploring corporate handouts . You'll also have unfettered access to MuckRock's various journalism tools, including its filing platform, crowdsourcing tools, DocumentCloud for document analysis, and more.
You'll also be assisting with our users' public records projects, including large scale reporting that has a national impact, by helping serve as a local resident for agencies that require it in your state. The hours are highly flexible and set by you, and all work would be remote. We collaborate via Slack, Google Docs, and email. Read more about our mission , meet the staff , and let us know if you have any questions.
Requirements:
Be a resident of Arkansas OR Alabama.
Some prior reporting experience and writing samples, even if in an academic setting.
Availability to either receive some mail at your home and forward it to our main office, or to check a mailbox we purchase for you on a weekly basis.
Two references who have worked with you in some capacity.
Have a photo ID indicating state residency.
Responsibilities:
Two monthly articles based on a mix of public records, interviews with local transparency advocates, or external sources that either tells an interesting story based on public records or highlights important trends or changes in your state's public records acces (such as the public records law changing or major litigation).
Checking a mailbox convenient to you or at your home where some public records responses will be delivered, and forwarding them on as needed to our office for processing.
Communicating with MuckRock staff about edits, story ideas, and administrative details.
Following up with agencies to prove state residence on an occasional basis (usually less than a dozen times per year).
To apply, please send a resume, writing samples, and optional cover letter explaining how you fit the above qualifications to Michael+proxy@MuckRock.com with the subject line, "MuckRock State Contributor." You may also direct any questions to the above address.