Job Openings
The following job openings are full-time positions including full health benefits, three weeks of vacation per year, and opportunities for professional development. We are headquartered in Cambridge, Massachusetts but all of our current openings are remote friendly.
Please note that the planned hiring time frame for these positions is October/November.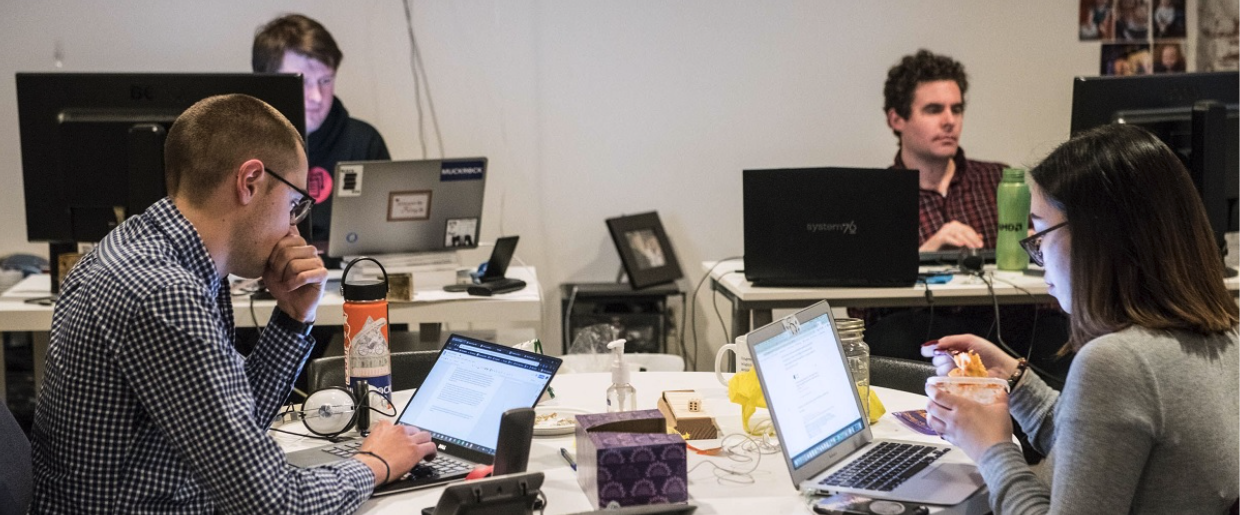 Editor, MuckRock Foundation
Love documents and transparency? Want to use new technology to drive local and national reporting that would otherwise be impossible? Can you crack a decent redaction joke? The MuckRock Foundation is hiring an editor to oversee our reporting, resources, and partnerships across MuckRock, DocumentCloud, oTranscribe, and our other programs.
Here's what we're looking for:
— Strong interest in and experience working with primary source documents and data, including public records, spreadsheets, and archival materials.
—Interested in pioneering new ways of reporting with readers, including crowdsourcing projects that dig into public health, safety, and national news as well as developing beat-specific reporting resources.
—Experience collaborating across departments. At MuckRock, our editorial, administrative, and technology teams work closely together: journalism projects drive site features and vice-versa.
—Experience building external collaborations. We work with over 2,500 newsrooms, and we'd like to build on our tradition of high-impact editorial partnerships.
— The ability to set and deliver on editorial goals for audience and impact.
— Experience and comfort managing a small team made of a mix of full-time staff, interns, and freelancers and a desire to lead the continued growth of that team. Over the last two years, we've doubled in size and plan to do so again over the next two to three years. We want someone excited about growing a flexible organization committed to work-life balance and reflecting the diversity of our public.
—A thoughtful approach to data, automation, and building systems: The most impactful work we do is that on which others can build. While a lot of our editorial work is traditional news articles, we're also thinking about leveraging profile pages for over ten thousand agencies; creating interactive tools to explain the FOIA process; and automating new approaches to civic transparency and engagement. This also means thinking about where such automation can go wrong and helping set the standards in responsible machine learning, data analysis, and automation.
Below are some qualities that will help candidates stand out to us, but are not required:
— Experience beyond journalism. Moving in and out of journalism can broaden perspectives; if you've worked at non-profits, research organizations, or other groups outside of the news industry, we're excited to hear how that's shaped your thinking.
— Demonstrated ability to build an audience and explain your strategy: Public records are often considered too "inside baseball" to excite the public. We're working hard to change that. The editor should have a sense of how to make the tools of investigative and accountability reporting accessible and relevant to a broad audience while building stories and resources that resonate with our core journalistic, non-profit, and academic users.
—Data analysis and programming: DocumentCloud's tagline is "turning documents into data," and do we have a lot of data. From endless spreadsheets to email files to our own generated data on everything from agency response times to internal metrics, we're excited to find new ways to analyze and put this information to work. We'd love to have someone with data analysis or data journalism experience, and if you have any background in Python you'll be able to hit the ground running that much quicker.
Responsibilities
Develop and execute newsletter and social media strategy, helping develop voices that resonate with each brand's target audiences
Run regular editorial meetings, garner participation from across staff, and delegate responsibilities
Help onboard, mentor and manage editorial team and internship program
Give presentations/trainings on FOIA, public records, MuckRock, DocumentCloud, and other tools
Write and report stories consistent with the editorial strategy you set and broader organizational goals
Represent MuckRock at conferences and other public events
To apply, please send a resume and cover letter explaining how you fit the above qualifications to Michael@MuckRock.com with the subject line, "MuckRock Editor Role." You may also direct any questions to the above address.

Development Associate, MuckRock Foundation
Interested in helping reinvent how journalism and government transparency work? Reporting to the chief executive officer, the Development Associate will take the lead on helping communicate the MuckRock Foundation's vision of a more open, engaged democracy, and then identifying and pursuing key grant and other funding opportunities to bring that vision into reality.
Founded in 2010 and now operating five distinct programs, the MuckRock Foundation serves over 2,700 newsrooms and reaches 40 million people each month. As Development Associate, you will help continue to build and expand on that work, including building relationships with funders inside the journalism, research, and cause-based communities.
Proposal and grants management & development - 60%
Maintain a system for tracking the reporting requirements and timelines for existing grants and for managing submission of new proposals. Produce internal and external donor-related communications such as funding proposals and grant reports;
Coordinate and oversee relationships with corporations, foundations, and individuals who fund various programs and scholarships.
Donor outreach – 20%
Other materials may include prospect research on new donors, media releases, letters to external constituents, and presentations to donors;
Conduct thematic philanthropic research and prospect research to identify new donors;
Coordinate with chief executive and operations manager to implement and manage donor stewardship practices with existing private and corporate donors.
Impact evaluations & data collection – 20%
Analyze data on impact and reach of our services as well as suggesting new areas of data collection; fundraising trends; and philanthropy- or journalism-related activities by other relevant players in the field;
Promote and incorporate quantitative and qualitative data and metrics into funding proposals and donor communications
To apply, please send a resume and cover letter explaining how you fit the above qualifications to Michael@MuckRock.com with the subject line, "MuckRock Development Lead." You may also direct any questions to the above address.