In this week's FOIA round-up, HUD's public records system faces severe delays due to contract expiration, North Dakota considers restricting public record access related to "critical infrastructure," and documents FOIA'd by The Willamette Week show friendly text exchanges between a Portland Police lieutenant and an alt-right leader.
See a great use of public records we missed? Send over your favorite FOIA stories via email, on Twitter, or on Facebook, and maybe we'll include them in the next round-up. And if you'd like even more inspiration, read past round-ups.
HUD's public records system falters due to government shutdown
The Department of Housing and Urban Development's (HUD) public records request system has been offline since January 7. The contract to run the system lapsed during the recent partial government shutdown, leaving requesters unable to file and track their request statuses. The agency only updated their FOIA submission process last week, where they listed information about requesting files through email, fax, or snail mail.
HUD spokesman Brian Sullivan told ProPublicathat the agency hopes to find a new contractor soon, and that "nothing was lost during this 'outage,' and work continues on the receiving/processing end."
The FOIA slowdown isn't uncommon for HUD, however. As of February 14, HUD's average agency response time to FOIA requests made through MuckRock was 278 days.
Read more about the HUD FOIA system delays here.
North Dakota considers severely limiting access to public records
North Dakota legislators proposed a new bill that would restrict access to public records concerning security operations related to "critical infrastructure." The bill defines infrastructure as "physical or virtual," and could include anything from public buildings to computer systems.
Senate Bill 2209 received a unanimous 47-member vote in the North Dakota Senate on January 22. While lawmakers argue that the bill is necessary to prevent cybersecurity threats on key infrastructure in the state, many public records and transparency activists believe the legislation targets FOIA requesters and journalists looking for information related to pipelines.
Read more about the bill and its possible impacts over on The Intercept.
Portland Police Lieutenant advised alt-right leader via text
Documents obtained by The Willamette Week's Katie Shepherd revealed that Portland police officers had "warm exchanges" via text with far-right Patriot Prayer leader and former Senate candidate Joey Gibson. Portland Police Lieutenant Jeff Niiya advised Gibson on how one of his members could evade arrest despite an active warrant and discussed where leftist protests were taking place, even going as far as to say that a Queer Liberation Front protest wouldn't have a police presence. Niiya is also the commanding officer of the Portland Police Bureau, which collects intelligence on protest groups in the area.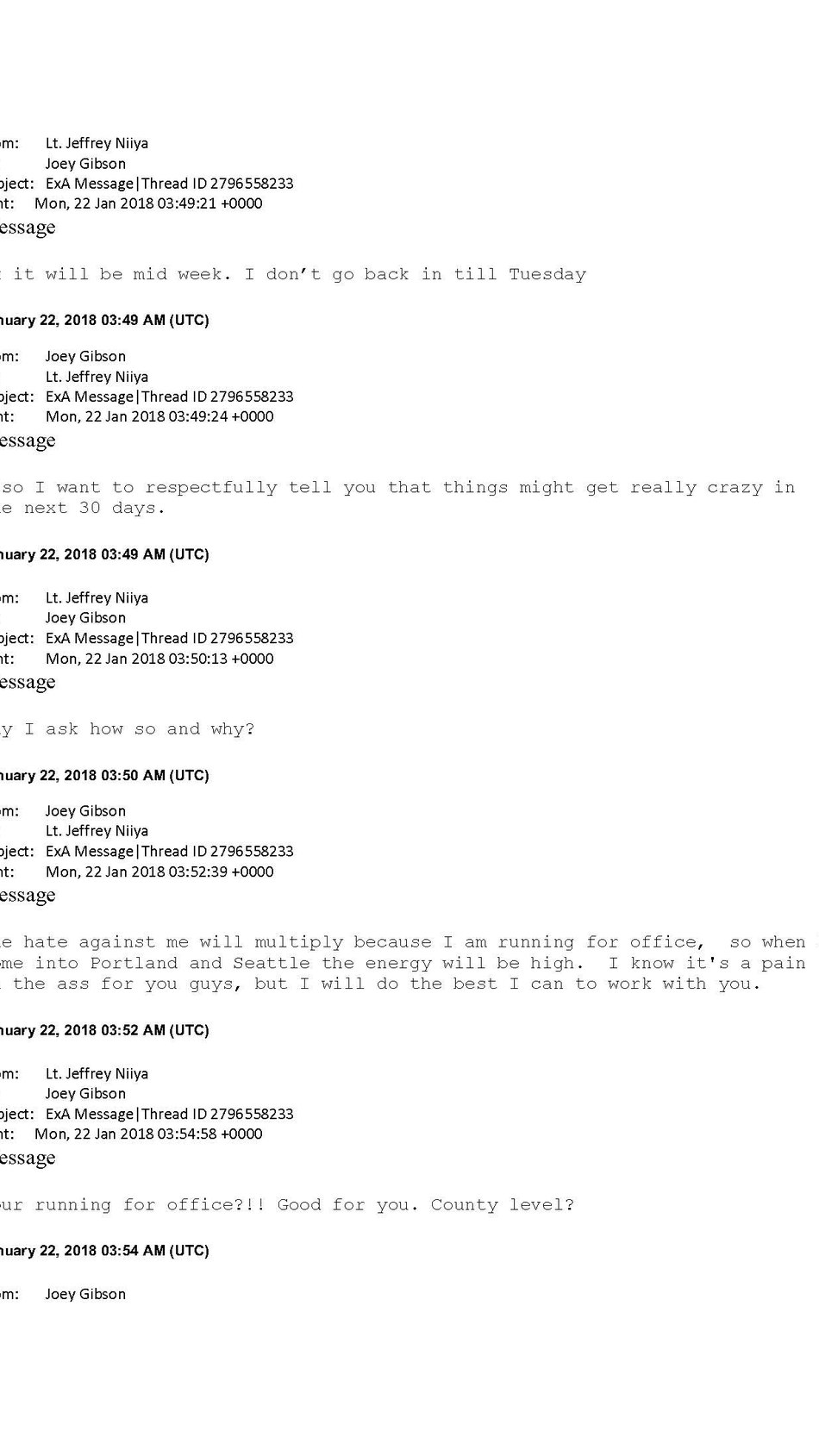 Read more about it at Willamette Week.
Read a great FOIA-based news story we should highlight? Let us know and maybe we can include it in our next roundup! Send it over via email, on Twitter, or on Facebook.
Image by Tiffany Von Arnim via Flickr and licensed under CC BY 2.0.