This FOIA Friday coincides with a particularly special day for transparency enthusiasts all over Earth: International Right To Know Day.
Celebrated by freedom of information fans on September 28th each year, RTK Day is a chance to reflect of the powerful possibility of government access for the people. Get familiar with access rights around the world with our quick quiz, and play along by sending us your feedback and fun facts in the form below!
---
What percentage of the world's population is covered by some Access to Information regulation or law, according to an estimate by Article 19?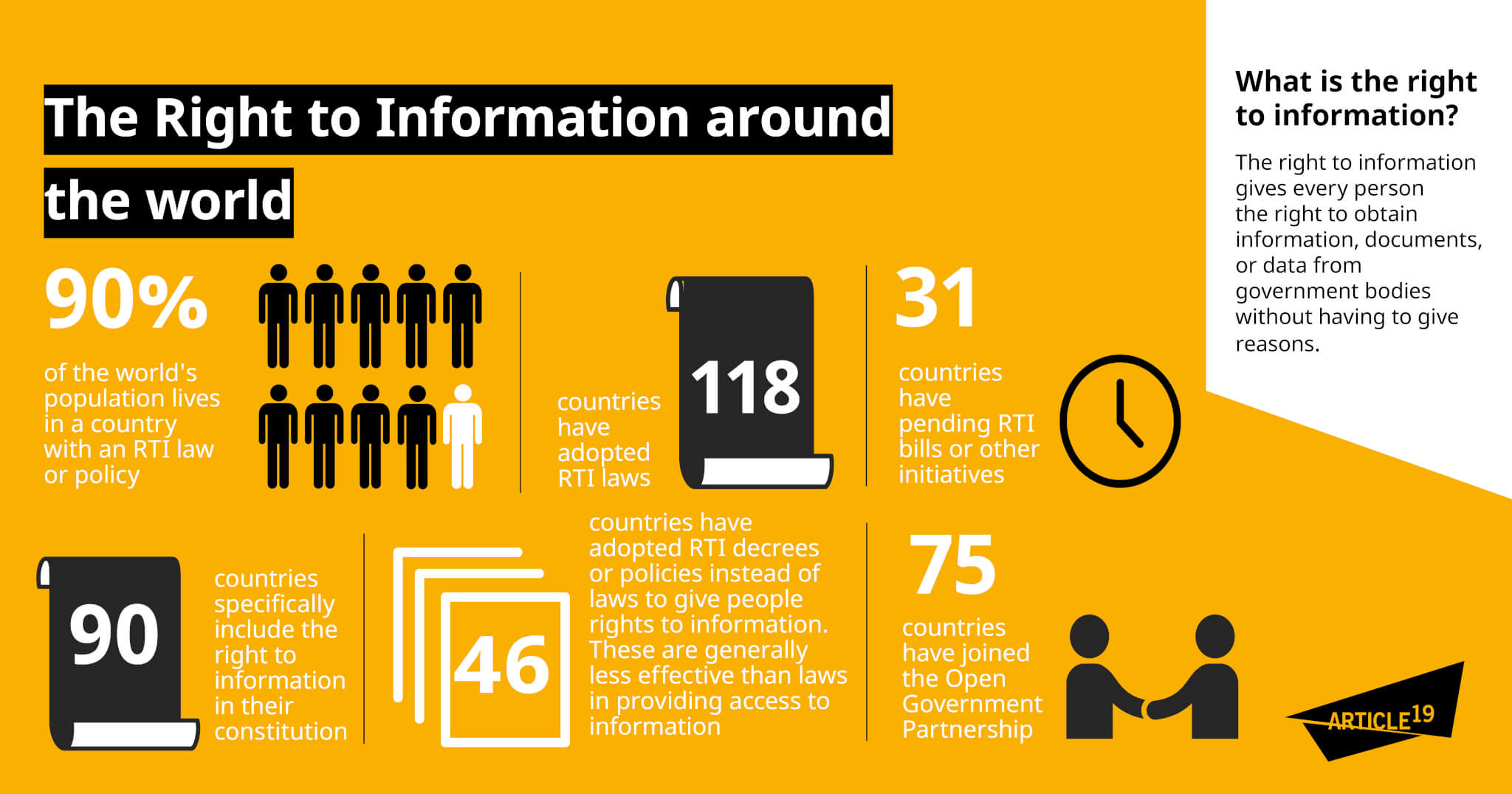 Those familiar with the United States Freedom of Information Act know that having a law on the books doesn't guarantee that it will work smoothly or legally, but for an estimated 90% of the global population, there at least exists some sort of mandate for public access to information.
---
Which one of these countries is the only one to lack a Right To Know law?
Afghanistan
Laos
Iran
United States of America
In the US, you know our law as the Freedom of Information Act, but, according to Article 19, 118 other nations globally have an equivalent law on the books. According to the Centre for Law and Democracy, Afghanistan, at least on paper, has the strongest "legal framework for the right to information," and nearby Iran implemented its Law on Publication and Free Access to Information in 2009. Unfortunately, at least 24 other countries lack anything of the kind, Laos among them.
Check out Article 19's worldwide map to learn more about the level of access allowable by law.
---
The Freedom of Information Act has made a cameo in which of these American political television shows?
House of Cards
Parks and Recreateion
Veep
The West Wing
If you've ever found yourself stonewalled in the public records process, you're keeping company with Ms. Leslie Knope, the protagonist from Pawnee in Parks and Recreation!
Can you think of other mentions of FOIA in film or on the silver screen? Let us know below, and we'll pass it along to our pals at Germany's Open Knowledge Foundation, which is compiling a playlist of FOI appearances.
---
---
Which country was the first to enact a right to information law?
Canada
Luxembourg
Sweden
United States of America
Though the US has one of the longest-running laws on access, it wasn't the first one to formalize the idea, and its neighbor Canada didn't institute the right until the early 1980s. Both, though, were earlier adopters than Luxembourg, which is still working to add a RTK rule. But since 1766, the Kingdom of Sweden, which once encompassed nearby Finland, has had a FOI provision for its people. It was championed by Anders Chydenius, a priest in Alaveteli, Finland, which provides the namesake for international RTK group Alaveteli, which helps people build open source FOI websites in their own countries.
---
Which world leader famously turned his back on his country's FOI law, despite previously stating, "As I said information is power and any government's attitude about sharing information with the people actually says a great deal about how it views power itself and how it views the relationship between itself and the people who elected it"?
Silvio Berlusconi, former Prime Minister of Italy
Tony Blair, former Prime Minister of the United Kingdom
Jacques Chirac, former President of France
Justin Trudeau, Prime Minister of Canada
Despite once claiming to be a proponent of the people's access to government activities, Blair's 2010 autobiography A Journey: My Political Life carried this contrary assessment of United Kingdom's Freedom of Information law:
"Freedom of Information. Three harmless words. I look at those words as I write them, and feel like shaking my head till it drops off my shoulders. You idiot. You naive, foolish, irresponsible nincompoop. There is really no description of stupidity, no matter how vivid, that is adequate. I quake at the imbecility of it."
It seems that the law felt a bit too effective at letting the public demand accountability from its civil servants.
---
The world over, the right of the people remains a powerful and developing component of a fair and free society. Let us know how you're celebrating by tweeting at us or shooting us an email at info@muckrock.com!
---
Image via Pexels