This week's FOIA roundup ties together the past and present with some fascinating documents. Plus, see the latest results from the #RummysSnowflakes crowdsourcing campaign.
See a great use of public records we missed? Send over your favorite FOIA stories via email, on Twitter, or on Facebook, and maybe we'll include them in the next roundup. And if you'd like even more inspiration, read past round ups.
FOIA requests continue to open up EPA
Last week we looked at FOIA releases from the Sierra Club and New York Times that shed some much-needed light on the EPA. Those stories keep coming, thanks to more documents released to the Union of Concerned Scientists.
Politico's Annie Snider reported on the documents:
Scott Pruitt's EPA and the White House sought to block publication of a federal health study on a nationwide water-contamination crisis, after one Trump administration aide warned it would cause a "public relations nightmare," newly disclosed emails reveal.

The intervention early this year — not previously disclosed — came as HHS' Agency for Toxic Substances and Disease Registry was preparing to publish its assessment of a class of toxic chemicals that has contaminated water supplies near military bases, chemical plants and other sites from New York to Michigan to West Virginia.

The study would show that the chemicals endanger human health at a far lower level than EPA has previously called safe, according to the emails.
Read the full article at Politico.
Nominations still open for FOIA Advisory Committee
The federal FOIA Advisory Committee was convened to "identify procedures and methods for improving compliance" with our nation's transparency laws, and now the Office of Government Information Services is seeking new members to help the committee continue its work.
Applying is easy; you can just send an email answering a few questions, and they're seeking nominees to represent requesters across a variety of categories. Read the details here.
The latest findings in #RummysSnowflakes
This past week, 18 participants helped us crowdsource 109 more submissions in our #RummysSnowflakes Assignment, which is exploring a cache of thousands of pages of memos released by the National Security Archive.
Every volunteer who contributed at least five submissions in the last week will get a free MuckRock request added to their account later today, and we've picked a new winner for this week's most interesting find!
Congratulations to user Tony McAuliffe, who came across an interesting memo from New Gingrich that suggested wargaming scenarios for the invasion of Iraq were not optimistic enough: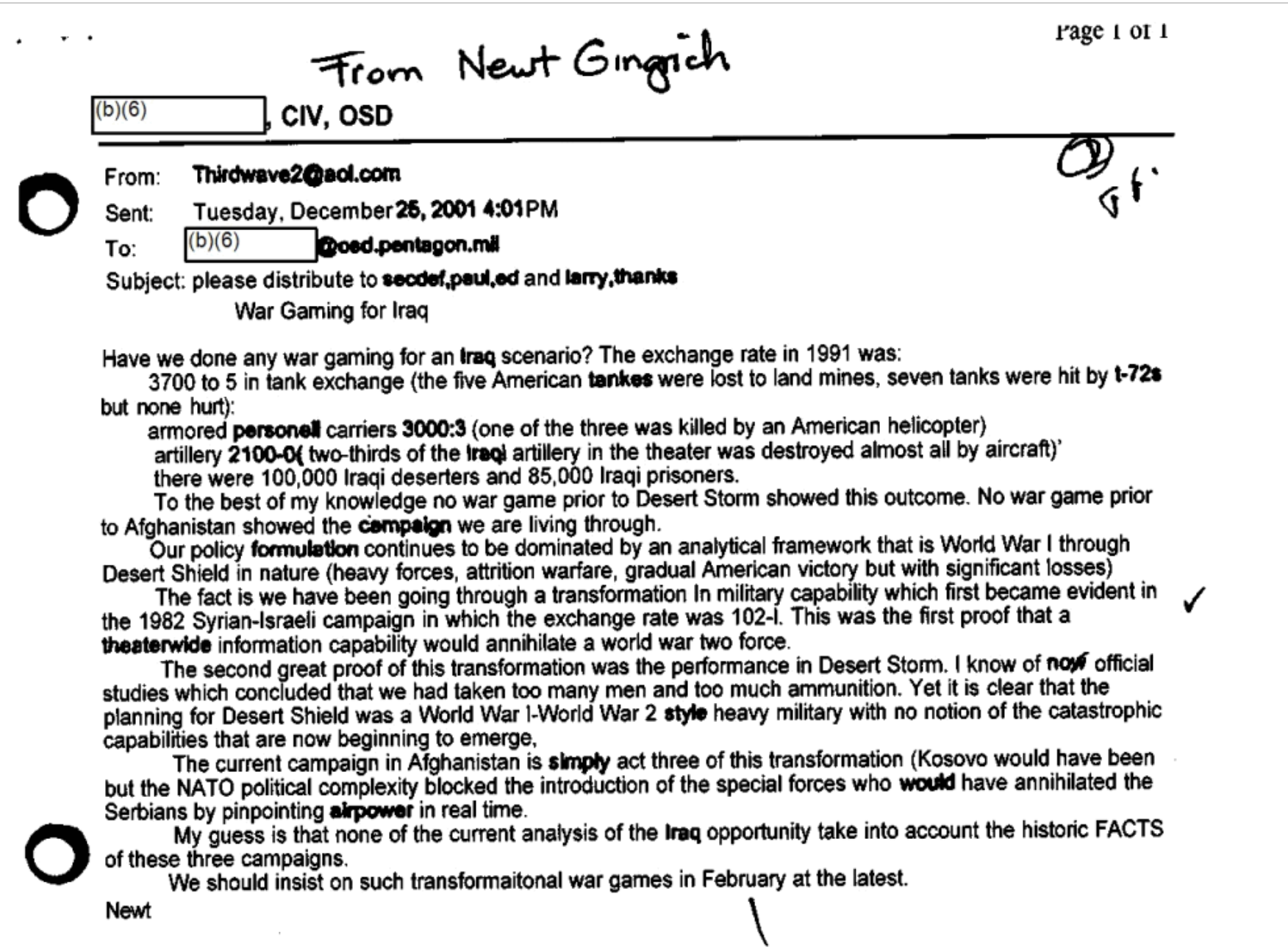 Thanks to all who have submitted! A reminder that the person who submits the most entries over the course of the four-week content will be given 25 free requests plus an extra special MuckRock Swag Pack, sent anywhere in the United States, and weekly winners with the most interesting finds will get a free item from the MuckRock Swag Store.
Help us continue to expand the data set by helping crowdsource the rest of the information! Just two weeks left until the ultimate winner is announced.
Oliver North's Checkered Iran-Contra Record
Speaking of the National Security Archive, they recently put together a good roundup of declassified documents related to incoming National Rifle Association President Oliver North.
As Malcolm Byrne writes:
North himself has admitted under oath to most of the actions, decisions, and falsehoods that prompted widespread condemnation of his behavior in the wake of the scandal. Declassified documents – a representative sampling of which the National Security Archive is reposting today – provide further, contemporaneous evidence, often written in his own words. His conduct ultimately led to criminal convictions against him, but they were overturned by an appeals court panel because his congressional testimony in the Summer of 1987, delivered under a grant of immunity, might have influenced witnesses at trial.

Though he has often accurately claimed that he was mostly following orders, including all the way from the top - President Reagan himself - North became famous during the nationally televised congressional hearings for defiantly owning his recurring dishonesty. Some of it was aimed at purported adversaries, such as his counterparts in Iran. "I lied every time I met the Iranians," he declared, adding at another point, "I would have promised those terrorists a trip to Disneyland if it would have gotten the hostages released."
Read the rest of the analysis, and see the original documents, at the National Security Archive.
Seen a great FOIA-based news story we should highlight? Let us know and maybe we can include it in our next roundup! Send it over via email, on Twitter, or on Facebook.
---
Image via C-SPAN