Since May 23rd, the Electronic Frontier Foundation and Venkat Balasubramani of Focal PLLC have been helping fight a series of lawsuits against MuckRock over requests filed by Phil Mocek regarding so-called "smart meters" in the city of Seattle. Yesterday, the last of those suits was finally dismissed.
We are incredibly grateful for the assistance and support from EFF's Aaron Mackey and David Greene as well as Balasubramani. They represented MuckRock pro bono in our fight to ensure that the public has a right to publish documents requested and received under public records laws.
They also fought to ensure that MuckRock could preserve the confidentiality of our site's readership.
While two of the plaintiffs in the case dropped their suits against MuckRock months ago, Elster Solutions, LLC did not, despite the fact that the site was not actually hosting any documents about the company.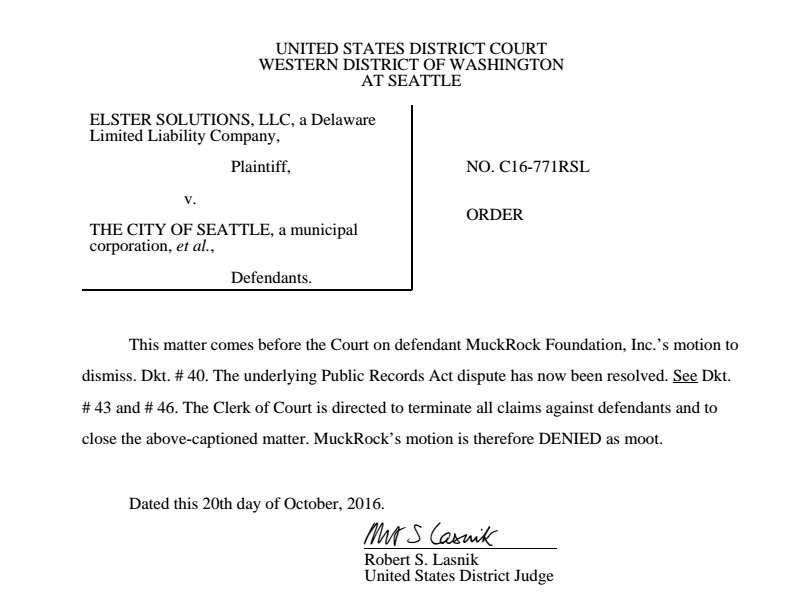 We are pleased that matter is resolved, although almost five months after we were first sued. We are even more pleased that we are able to continue hosting the documents that sparked the lawsuit and the privacy of our readership was never violated.
One of the restored reports is embedded below, and the rest can be found on the request page.
---
Image via Wikimedia Commons