A version of this article appeared on Motherboard
After months of fighting against disclosure of its drone use, the FBI has committed to following White House guidelines issued earlier this month. There's just one catch: Despite repeatedly refusing to release privacy impact assessments regarding its drone us—which legally must be public by default—the Bureau claims to already be in line with the president's standards, which include a public disclosure timeline and broad principles for protecting civil liberties.
In short, the FBI says it's following all of the government's drone guidelines, but is incapable or unwilling to provide any sort of proof.
On February 15, President Obama declared via presidential memo that all federal agencies must hardwire privacy protections into drone policies.
"Particularly in light of the diverse potential uses of [unmanned aerial systems] in the [national airspace system], expected advancements in UAS technologies, and the anticipated increase in UAS use in the future," reads the memo, "the federal government shall take steps to ensure that privacy protections and policies relative to UAS continue to keep pace with these developments."
For starters, federal agencies must scrutinize their drone procedures every three years at minimum—and before deploying any new drone technology—"to ensure that privacy, civil rights, and civil liberties are protected."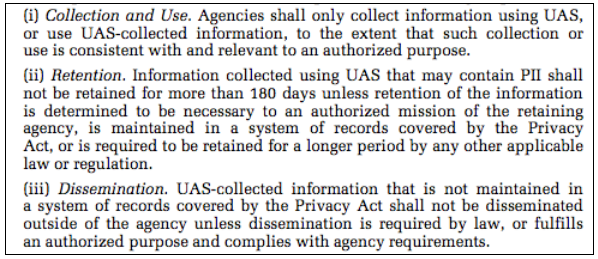 Such policies must limit information collection to an "authorized purpose," cap personal data retention to 180 days and prohibit dissemination outside the agency. There are exceptions to the latter two provisions, again, for an "authorized mission" and "authorized purpose" of the agency. The same goes for records covered by the Privacy Act of 1974 — which has its own disclosure requirements — or another law.
Agencies must account for oversight, audit and training procedures around drone privacy, as well.
The directive's standalone transparency section, while exempting information that "could reasonably be expected to compromise law enforcement or national security," requires each agency to keep the public informed about drone use. In this vein, agencies must publish a yearly summary of deployments, "to include a brief description of types or categories of missions flown, and the number of times the agency provided assistance to other agencies."
For its part, the FBI says that its drone program is well within the guidelines.
"The FBI's use of unmanned aerial systems is in accordance with the president's directive," wrote Special Agent Shanna Daniels of the FBI's Office of Public Affairs in an email sent earlier this week.
Notably, the FBI's statement came in response to a yes-or-no question posed two weeks ago as to whether the Bureau has completed privacy impact assessments around drones. Another FBI spokesperson declined to comment at the time, and this week's response from Daniels does not address the PIA issue.
Presumably, that the FBI is in "accordance" with the new presidential memo holds that the agency must not only confirm its drone protocols are up to code, but also disclose information it has long fought to withhold from public view.
To ensure agencies play by its provisions, Obama's memo sets a reporting timeline to track progress. Within 180 days, each agency must send the President a "status report." And within a year, each must publish information on how to the public can access their drone policies and procedures.
We've set our calendar alerts for August 14.
---
Image by J. Patrick Brown