As of September 10, Scheeler vs. the Office of the Governor of New Jersey is one step closer to being resolved in favor of the Plaintiff and transparency. Judge Mary Jacobson has ordered that Harry Scheeler's requests for Open Public Records Act (OPRA) logs be satisfied and that the various New Jersey State agencies in question make the documents available by October 10.
Oral arguments were conducted last Wednesday in the motion to reconsider Judge Jacobson's original ruling that requests made anonymously by Mr. Scheeler need not be released by the State - the reasoning put forth by the State was the potential for anonymous requests to violate a "felon exception," which prevents records from being made available to felons at the risk of endangering their victims. However, New Jersey public records forms require mandatory disclosure of felon status, and Mr. Scheeler had clearly indicated otherwise.
"Judge Jacobson said she - like us - was not focused on the anonymous requests during the initial briefing, and agreed with us that her ruling was far too broad," said Bruce Rosen, the attorney representing Mr. Scheeler on behalf of the ACLU of New Jersey.
The judge has granted a stay of the order pending the Defendants' appeal. MuckRock has submitted similar requests for the State's OPRA logs to each of its agencies and release of those records continues to be denied in light of the ongoing case.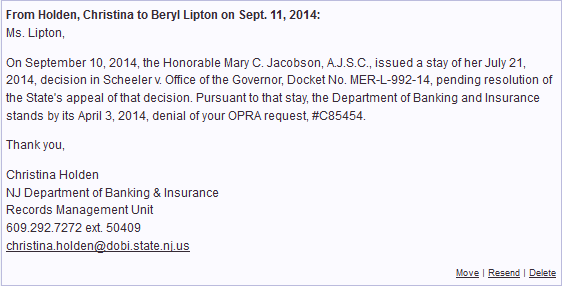 The Office of the Governor was not available for comment.
---
Image via ACLU-NJ