An audit by the Inspector General of the National Archives and Records Administration found that an automatic license plate recognition (ALPR) system installed at its College Park, MD facility parking lot has been plagued with problems. Cited issues range from a $430,000 price tag and faulty design to a worker accessing stored license plate data "for personal reasons."
The report, issued in June 2012 and released via FOIA request to MuckRock co-founder Michael Morisy, traces how the system's installation, implementation and use went astray across a three-year timeline. When trying to determine why the license scanners were purchased in the first place, investigators found that emails relating to procurement were deleted.

The report's executive summary begins by stating the $430,000 ALPR system at the facility known as Archives II is "not fully functional," adding, "This condition was the result of inadequate planning, lack of appropriate oversight, and flawed contractual terms." "As a result, NARA is left with a failed parking control system, a lack of recourse to apply against the vendor, and the loss of taxpayer funds in an austere budget environment."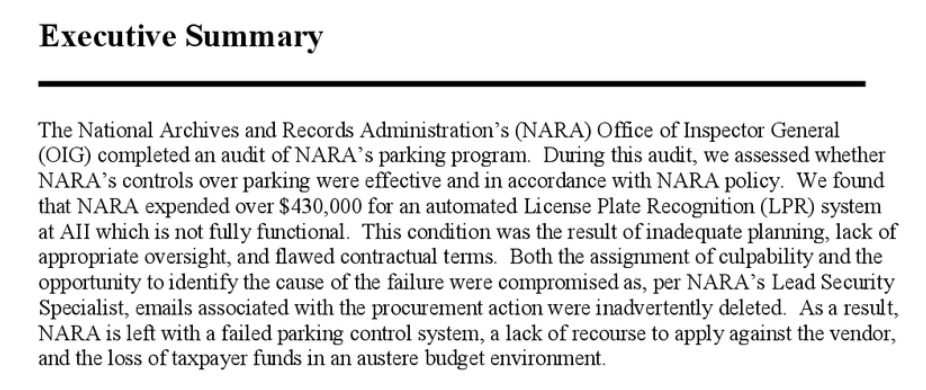 The remainder of the report documents a lack of transparency in the decision process in procuring the system, including a timeline that shows a nearly three-year period between signing for the delivery of the system and the system still not functioning.

The audit notes a Privacy Impact Assessment (PIA) was completed "to determine the risks and effects of collecting, maintaining, and disseminating information in identifiable form in an electronic information system" but not signed until two years after it was delivered.
Investigators added that employees pushed for the assessment after a contractor overseeing the system's installation "accessed the LPR system to obtain and use [identifiable information] for personal reasons." NARA terminated the contractor's access the next day.

The report also explains that NARA employees working to tighten parking access did not properly research a Radio Frequency Identification (RFID) system that would have cost $22,940, or "less than 5% of the cost of the LPR system."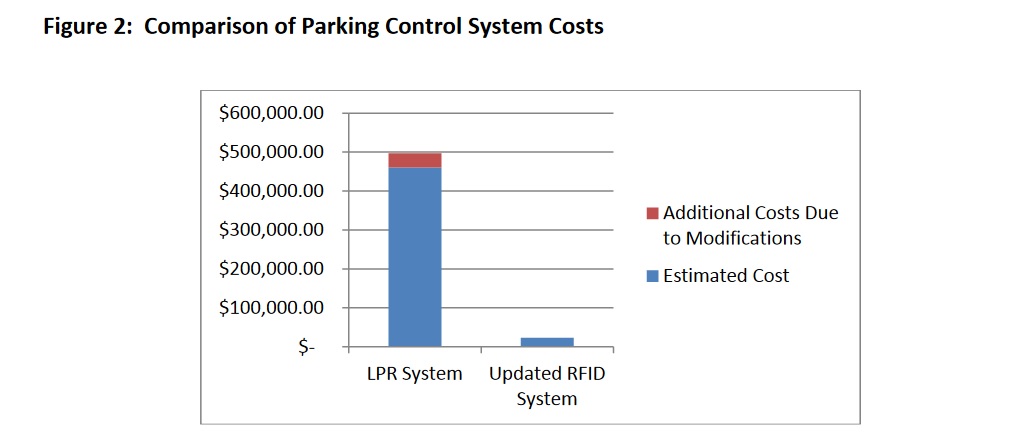 Investigators issued recommendations relating to increasing transparency around procurement, properly analyzing alternative options and updating parking policies. In a response letter attached to the audit, Archivist of the United States David Ferriero said he concurs with its conclusions and will work to implement all recommendations.

Read the full audit embedded below, or on the request page
---
Image via Wikimedia Commons