In March, as government agencies closed or reconfigured operations at all levels, we paused our automated follow-up systems. Now that agencies are getting back to work at the new normal, we're resuming our automated follow-up systems to ensure requests get a timely acknowledgment and response.
When the COVID-19 crisis began, we understood records offices, like workplaces all over the world, needed to adjust their operations to protect the health and safety of their staff. We began tracking how public records offices and state laws were shifting, noting which offices were teleworking, which paused accepting new requests, and which were not working at all. You may have seen on your own requests agencies extending completion dates or even requiring requesters resubmit at a later date.
And while some agencies continue to allow for extended delays, enough offices are up and running well enough that we felt able to resume checking in on request status., As background, MuckRock sends automated follow-up emails via the agency's preferred method: snail mail, fax, email, and portal. If an agency provides an estimated response date, we only follow up once that date expires (or every six months for very long estimated response times).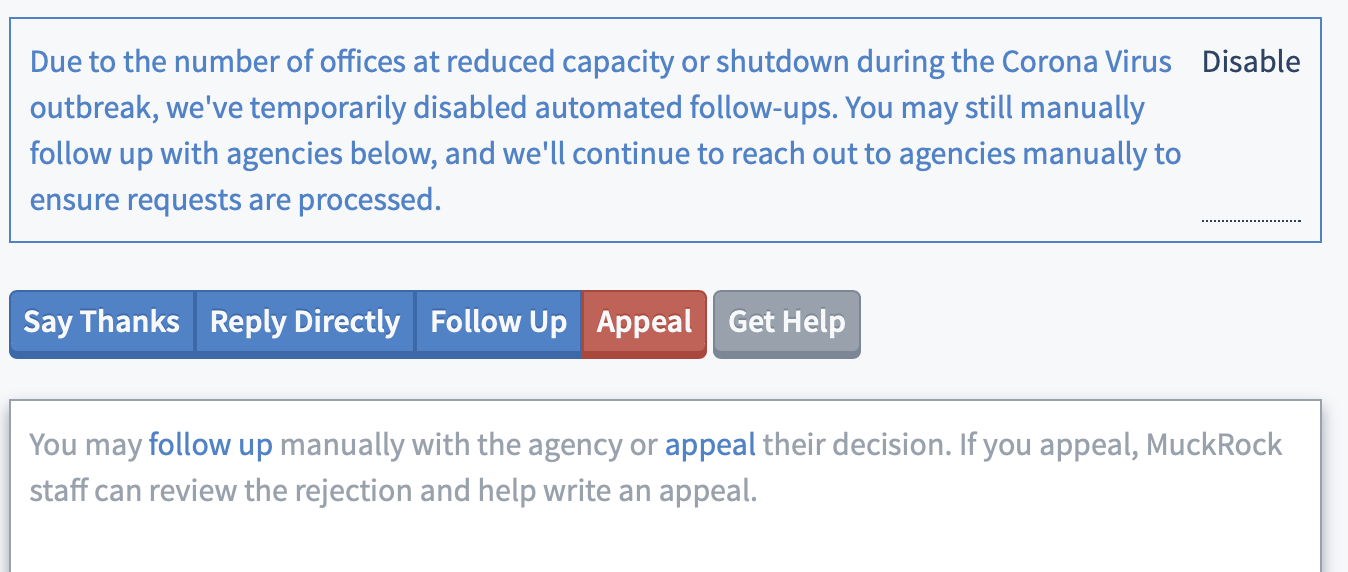 Even when we had automated follow-ups turned off, requesters always have the option to send messages using the "Follow up" button on each request page. As we work through this process, MuckRock staff will also manually follow up with agencies across the country to verify contact information, get response dates properly updated, and your FOIAs placed correctly in response queues.
We'll also be staggering when we reach out for a given request so that we don't overwhelm systems; you'll be able to see when the follow-up is scheduled at the bottom of your request page. We're also temporarily reducing the follow-ups to once a month for state and local requests, down from every two weeks.
As for MuckRock's own operations, we are fortunate that much of our work can be done remotely and from the safety of our Zoom meeting rooms. We are still receiving, scanning, and digitizing snail mail, though the amount of mail we receive from agencies has decreased dramatically. Mailed requests and follow-ups have continued to be sent via USPS as normal.
We expect the delays we've already seen to impact request timelines for months to come, if not longer. We are doing everything we can to uphold access to information and accountability while respecting the safety measures taken by the officers on the receiving end of our requests.
If you have specific questions about your requests, you can use the "Get Help" button on the request page or email us at info@muckrock.com.
---
Image via Eielson Air Force Base