On June 10, Gov. Jay Inslee of Washington sent a letter to Vice President Mike Pence asking that the federal government initiate a stronger effort to produce and procure personal protective equipment (PPE). Despite its best efforts, he wrote, the state so far had received less than 10 percent of the more than $400 million in masks, gloves, gowns, and other PPE supplies it had ordered.
"Our current situation will only become more dire as more businesses reopen and more Americans head back to work — putting additional strain on a system that is already unable to meet demand," Inslee wrote, calling the state-by-state competition for PPE "akin to fighting a war in which each state is responsible for procuring its own weapons and body armor."
As the pandemic raged on through its fourth month, Washington was far from alone. Just a week after Inslee's letter, however, the Federal Emergency Management Agency (FEMA) announced that "the PPE supply chain is stabilizing across the nation" and it would be ending its primary program to improve the PPE supply chain, Project Airbridge.
The supply shortages have been a known issue since the beginning of the pandemic. When a sudden, strong demand for the supplies made them very difficult to obtain quickly in March, initial recommendations for mask wearing suggested the public refrain from wearing them in order to prioritize healthcare workers' access. These policies have not been sufficient or sustainable.
Early on, many states organized systems for local governments and healthcare providers (public and private) that funneled requests for needed PPE through the state emergency department, which acquires PPE from the federal government or the market and coordinates with the state department of health to distribute supplies as they're available.
Newly released documents illustrate how common supply backlogs remain for state agencies nationwide. Orders for millions of pieces of PPE are still waiting to be fulfilled with no clear sense of when state agencies — and, by extension, the local government and healthcare providers they serve — will receive outstanding orders.
Last week, California — as well as Arizona, Florida, Mississippi, and Texas — had a record number of COVID-related deaths, and materials provided by the state's Office of Emergency Services show that the state still has massive, unreceived orders for gowns, gloves, and N95 masks.

The PPE supply chain problems seem set to carry into the fall, when experts anticipate the combination of COVID and flu season will be particularly fatal, and while the issue is widespread, some officials have continued to downplay the challenges.
"[W]e are better supplied than what we were," Pence said in a press briefing at the end of June. "Doesn't mean that it's mission accomplished, but we are in a much better place now with PPE and with other supplies."
Pence's confidence is partially based on the now wound-down Project Airbridge, an initiative led by the White House's Supply Chain Task Stabilization Task Force and Jared Kushner. It launched in March to help address the supply chain issues that became obvious early in the COVID-19 crisis response and used Department of Homeland Security planes to fly PPE from overseas for six private companies responding to orders in the United States. The list of beneficiaries also included Cardinal Health 200, Concordance Healthcare Solutions, Henry Schein, Inc., McKesson Medical-Surgical, Medline Industries, and Owens & Minor Distribution.
Image via Federal Emergency Management Agency
According to FEMA, a significant portion of masks and gloves entering the United States between March and June came by way of the Airbridge program.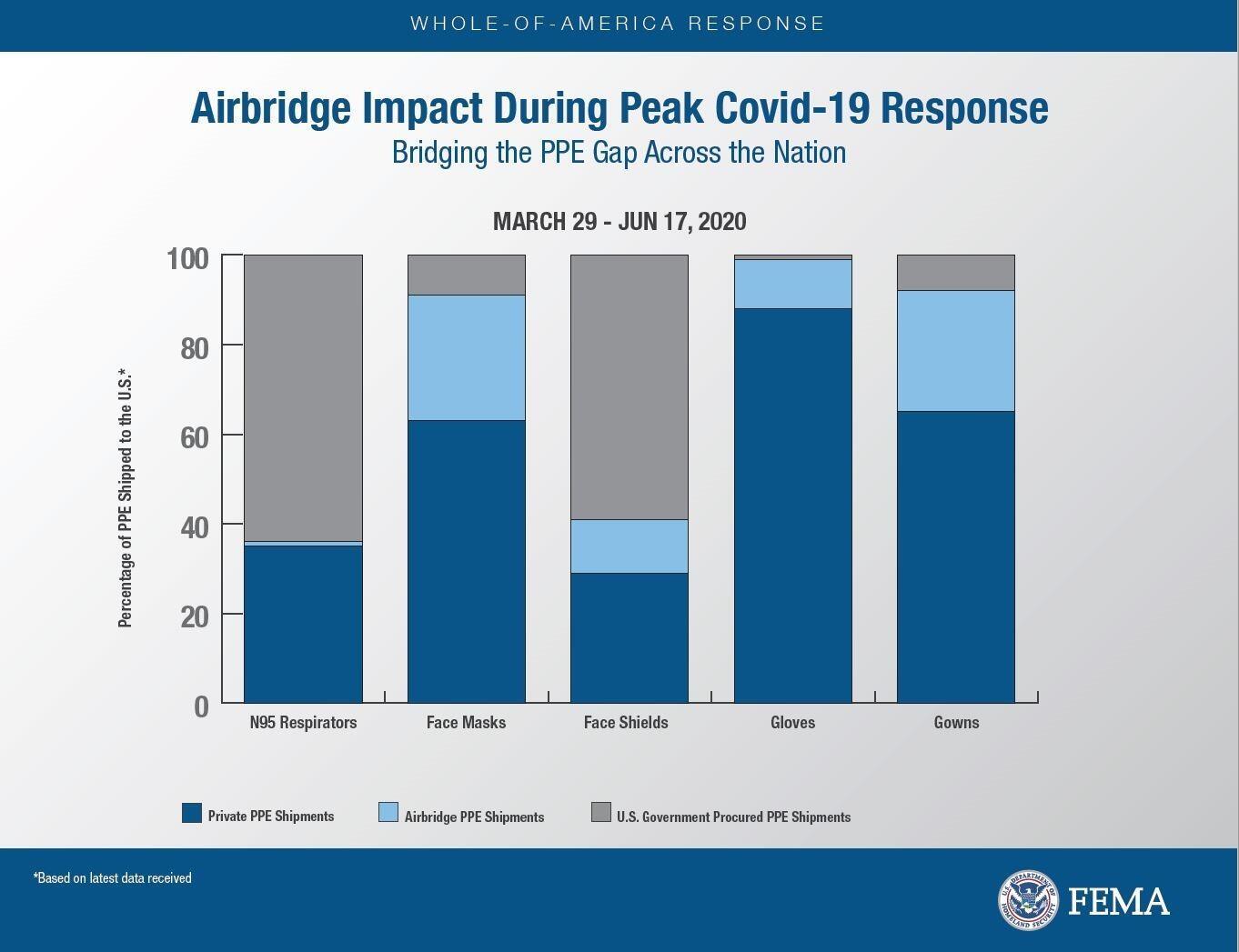 However, it's clear that Project Airbridge was not able to sustainably address the supply chain issues, even for the companies that were recipients of the DHS-sponsored flights.
The Missouri Emergency Management Agency, like multiple other states that have properly responded to records requests, keeps a spreadsheet detailing its attempted purchases, which helps to give a sense for the disparity between the quantities being ordered and the quantities received. Its records suggest that while some orders are being filled, in some cases, only a small percentage of what's been ordered has been received and distributed so far.
At the end of June, Missouri was still waiting on multiple orders of PPE from a handful of different companies, including McKesson, one of the Project Airbridge beneficiaries. As of the recent records release the company had provided less than 5 percent of a one million-plus glove order and less than 1 percent of a six-million piece order of N95 masks.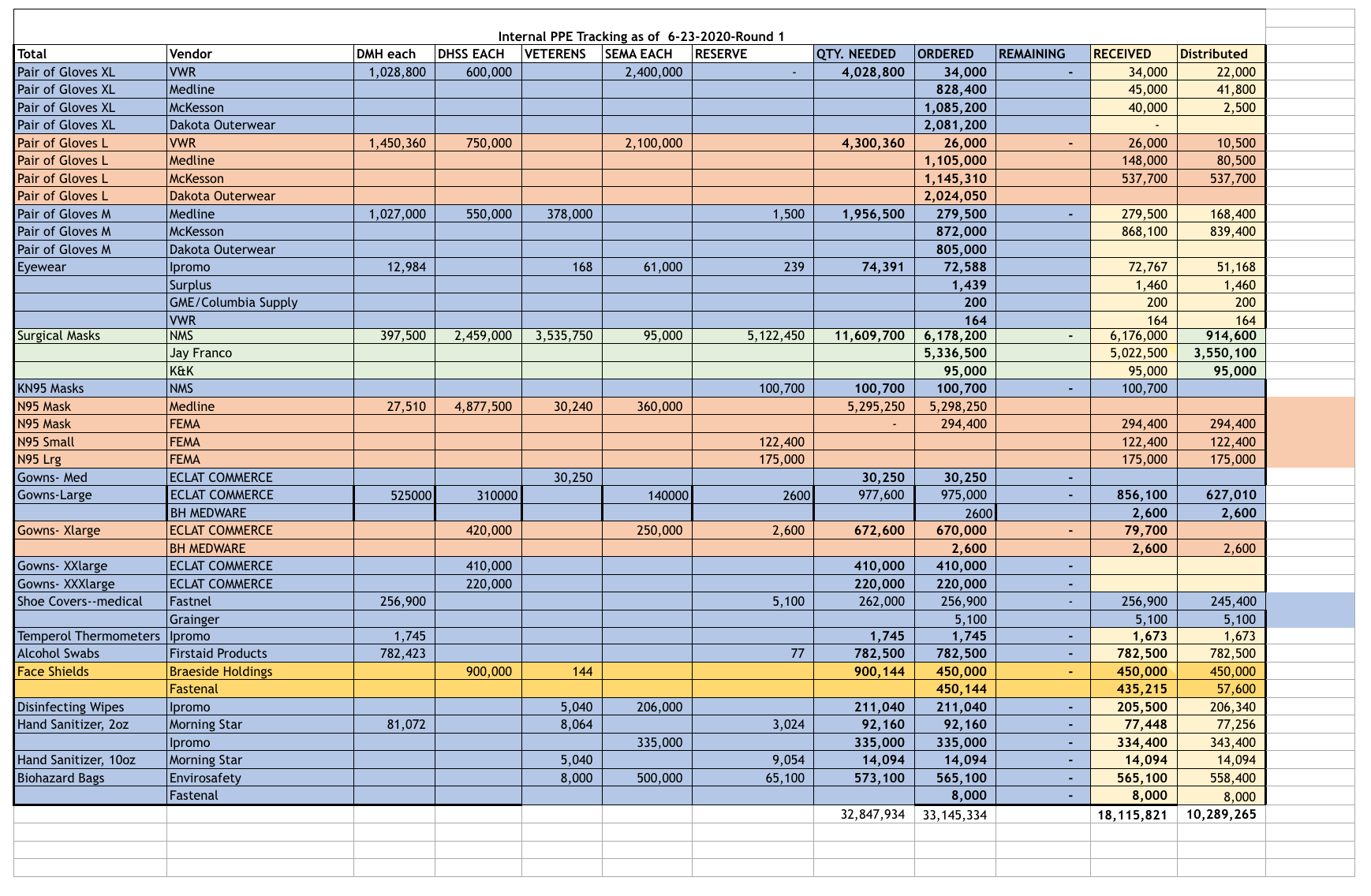 Legislators, medical personnel, and even the companies themselves have been alarmed at the lack of direction or transparency around the manner in which Project Airbridge supplies have been distributed and priced. In April, a group of senators requested the DHS Inspector General open an investigation into the program.
Earlier this month, the House Committee on Oversight and Reform released a memo documenting conversations with the employees at the private companies involved with Project Airbridge, many of whom spoke to the lack of communication and direction from the Trump administration and FEMA.
"I spoke with many of my fellow governors, Democrats and Republicans – they had the same problems," Illinois Gov. JB Pritzker told the committee on June 8. "Because the Defense Production Act was not broadly invoked, we were in a bidding war for life-saving supplies against each other and against international allies. We were paying $5 for masks that should cost 85 cents. There were states calling other states to try and figure out if some international businessman offering a warehouse of 2 million N95 masks was a scammer."
Meanwhile, the current administration remains resistant to calls, like that from Gov. Inslee, for any federal effort to centralize domestic manufacturing of PPE or COVID containment, though states across the country continue to set new records for COVID cases and deaths.
MuckRock currently has requests pending in every U.S. state for their numbers of attempted, received, and distributed PPE purchases. Find the request to your state via the project page, and get regular updates by signing up for a MuckRock account and hitting follow at the top of the request page.
Are you a local journalist who has used public records to report on PPE access? Let us know, and we might highlight your work in our next edition of our newsletter, "For the Record."
---
Image via Health.mil
This article is part of COVID Public Info, a non-profit news collaboration between Outlier Media, the MuckRock Foundation, Matt Kiefer and Garance Burke, and it is made possible through the support of the John S. Knight Journalism Fellowship at Stanford University.