Last month, San Francisco became the first municipality in the country to ban the use of facial recognition by city departments. Later today, Somerville, Massachusetts may join its ranks. Agencies in other cities, however, aren't waiting for city councils to weigh in, implementing policies that bar the use of facial recognition. Though the agency-level limits are not subject to the public development and enforcement that support city or state-level rules, they can be important measures in an agency's own relationship with residents.
The Pittsburgh Bureau of Police is an example: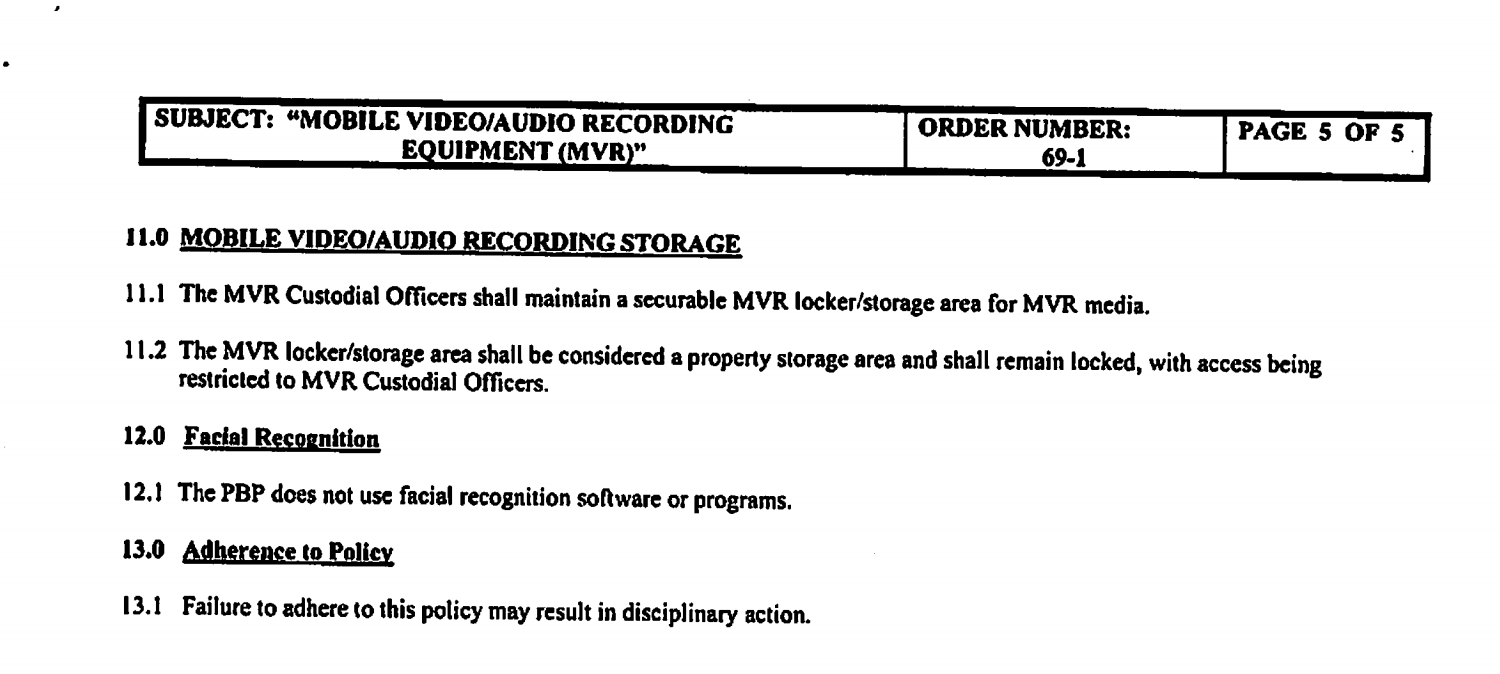 In response to a public records request from MuckRock, PBP provided its policy for "Mobile Video/Audio Recording Equipment," noting that "it is the stated policy of the PBP not to use facial recognition programs."
The police department in Austin, Texas also stated that it does not use the technology.
Anna Sabana, a press officer for the Austin Police Department, provided a statement:
The Austin Police Department currently do not use or access facial recognition technology and have decided not to do so until a time when we solicit feedback from the community on the technology and assess its impact on our department and in our community. We do not have any policies regarding facial recognition.
The Austin Regional Intelligence Center (ARIC), which is comprised of 17 law enforcement agencies in the Austin-area and helps to centralize data and resources for its members, also does not offer facial recognition capabilities.
It is not unusual in many other jurisdictions, however, for law enforcement to access the technology through similar collaborative setups. Police in Chula Vista, California use the Automated Regional Justice Information System (ARJIS) facial recognition system, accessible to all agencies in San Diego County.
## Know of an algorithmic development near you? Click here to let us know.
MuckRock has previously reported that a facial recognition database hosted by the Ohio Office of the Attorney General is currently utilized by dozens of other agencies, including the Columbus Division of Police and the federal Immigration and Customs Enforcement.
On the federal level, the Federal Bureau of Investigation has relationships with at least 21 states for access to their databases of drivers' license photos, and according to the Government Accountability Office, the FBI's Facial Analysis, Comparison and Evaluation (FACE) unit hasn't established appropriate protections for privacy and accuracy when using these state records. However, the agencies sharing such photos are able to put restrictions of their own on access and use of their information and occasionally do.
The Lincoln Police Department confirmed, in response to a Nebraska Public Records Act request, that it does not have its own software but does have an agreement with the Nebraska Department of Motor Vehicles. The agency provided a copy of the terms of that relationship, which include a limit of two employees with access and an agreement to only use the system in cases that are actively being investigated or prosecuted.

"Inappropriate use of DMV systems and data is a priority for the DMV. Limiting the situations where the DMV facial recognition system may be used is in line with the internal practice of the Department: an active, open investigation is required for an image to be run against the database," said Adam Eakin, project & information manager for the Nebraska DMV, in an email. "The number of users was restricted due to the number of system licenses allowed in the contract with the system vendor."
In addition to the Lincoln P.D. the DMV's system is also shared with the Omaha Police Department and the Nebraska State Patrol.
Eakin confirmed that "no federal or out-of-state entities have direct access to the Nebraska facial recognition system," and though he didn't indicate any specific oversight abilities, he did offer that the "system provides the capability to view information pertinent to all users who access the facial recognition system, including identification of the images accessed by each user."
While municipalities continue to debate appropriate limits on facial recognition, agencies can still be taking it upon themselves to promote policies that protect residents and support fair implementation of new technologies.

Algorithmic Control by MuckRock Foundation is licensed under a Creative Commons Attribution 4.0 International License.
Based on a work at https://www.muckrock.com/project/algorithmic-control-automated-decisionmaking-in-americas-cities-84/.
---
Image by Mirko Tobias Schäfer via Flickr and is licensed under CC BY 2.0