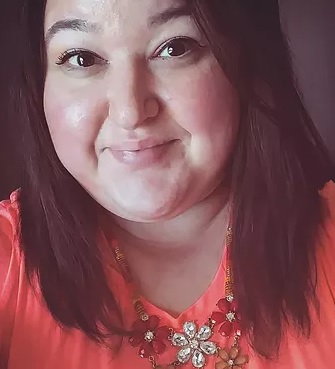 Annita Lucchesi is the creator of the "Missing and Murdered Indigenous Women Database," the first centralized repository of these crimes. Lucchesi, a doctoral student at the University of Lethbridge and a freelance cartographer, has been filing hundreds of FOIA requests to gather reports - or the lack of them - on these crimes, highlighting one of the highest murder rates in the United States. Though Native Americans make up a small percentage of the population, indigenous women, girls, and two-spirit people on reservations are 10 times more likely to be murdered than those living off of reservations.
Despite these statistics, there are very few law enforcement agencies that track this data efficiently, and through her records requests, Lucchesi has encountered agencies that have failed to track it all.
Last week, lawmakers of the 116th Congress re-introduced Savanna's Act, which would update guidelines and procedures for collecting, tracking, and allowing tribal access to government data on missing and murdered tribal persons. In a report Lucchesi co-authored for the Urban Indian Health Institute, she wrote that a version of the bill considered at the end of last year would not have adequately addressed the extent of the problem: "missing and murdered urban Native women and girls, including Savanna herself, would not be included in the data the bill aims to collect." She is optimistic that the new version will confront these concerns. (Lucchesi received a separate grant from the Urban Indian Health Institute to conduct this report; however, through a crowdfunding campaign on MuckRock, Lucchesi was able to raise $1,975 ($250 above her original goal) to extend her research for the Missing and Murdered Indigenous Women Database.)
Lucchesi and her fellow researchers recently launched a new home for the MMIW database called Sovereign Bodies Institute. They'll be expanding their research internationally to colonized areas around the globe.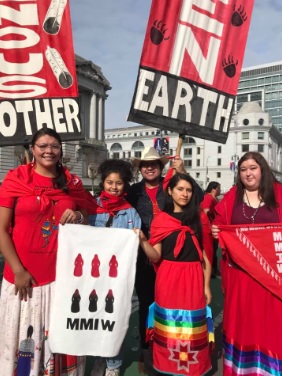 How did you first find out about FOIA?
Well, I guess it's something that just floats around in the collective consciousness. In terms of how I came to filing FOIA requests for the "Missing and Murdered Indigenous Women Database" project - I had started collecting that data for years before it occurred to me to file FOIA. There's an air of mystery around the process and I didn't go to law school, I'm not a journalist, I didn't really know how to do it or that it was something that the public could do ourselves.
Initially we were doing the project by hand, and we had 71 cities to do, so it was quite an ordeal. Not every agency responds in a timely manner or at all. It takes a lot of follow-through, so doing that on your own is a lot of work. When I found out about MuckRock, that's what really helped us streamline the process and help get some better answers.
What were your thoughts when you found out some of these agencies that you were filing requests with didn't even log these cases, instead relying on memory?
It was frustrating, certainly, but not horribly unsurprising. I think that Native communities and communities of color, in general, know that we're being underserved by law enforcement; we know that law enforcement can be negligent when it comes to serving our communities. But we don't always know how or through what mechanism, or what exactly is happening, so I think if anything, it wasn't surprising. It was just confirmation of what we already know.
Has law enforcement been willing to add women to their records or open investigations?
No. In general, no. Law enforcement has been really slow to take any new information seriously. For example, earlier last year, we had provided a list of all of the missing Native women cases to NamUs, the National Missing [and Unidentified] Persons database. It's been over six months and none of those cases have been added.
That's horrible.
That's the government.
Your data and your FOIA requests, though, have had a pretty big impact. For example, you provided data for Savanna's Act What hopes do you have for the Act if it's passed?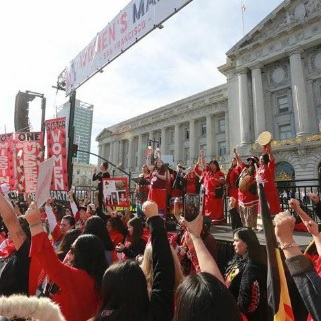 The initial version of the act didn't really have teeth to it. The Senate Indian Affairs Committee eventually went back to the table and rewrote the bill. That's something I'm deeply appreciative of, because I think the newer version definitely has things we need.
For example, one of those things is that it asks law enforcement agencies to provide the last ten years of data to the Department of Justice. That wasn't in the initial bill, and I think that may have been inspired by the work that we had done in saying, "Hey, look how hard it is to access this information." We shouldn't have to wait ten years and sacrifice another ten years of women missing and killed when they have this information now but just don't want to give it to us.
What advice do you have for anyone filing FOIA requests?
I think you need to be as clear as possible and to be really strong in yourself and strong in what you're doing, because whether it's law enforcement or any other kind of government agency, sometimes they're helpful, but a lot of times, they're not. Usually it takes quite a bit of follow up, tenacity, and strength in advocating for yourself and your work. Unfortunately, it shouldn't be that way, but that's the way it is.
---
Images via Annita Lucchesi