From million-dollar price tags to requests for a few cents, MuckRock and its users have had its fair share of FOIA fee debacles. We decided to look at our 50,000+ requests to-date and break down the biggest in each state.
Although many requesters still find the fee system to be a major barrier for obtaining documents, MuckRock's data showed fees are still the exception rather than the norm.
In fact, 48,000 total requests filed through MuckRock showed no fees assessed. Looking at just local and state requests, we found that less than half had fees associated with them. We broke down the numbers even further and noted that the majority of our state and local requests landed between the zero to $1000 range, although there were jaw-dropping outliers in the hundred of thousands and even millions.
All state and local request fees
Our data bodes well for the FOIA fee system since it shows low costs for requests in all jurisdictions and the majority of requests show no charge at all. Access to public records is part of a well-functioning government, and the numbers show how often FOIA works, at least as far as prohibitve fees are concerned. Yet requesters still face significant fee barriers when it comes to obtaining the records, especially on a state and local level.
Highest fee in each state
Society of Professional Journalist FOI Committee Chair and Think Progress Investigative reporter Danielle McLean recalled her time working in Massachusetts as a local reporter.
"When I was in Massachusetts I got a ton of fees, which was a huge barrier. When you're a reporter for a local newspaper, it's a lot of money," said McLean. "When you have super high fees, you're really creating a class system for information."
McLean isn't the only one who has encountered fee barriers in Massachusetts. Our data shows a handful of our users filed requests in Massachusetts and found fees in the hundreds and thousands. Huge fees were seen throughout the state as Boston Public Schools, the Boston Police Department, and the Massachusetts State Police Department all shared fee estimates in the hundred of thousands. One of our highest requests filed in Massachusetts amounted to over $300,000. Former MuckRock staffer George LeVines filed a request for use of force reports and packets between 2008 and 2010 at the Bridgewater State Hospital. Initially, the request was denied based on privacy concerns. However, the hospital agreed to redact the necessary information and give a fee estimate for every yearly report.
The agency provided a breakdown of the costs and estimated that it would take about 8 minutes per page for redactions and about 15 minutes to search, segregate, and copy each report.




The total amount for the entire request came out to… $312,846.60.

On top of its costly fees, the agency would only start processing the request when it received a prepayment for the documents. The requester could have taken this request to Massachusetts court, but instead withdrew altogether due to the high fees.
Similarly, MuckRock requester Meredith Segal also saw a pre-payment requirement for her large request. She filed a request to the Boston Public Schools for email messages within the school's server. BPS "kindly asked" for pre-payment of fees amounting to $187,870.61 in order to get her search started.

It's clear that each request varies based on scope, jurisdiction, and state law, which ultimately affects the overall cost. A request fulfilled for free in one state may not prove the same in another state with different fee rules. At the federal level, FOIA has clear guidelines that regulate the use of fees at agencies for some consistency, but each state has its own laws that govern public records request more broadly. For example, New York FOIL states that prepaying fees is in the discretion of the agency. However, if a requester cannot pay fees they owe, they may be barred from future FOIL requests.
Robert Freeman is the Executive Director for the New York State Committee on Open Government (COOG), serving at COOG since its creation in 1974. He says New York Freedom of information Law (FOIL) is one of the best in the country.
"The unreasonable fee serves as the barrier, the blockade, and I don't know if our statute as it pertains to fees has been a significant barrier," said Freeman. "It takes time and effort to carry out a governmental function, and this is a governmental function."
As it stands, New York FOIL has no fee waiver provisions, but requesters can appeal fees to COOG if they face something that is too high. In addition, the COOG serves as an intermediary between the agency and the requester when trying to deal with appeals.
"In other places, there is no one to call when they have a question or problem with the law," said Freeman. "Here everyone calls us, it only takes one phone call."
MuckRock user and non-profit organization Reclaim The Records is currently litigating its requests on birth and death records in both New York and Missouri. In New York, the organization was able to discuss its options with the COOG.
Founder and president of Reclaim The Records Brooke Schreier Ganz talked about their request that generated over $1,400,000 in fees for birth and death list of all individuals in the State of Missouri from 1910-2016.
The request was submitted to the Missouri Department of Health and Senior Services, which originally estimated more than 35,000 hours in search time for the requested lists.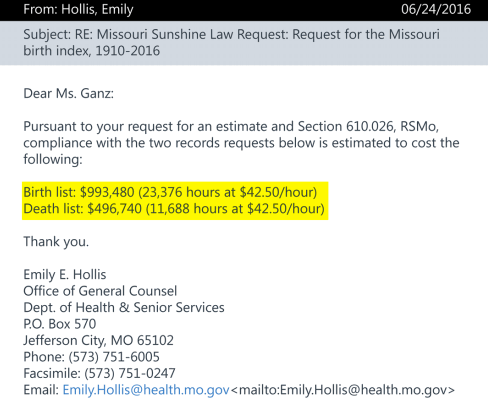 The estimated costs were extremely high, which prompted Reclaim The Records to follow-up with the Department and find a way to process the documents at a more cost-effective rate. Schreier Ganz says to "know your [state] law cold" and "find the acceptable fee requirements" in order to make conversations more productive and efficient.
"You need to know exactly what your state law requires. Do [they] really need to print it all out? Do [they] really need to charge that?" said Schreier Ganz. "Have that information ready to go and send it to them."
After the group contacted Missouri, the Department found an error in the estimated hourly rate. Missouri state law says that, "searches must be conducted in the most efficient way possible but searches can be charged for at actual cost of labor." The hourly rate was revised by only .72 cents, putting the final costs of records at $1,464,973.92.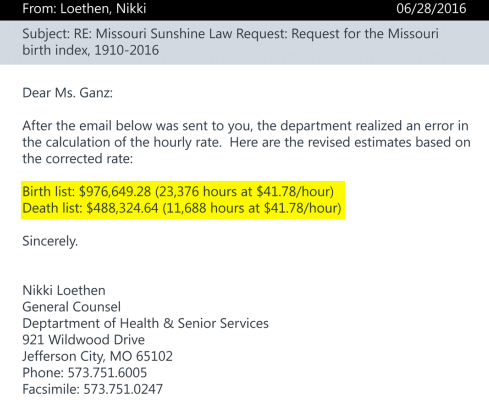 Reclaim The Records further nudged Missouri after speaking with their information technology department and realized it could drastically reduce the cost of labor, bringing the total cost of the request to under $5,000.
Just when the request was about to be fulfilled, however, the agency stated that it could not move forward and cited an exemption in the state's Sunshine Laws. This response was another point of contention as Missouri law allows agencies up to three days to "comply or deny a request or invoke a reasonable cause exception for more time."
The request is currently being battled out in court and Reclaim The Records has yet to receive its requested documents.
"We're not sure if we're going to win this case, but we sure hope so!" adds Schreier Ganz.
Similarly, there was another million dollar fee estimate in Texas. The $1,132,024.30 request came from the Texas Department of Criminal Justice, which said it would take would take more than 61,000 hours to fulfill. The department provided a breakdown and flagged over 260,000 pages of responsive documents for investigations of sexual assault in the facility.

TDCJ also noted that it needed to hand-search approximately 2,000 hard-copy case files as a reason for their high estimate.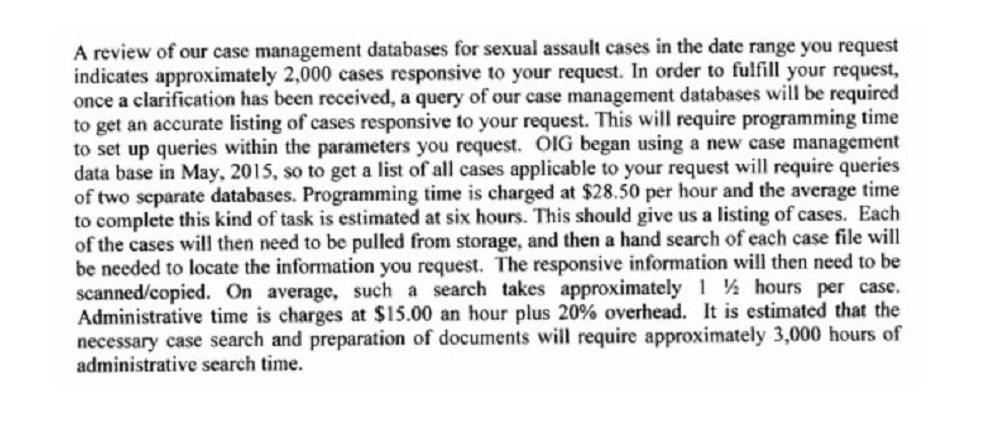 Ultimately, the requester ended up filing the same request with the Prison Rape Elimination Act office. They were able to lower the fees substantially after talking with the agency, but the documents were still costly at $551.39.
While MuckRock's overall data shows small to non-existent fees in the majority of requests, requesters continue to hit major roadblocks in the fee system such as inconsistent labor charges, hefty fees, and differing laws.
"To charge people the amount of money they do is pretty much a way for them to cover their tracks and say you can't have access to this information," said McLean. "Government should be held accountable when they're abusing the fees and abusing the system to purposely hide and keep information from the public."
Do you have a FOIA fee story you want to share? Fill out the form below and tell us! Your input will help create useful resources in tackling FOIA fees and developing strategies that all requesters can use. You can read our most recent fee slack chat for tips from other MuckRock users on how to navigate fees.
---
Image via Disney Television Animation