An estimated two in three sexual assaults is never reported to the police. Far fewer ever see consequences: Of every 1,000 rapes, only six rapists will be incarcerated, or less than 1 percent. Public allegations of sexual assault against newly-appointed Supreme Court Justice Brett Kavanaugh have reignited public uproar surrounding sexual violence and a lacking justice system that fails to hold perpetrators responsible.
When utilized, sexual assault evidence collection kits - also called SAEC kits or rape kits - have the potential to improve these statistics.
SAEC kits are examinations performed on survivors of rape and sexual assault to collect evidence of the assault and DNA of the perpetrator. They are usually turned over to police departments to be tested against DNA databases and hopefully identify perpetrators, making prosecution more feasible.
But in the U.S., that last step is often overlooked. While it is unknown how many unanalyzed kits there are nationwide, advocacy groups like End The Backlog estimate there are hundreds of thousands sitting in storage rooms. Those groups continue to push for legislation and funding to test backlogged rape kits and to mandate timely testing of future kits.
To more accurately document the extent of the problem, MuckRock is collecting data about this national backlog.
In April 2017, MuckRock began Counting the Uncounted, a project to file for statistics, data, reports, audits, policies, and procedures pertaining to SAEC kits at police departments across the country. Through MuckRock's platform, 353 information requests have been filed with agencies around the country, including requests by staff and users. Many of these requests were inspired by suggestions from our readers.
In the past year and a half, MuckRock's reporting team has written about these documents and the country's progress testing the untested. We've covered federal policy, as well as stories from Alaska, California, Hawaii, Massachusetts, Mississippi, New York, Ohio, and Texas.
But there are documents and policies to be explored in each state. Take, for example, Washington, where in October 2016 the Washington State Patrol estimated there were about 6,000 untested sexual assault kits in various inventories.
Due to increased attention, funding, and legislation, 1,772 of those backlogged kits have been tested as of September 30th, according to WSP secretary Lacey Ledford.
As it stands, Washington state law requires WSP to operate a system that tracks the location and status of SAEC kits throughout the criminal justice process and allows survivors to anonymously track their own. The legislation mandating that tracking system was the first of its kind in 2016.
Washington also requires police departments to submit every rape kit for testing within 30 days of its creation, per a law passed in 2015. The law resulted in an immediate increase in SAEC kit submissions to the state's Crime Laboratory Division: The CDL received 443 kits between July 24 and October 31, 2015, compared to 257 kits in the same time frame the year before.
Over the following 14 months , they received more than 3,500 kits, marking a 240 percent increase in annual sexual assault kit analysis requests to Washington's Crime Laboratory Division.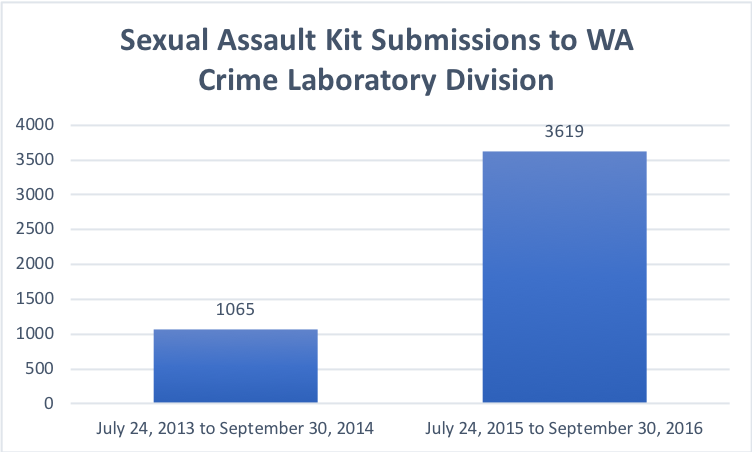 This September, WSP wrote to the Joyful Heart Foundation - the organization behind END THE BACKLOG - that they were committed to testing all sexual assault kits in the state's backlog and to entering newly submitted and backlogged sexual assault kits into the statewide tracking system.
Though the system is still in its pilot period, it has 658 users, including sexual assault survivors and professionals who work on sexual assault cases at medical facilities, law enforcement offices, and labs across the state. WSP anticipates full statewide implementation this month.
In January, members of the Washington State House of Representatives introduced a bill that would allocate funding to test remaining backlogged SAEC kits and improve sexual assault survivors' experiences in the criminal justice system. It enumerated survivors' rights; mandated specialized, intensive, survivor-centered training for the officials responsible for investigating sexual assault cases; and detailed the kits to be tested. It also set a deadline for tests to be completed: December 1st, 2021.

The bill ultimately failed. But Mary Soderlind, an assistant to bill sponsor State Representative Tina Orwall, said the bill did result in a $1.5 million state budget proviso to fund three additional lab technicians solely to address the backlog. That brings Washington up to ten state-funded technicians who are responsible for testing those sexual assault kits, Soderlind said.
People can discover the extent of sexual assault kit backlogs within their own local police departments - in Washington or elsewhere in the United States - by submitting a public records request. If you want to get involved, enter your local agency into the Assignment below and MuckRock will submit a request for free on your behalf.
---
Image via Ellsworth Air Force Base