Shirley Temple, the former child star, appeared in dozens of feel-good, pre-WWII Hollywood films, becoming practically synonymous with wholesome Depression-era entertainment capable of warming the hearts of even the coldest G-men.
Her first major film as exclusive headliner, Bright Eyes, featured "On The Good Ship Lollipop," a pint-sized proto-USO performance set in a train car, and her vaudeville-style song-and-dance schtick carried her career through Little Colonel, Poor Little Rich Girl, and Wee Willie Winkie. Among the many fans she earned as the Curly Top cutie was one of the most notoriously tough agents in the whole law enforcement apparatus: Federal Bureau of Investigation Director J. Edgar Hoover, himself.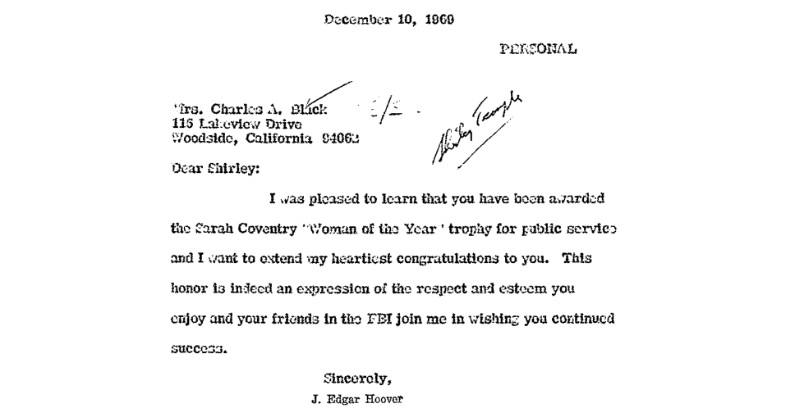 Photos of the pair are sometimes used as evidence of Hoover's softer side - what better display of his humanity than moments when he's not obviously violating the civil rights of a famous little white girl? As MuckRock Executive Editor, JPat Brown noted, she's the only girl we have conclusive evidence he kissed.
The feelings, apparently, were mutual. Ms. Temple later recounted, "My role models were Amelia Earhart and Eleanor Roosevelt and my major crush was J. Edgar Hoover."
According to materials located in the actress's FBI file, their association continued through her first marriage, beyond Temple's cinematic retirement in 1950, into her second marriage (which gave her the last name "Black"), and across her transition to United States diplomat. Her relationship with the Bureau itself, as recorded by the file, ended in the early '90s, years after Hoover's death. As a matter of protocol, she remained on a lifelong first-name basis with subsequent Directors -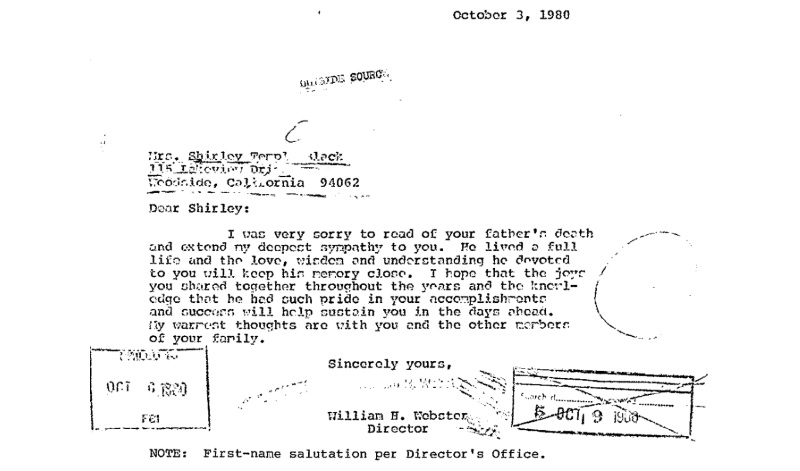 save for when she was referred to as "Mrs. Ambassador."

Despite reported earlier run-ins needing federal assistance - and other situations with so-called "exhibitors" that deserved it - the existing materials related to the once-ringleted leading lady suggest she didn't warrant any federal tabs of her own until the late '60s, when she faced off for a seat in the California House of Representatives against Pete McCloskey, to whom she ultimately lost. Notes from that period highlight her concern about continued U.S. involvement in Vietnam…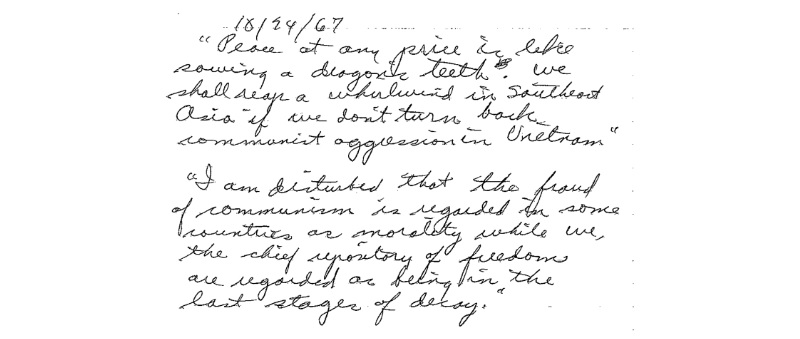 and her opponent's disapproval of it.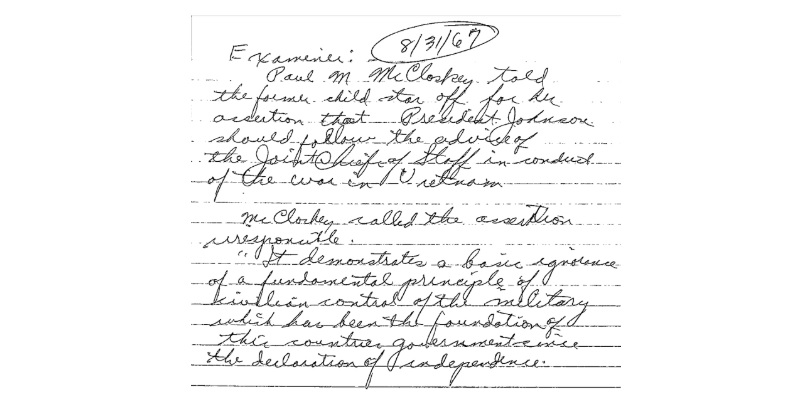 However, any qualms she may have had about U.S. action overseas weren't enough to disqualify her from representing her country in other contexts, and two years later, the FBI undertook an extensive background check on Temple, in preparation for a stint acting on behalf of America at the United Nations.
In addition to interviewing the former rival, her ex-husband …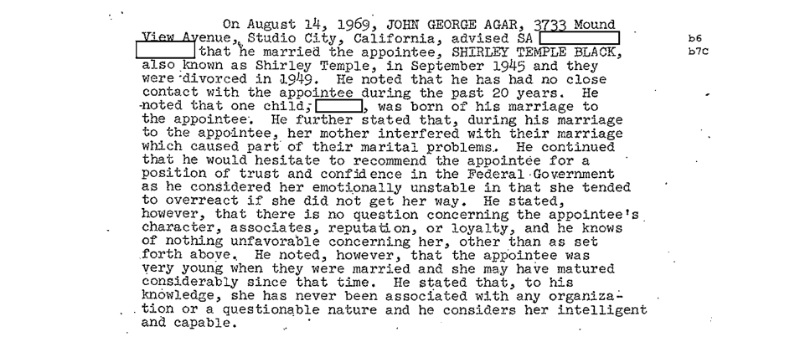 and a long list of friends and former associates …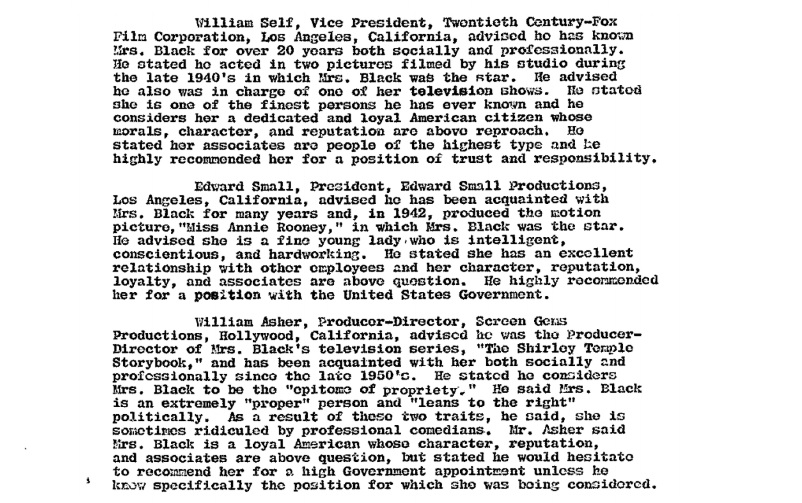 the agency checked in with her alma mater, the Westlake School for Girls, for her GPA …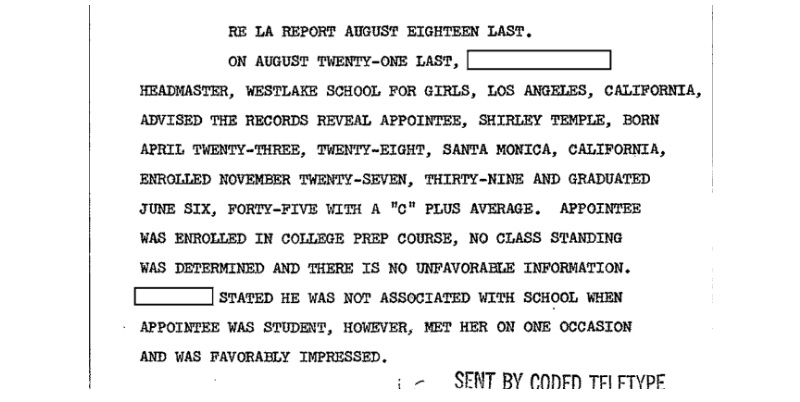 the schools of her children …

and her credit record.

While most people found Temple a sweet and congenial person, some even describing themselves as "very pro-Shirley Black"…

her ability to manage administrative responsibilities…

and her previous contributions to the Republican Party - or lack thereof - left others questioning her qualifications.


One interviewee, in particular, noted that "Mrs. Black is somewhat naive in her acceptance of people and organizations and does not fully realize either the background or implications of some of the people with whom she becomes involved."

The worst Anti-Temple sentmient came a decade later, though, when a letter addressed to Elizabeth Taylor was accompanied by the scrawl "I'd like to kill Shirley Black," which didn't end up needing any follow up.
According to Temple, storied statesman Henry Kissinger helped her way into diplomacy, a fondness that seemed to grow in subsequent years. Presidents Richard Nixon, Gerald Ford, Jimmy Carter, Ronald Reagan, and George H.W. Bush all found positions for her: at the U.N., as Ambassador to Ghana, as organizer for the 1977 Presidential inauguration, and as America's representative to Czechoslovakia and Prague.
From tap-dancing toddler to her grown-up contributions in American statecraft, Temple remained an FBI favorite for the duration of her days. Read more for yourself in the files embedded below, or on the request page.
---
Image via Wikimedia Commons