In Dr. Daniel Fabricant's role as the chief executive of the dietary supplement lobbying group the Natural Products Association, he's been tapped to testify before the Senate, help federal agencies craft policy, and is often spotted with key lawmakers.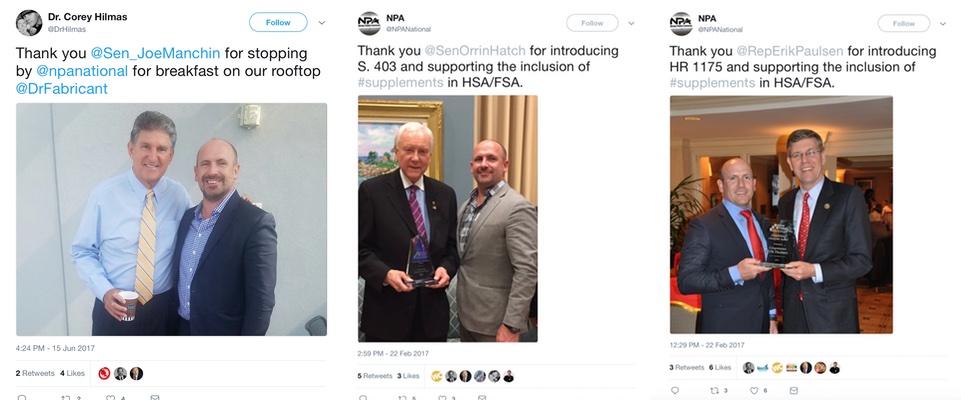 Fabricant was even hailed by Time magazine as The King of Natural Food and tapped to be a member of then-candidate Donald J. Trump's Second Amendment Coalition.
But complaints and lawsuits at the organizations he's led, including the NPA and the Food and Drug Administration's Division of Dietary Supplement Programs, document years of employee complaints for abusive, harassing, or dangerous behavior.
These allegations range from sexual harassment, to bullying, to age and disability discrimination, to outings at strip clubs funded with a non-profit's corporate card (which was reimbursed after questions were raised). The lawsuits are backed respectively by various forms of documentation ranging from a formal equal opportunity complaint, to third-party employee testimony, to executive-composed tallies of settlements and employee turnover.
In defending lawsuits brought by former employees, NPA has successfully relied on the mandatory arbitration clause found on pages 27-30 of their employee handbook, which specifically states that arbitration must be the sole remedy for work-related disputes, including sexual harassment and discrimination.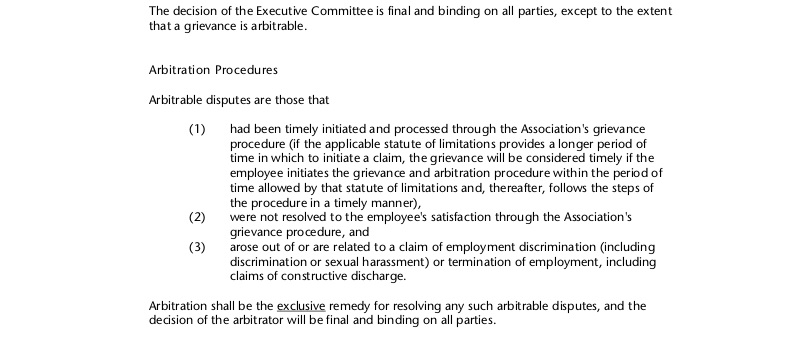 Nonetheless, in 2016, according to tax returns filed with the Internal Revenue Service, NPA recorded legal expenditures of $1,086,901 while lobbying expenses were listed at $401,211.
Yet he remains the chief executive officer of the largest dietary supplement lobbying group in the nation, the NPA, and treasurer of its Political Action Committee, the Natural Products Association Political Action Committee.
In response to detailed questions sent to Fabricant in advance of this story, he responded with the following statement: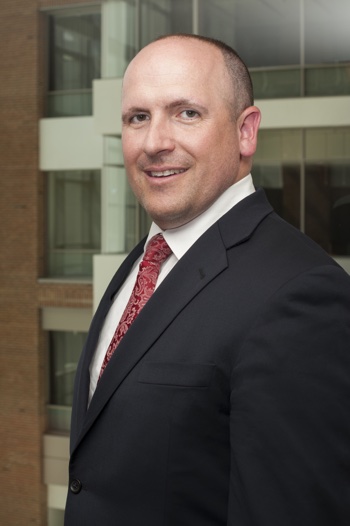 Okay please write some made up stuff about settlement documents that don't exist so we can sue you for libel/slander and we'll sell your house or it's probably your mom's house as you likely still probably sleep on her couch when we win a judgment against you …
The documents used for this article were obtained through publicly available court records as well as documents received through a Freedom of Information Act (other FOIA requests regarding Fabricant are still awaiting response).
---
In 2015, Brent Wieckert, the former chief financial officer of the NPA, sued the trade organization (PACER link) for wrongful termination, alleging that a hostile work environment was created through both religious and sexual harassment plus a failure to prevent discrimination and harassment.
In the lawsuit, Wieckert named Fabricant, who had recently left the FDA to become CEO at the association, as the source of these abuses.
The lawsuit states that Wieckert wrote a letter to NPA president Roxanne Green accusing Fabricant of engaging in "… prohibited, unethical, and often illegal behavior as CEO." The alleged behavior ranged from excessive drinking and sexual innuendo to religious harassment and retaliation against employees who spoke out: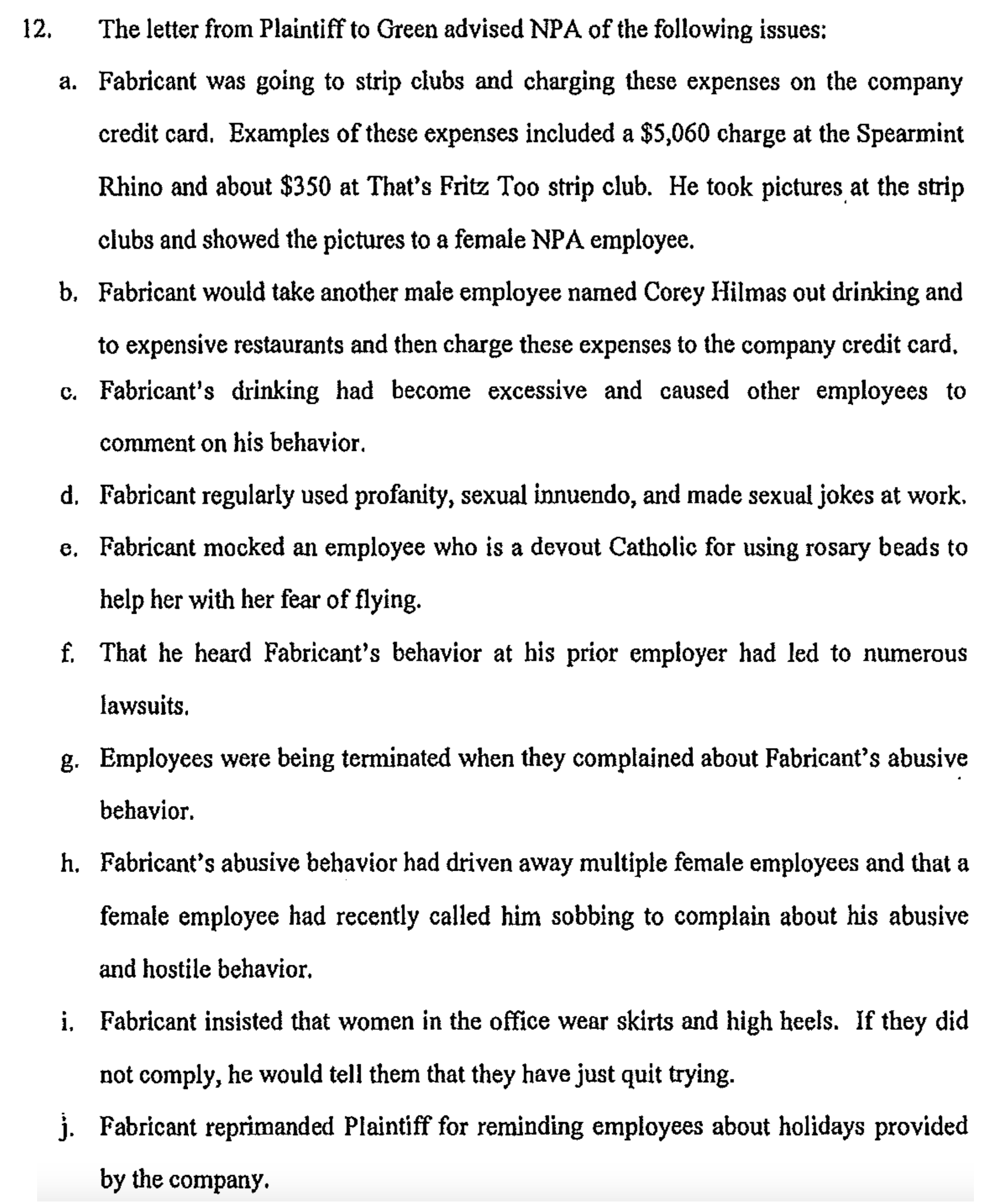 A speculative chart, compiled by then-CFO Weickert, purports to illustrate a series of terminations and departures he attributes to Fabricant's return: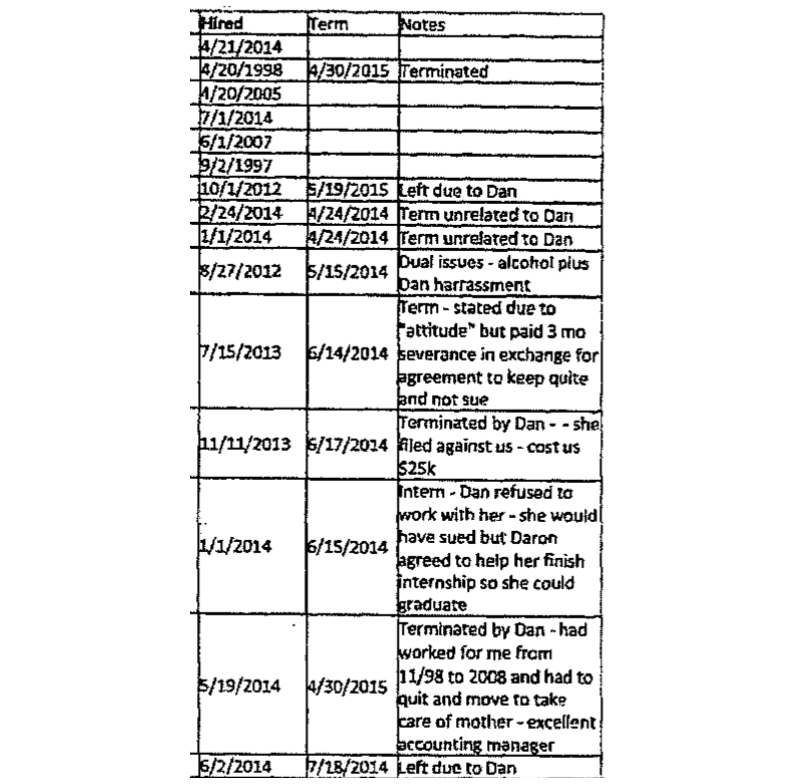 Those departures include NPA paying $25,000 to a terminated employee, another payment equal to three months severance to "keep quiet" and not sue, and another deal made with an intern who agreed not to sue in exchange for help finishing the internship to graduate.
A second letter was sent to the board of directors, outlining events that allegedly took place on or about May 13th, 2015:
Fabricant and two other males had taken a female employee out for drinks, that they had subsequently visited a strip club, after which Fabricant had carelessly placed the clearly intoxicated female employee into an Uber ride. Plaintiff advised that the female employee was not taken to her drop off location. Rather, she was taken to another location and only recalls waking up in an unrecognizable condominium. Upon going to the hospital, the employee was advised that Rohypnol, commonly labeled the "date rape drug," had been found in her system and that she had been sexually assaulted.
A reply email from Green, including in Wieckert's legal filing, indicated that concerns regarding "management style" and various "expense reporting" issues had been investigated and substantiated by the NPA board. That email also notes that "other issues" did not warrant further inquiry.

But despite the board substantiating many of the concerns, Fabricant kept his job.
The source of that information regarding the sexual assault (a co-worker of the victim) was terminated within three months of relaying the incident. Two months after that, Wieckert - who had now written two letters to the president and numerous emails to the board outlining these concerns - was fired.
The pattern of ousting critical voices would continue upward.
Following the former CFO's lawsuit, Fabricant and the NPA filed their own lawsuit against ten former and current board members (PACER link). The suit alleged that these board members had conspired to create a "shadow board":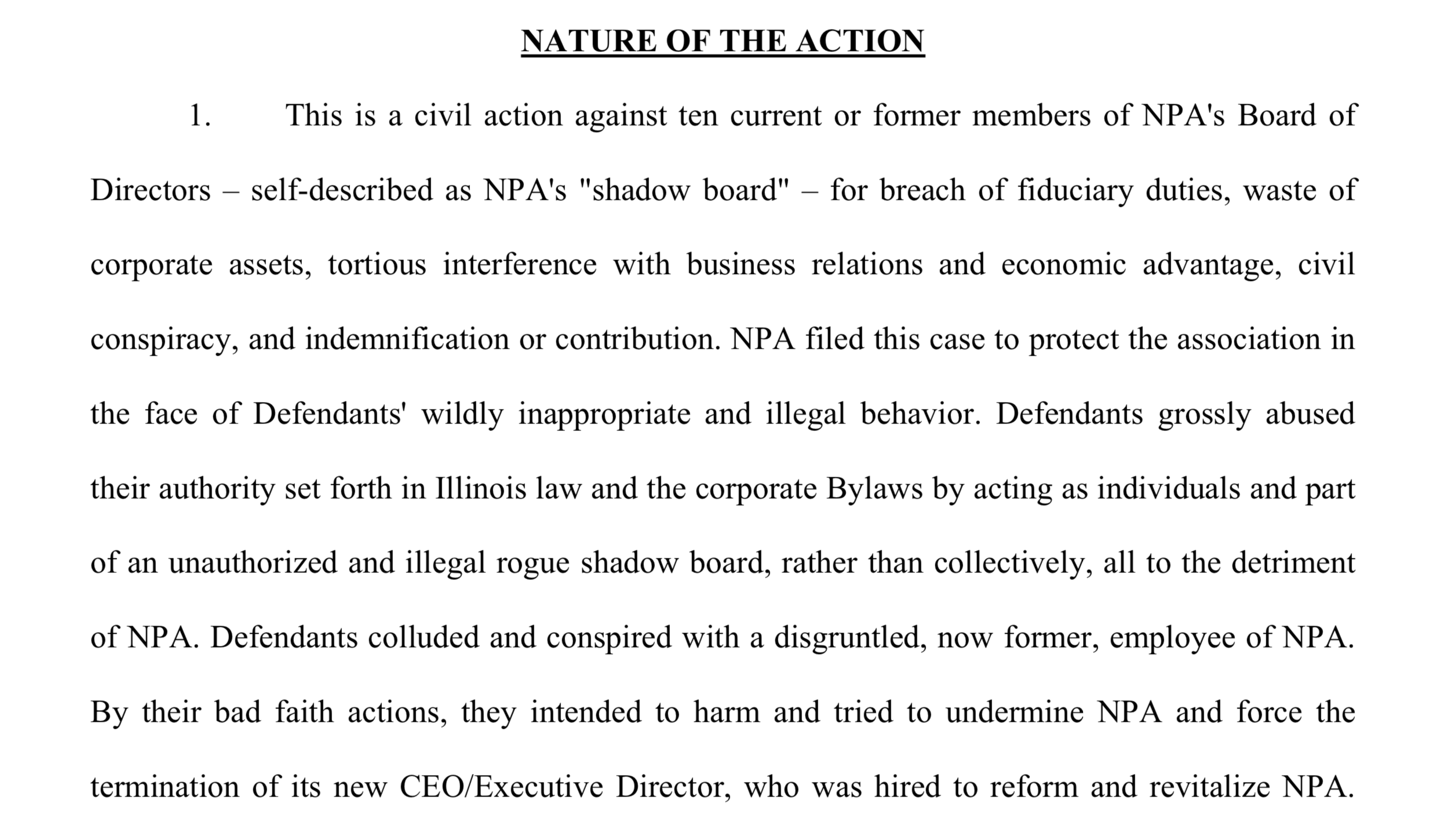 The intent of the so-called "shadow board," according to the lawsuit, was to oust Fabricant in retaliation for a hike in member dues:

In a response, the board members claim that the lawsuit was filed in retaliation for their investigation into Fabricant (PACER link), according to a memo filed in support of the board members' motion to dismiss:

And while an outside counsel was brought in to investigate the allegations, NPA's filing notes the investigation its outside counsel conducted into Fabricant was privileged and closely guarded, only provided orally to members of NPA's board:

Ultimately the Natural Products Association reached a confidential settlement with the former board members. None of the sued board members remained on the board, effectively silencing the "conspiracy" that had threatened Fabricant's job. And the lawsuit filed by the former CFO, Brent Weickert, was successfully forced by NPA into arbitration.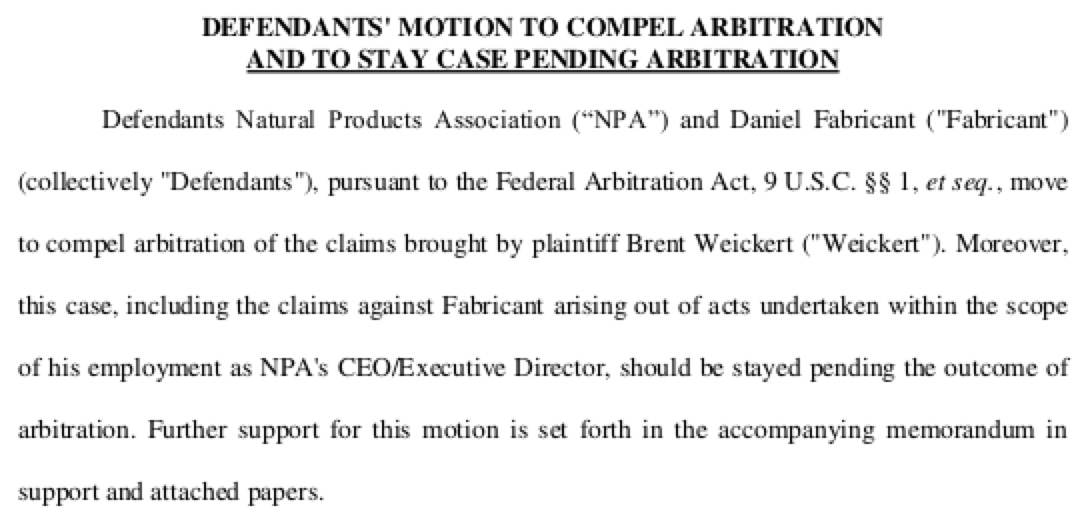 ---
His tenure as chief executive of the NPA was not the first time Fabricant would face allegations of harassment and an abusive management style.
In fact, when he was being hired for the role, documents filed in court highlight concerns then that he was vindictive, made inappropriate comments towards women, and created a "harassing environment" - during a previous stint at the same organization. At that time, he was working at NPA as vice president for global government and scientific affairs.
The documents, included in Weickert's filings, indicate hopes that Fabricant's time away from NPA had "mellowed" him.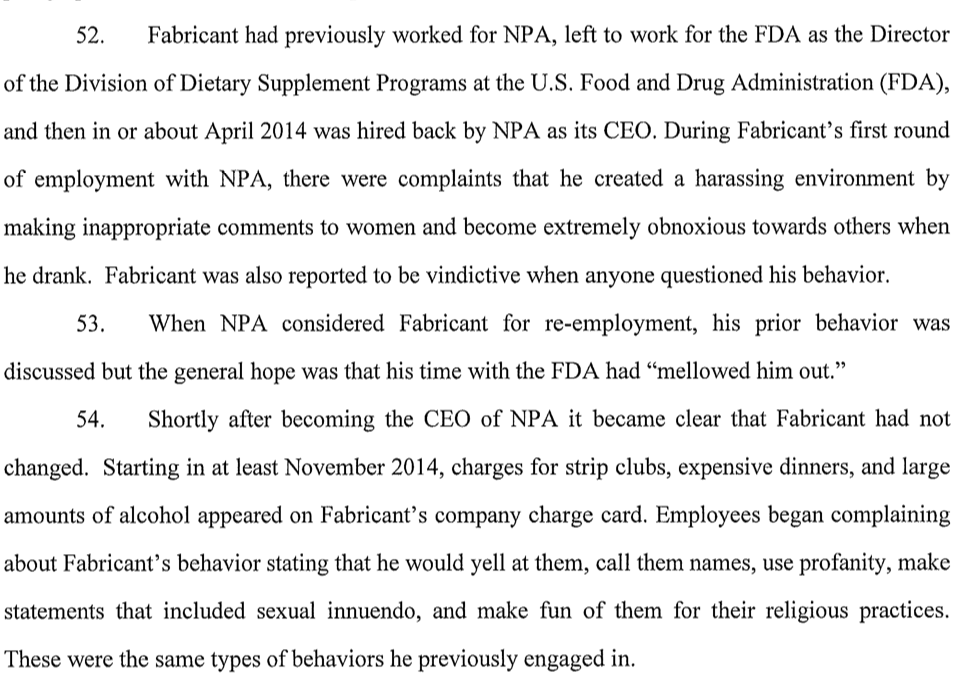 Far from being mellowed, Fabricant drew additional complaints about his management throughout his stint in public service, where he was now helping set policy on a range of issues near and dear to NPA members.
Documents released in response to a FOIA request show that the Food and Drug Administration offered him a bump in pay to $178,500 annually in acknowledgement of his deep industry expertise and ties as well as his senior management experience:

These documents also show that most director-level positions commesurate with his at FDA earned between $159,959 and $166,209. The documents used to justify the higher salary cite his scientific expertise as well as his credibility in the field: Congressional testimony, his work coordinating the health supplement industry with federal agencies, and his numerous scientific papers:

But just a month into his tenure, an FDA employee made note of disparaging age-related remarks made by Fabricant, according to a Health and Human Services investigation report filed in response to an employee complaint that was included a lawsuit against DHHS (PACER link):

By October of that year, the same employee registered a complaint against Fabricant for age discrimination with the FDA's Equal Opportunity Employer and Civil Rights Office. By December a more formal complaint was lodged, including allegations of retaliation after the staffer filed the prior complaints: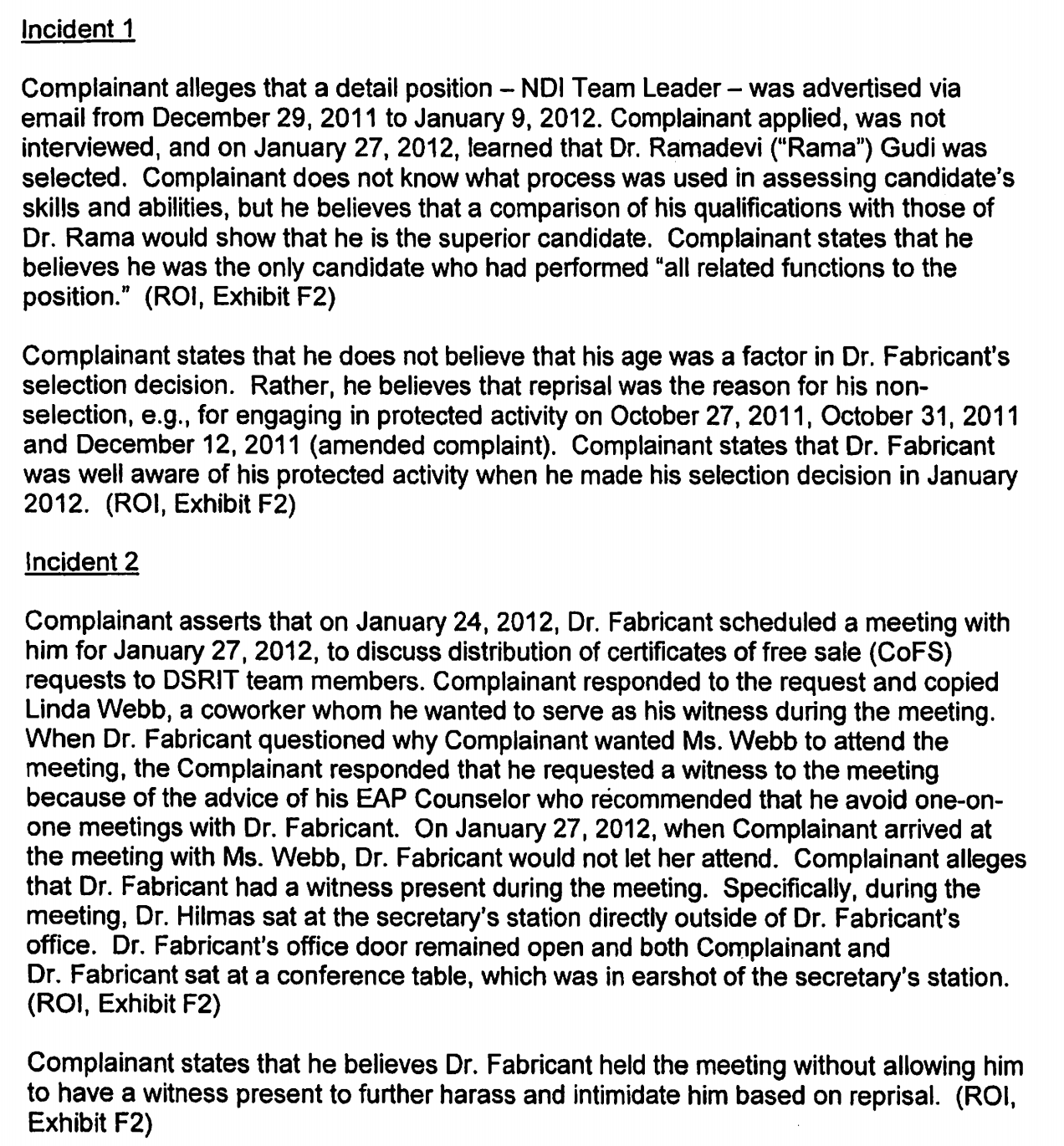 Other FDA employees corroborated that Fabricant initiated a meeting with the complainant to intimidate and harass him, and that he generally created a hostile work environment:


By 2013, a lawsuit was filed against the FDA alleging age discrimination, retaliation, and hostile work environment (the above documentation is drawn from filings in that lawsuit).
In supplemental documents composed partly of interviews, it is noted that numerous employees had not witnessed the allegations in the lawsuit, or had reason to believe they were true.
One interviewee claimed that Fabricant had created a hostile work environment and behaved in a manner that resulted in a number of employees complaining to a management-program analyst and employees asking for reassignment to other divisions. Another employee testified to being a victim of Fabricant's bullying and intimidation.

While that lawsuit was still ongoing, Fabricant left the FDA and resumed employment at NPA, now as chief executive. In less than a year, new allegations of harassment would begin at the NPA.
And the complaints and lawsuits have continued. In October of 2017, a former NPA employee, Coleen Rood, filed a lawsuit alleging disability discrimination, harassment, hostile work environment, retaliation, and 11 other varying counts. (PACER link)
Rood alleges that after she participated truthfully in the attorney investigation into Fabricant's alleged misconduct, interactions with him became hostile. She further claims that after she took documented and doctor-approved medical leave, and having submitted the appropriate paperwork, Fabricant had her insurance cancelled and subsequently required her to submit her family's medical history in order for it to be reinstated.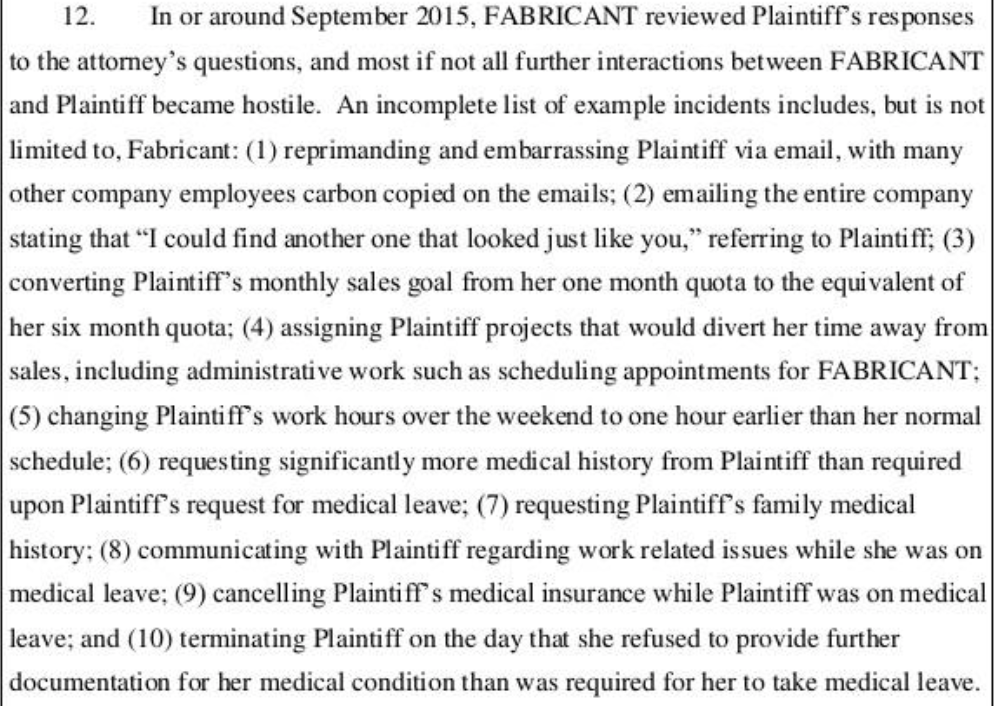 Prior firing Rood, Fabricant sent an email to her with other employees CC'ed, stating that he "… could find another one that looked just like you," according to the filing. Similarly to the Weickert lawsuit, NPA successfully forced the Rood complaint into the compulsory arbitration found in the employee handbook.

When reached for comment with detailed questions about the allegations, Fabricant provided the following statement, after first asking who the reporter was:
Now I know. https://www.theironden.com/forum/threads/truth-about-steroid-expert-anthony-roberts.1791/

You're this winner. Okay please write some made up stuff about settlement documents that don't exist so we can sue you for libel/slander and we'll sell your house or it's probably your mom's house as you likely still probably sleep on her couch when we win a judgment against you, I have my attorneys copied here so they can tell you more about that and we'll be sure to reach out to any and all publications that have any assets that you may want to write for too. Thanks.

Sent from my iPhone
Lawyers representing Fabricant and the NPA followed up with the following letter:
All documents cited or excerpted in this article were either released through a FOIA requests or are pulled from publicly available court records. When the NPA's lawyers were told that no non-public documents were used in the course of this reporting, Richard Oparil responded:
"My November 15 letter to Anthony Roberts aka Anthony Connors speaks for itself."
---
Header image by Anthony Roberts. Headshot of Fabricant via the FDA.