For Sunshine Week, we're excited to launch a new collaboration that makes it easy to explore every state's public records laws, find details on specific exemptions as well as sample appeals, and more.
The database builds on and updates work by Miranda Spivack, an independent journalist. She developed the project in collaboration with the Milwaukee Journal Sentinel, students at Marquette University's Diederich College of Communication, and Reveal from The Center for Investigative Reporting.
View the original version of this visualization at the Journal Sentinel, which also provides data points not included in the updated version.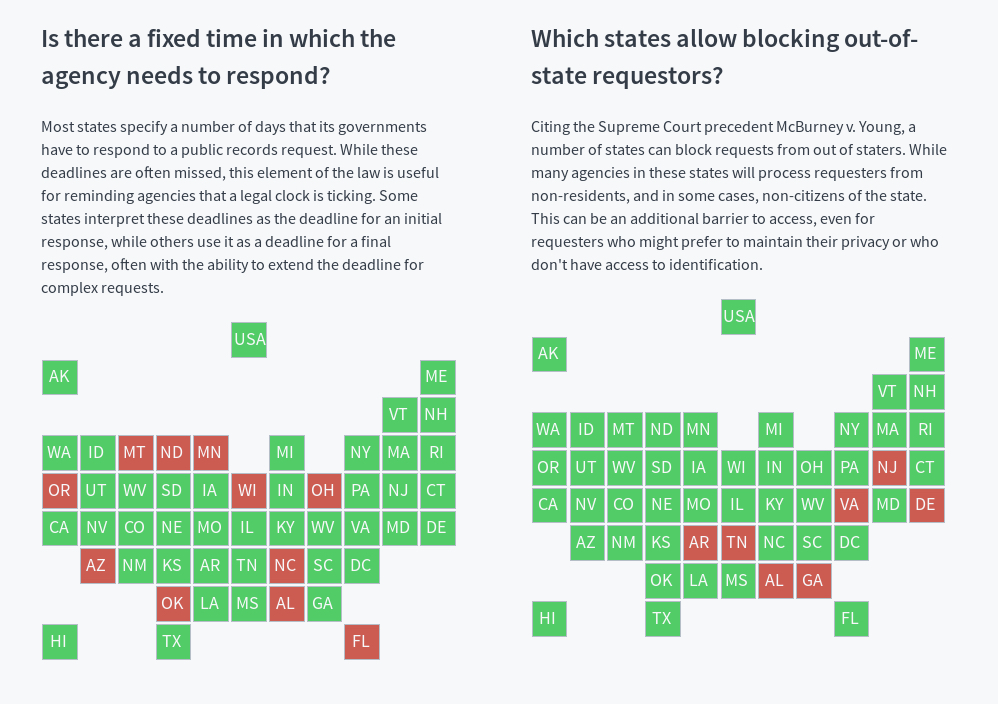 View the interactive version here.
Each state has its own laws about making documents, data and other records accessible to the public. There are also separate public records laws for the federal government, the District of Columbia, and territories such as Guam, Puerto Rico, and the Virgin Islands.
MuckRock tracks how states impose exemptions that allow them to withhold records; how quickly each state responds; and other factors affecting government transparency. Now much of that data is easily viewable through overview maps that track the following key factors:
Average time until a request is completed.
Specific deadlines for responses.
Whether residency is required to file a request.
Whether public records laws apply to the judicial, executive, and legislative branches.
The visualization also makes it easy to explore our growing database of exemptions and sample appeals. Click on any state to view our full guides to each states' laws, including summaries of key provisions, practical tips, and links to more resources.
To update any state's entry, just click "Suggest Change" on any jurisdiction page (this button will only appear if you're logged in). If you have data you'd like to share, email info@muckrock.com and we'd love to explore integrating it!
---
Image via Keesler Air Force Base