After a court ruled state legislators and senators were subject to Washington's Public Records Act, elected officials there quickly moved, with no public hearings, to make sure that emails and many other would continued to be kept from public. After an unprecedented backlash, Gov. Jay Inslee has vetoed the bill and the legislature has agreed to get more public feedback before any changes are made.
More details on this and other public records stories in this week's roundup. For more #FOIAFriday inspiration, read past FOIA round-ups. See a story we missed? Send it over via email, on Twitter, or on Facebook, and maybe we'll include them in the next roundup.
In Washington, sunlight wins out
Washington State has some of the country's strongest public records law, and a County judge recently made them even stronger, ruling that legislative leaders themselves were subject to the law.
Lawmakers turned to the state's Supreme Court to try to overturn the decision, but also went a step further: 48 hours after releasing a bill that would block access to their emails and a variety of other records, and without any public hearing or floor debate, the Washington House and Senate passed the restrictions and sent them along to the governor.
Newspapers around the state unified in opposition to the move, with the Seattle Times publishing its first front-page editorial since the 1930s.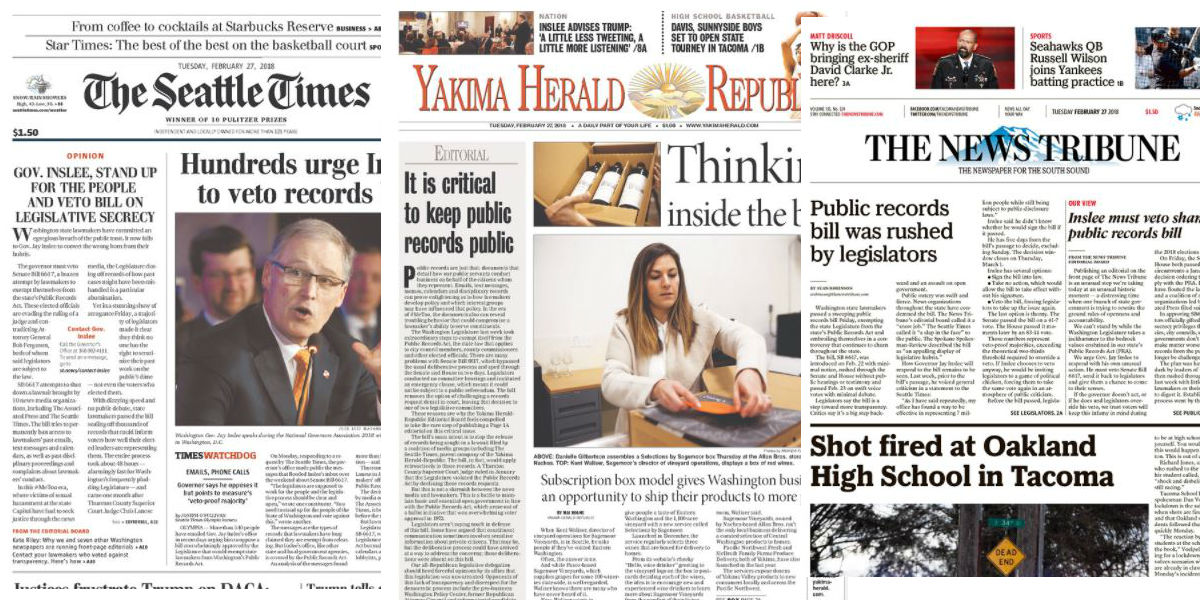 The Seattle Times editorial blasted the move, calling for Gov. Jay Inslee to veto the bill and for the legislature to not override his veto:
What was proposed is anathema to the values of the people who enacted the Public Records Act by initiative in 1972. The preamble reads in part, "The people, in delegating authority, do not give their public servants the right to decide what is good for the people to know and what is not good for them to know."

Yet, that is exactly what Senate Majority Leader Sharon Nelson and Senate Republican Leader Mark Schoesler said in sponsoring this bill that flouts the judge's ruling, the Records Act and does so in a way that shamelessly demonstrates contempt for public process.

A government that thinks it knows best is the worst kind of government.
And it was not just newspapers: Inslee's office said it received a record-breaking number of public comments about the bill, the majority of which asked him to veto. Yesterday, he did, with the legislature promising a new bill that brings in feedback from stakeholders.
Here's @GovInslee's veto message on #SB6617. https://t.co/Sh6lW9UPg8 #waleg pic.twitter.com/I8mSoaHPpR

— WashingtonCOG (@WashingtonCOG) March 2, 2018
Seen a great FOIA-based news story? Let us know and maybe we can include it in our next round up! Send it over via email, on Twitter, or on Facebook.
California's "sanctuary" status doesn't stop sharing
The Verge's Russell Brandom reports on the latest from our project with the Electronic Frontier Foundation looking into the sharing of license plate data by state and local agencies.
Even as officials in California defiantly talk about defying Immigration and Customs Enforcement, embracing their so-called "Sanctuary State" status, agencies are regularly sharing databases of license plate information with Vigilant Solutions … and likely on to ICE.
As Brandom reports:
Vigilant documents reviewed by The Verge listed 86 separate California agencies sharing data through the Vigilant network, six of which represent some kind of sanctuary district. The list was incomplete, but it includes a number of Bay Area agencies like San Mateo, Marin, and Contra Costa counties. Given their close proximity, it's likely that those agencies' license plate data includes a number of San Francisco and Oakland residents. Without audit logs, it's difficult to say whether any of those license plate reader systems directly contributed to this week's raids.

Until recently, the list of counties sharing data with ICE included Alameda, where local law enforcement cut off direct sharing with ICE earlier this year. Because of the complexity of the Vigilant system, local ALPR data was directly accessible to ICE for months before the department became aware of the access.
Check out the project page and read the requests yourself.
After emails show council thinks Satanic Temple takes "equality too far," Temple files suit
Late last year, Evan Anderson filed a request for emails regarding the Scottsdale, Arizona city council's fight against allowing the Satanic Temple to read an invocation. He received back thousands of emails in response, and now the Temple is suing based on what they found.

According to the Temple's Jack Matirko, after the Temple requested to give in invocation, the council tried finding ways to squelch the issue - in part by filling up the invocation schedule with other religious leaders:
This revelation comes from an email to the City Council from the city's Management Assistant in which she says they "reached out to everyone on our list of faith leaders to try and book as many dates as possible". So apparently Scottsdale (1) keeps a list of faith leaders they approve of and don't tell anyone how that list is compiled or how to get on it. More importantly, if this email is accurate, then (2) city officials tried to fill vacancies in their meeting schedule with what looks to me like the clear intention of preventing The Satanic Temple, specifically, from giving an invocation. Imagine the outcry if they had behaved this way to a request from a synagogue , mosque, or LDS church.
Read the emails on the request page.
Seen a great FOIA-based news story? Let us know and maybe we can include it in our next round up! Send it over via email, on Twitter, or on Facebook.
---
Image by Lincolnite via Wikimedia Commons and is licensed under CC BY-SA 3.0